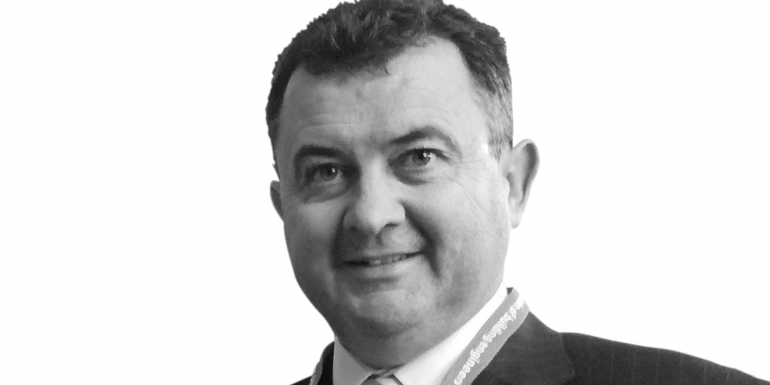 New CABE Vice-President Joseph Birt PgCert (Fire Safety) C.Build E FCABE 
Have you always had an interest in construction? 
I'm told that from my earliest school days, when the teachers would leave the classroom, they'd come back to find me busy at the blackboard with their chalk sketching plans for houses. So yes, I was always interested in the design of buildings, how the design influences the internal environment, ergonomics for the ends users and how buildings go together.
What route did you take, and did you change direction at all?
Having undiagnosed dyslexia throughout high school meant I found literacy-based subjects particularly challenging, but I excelled at practical, science-based and graphical subjects. I took the decision to avoid A-levels and opted for the more practical BTEC route in Construction. My OND and HND led me to an honours degree in Construction Engineering and Management. I was fortunate to spend my placement year with building control. While working, I completed a part-time Post Graduate Certificate in Fire Safety Engineering. I have since undertaken further studies that led to my admission to the Institute of Leadership and Management.
What are the current challenges of your role (Fire Engineer and Technical Director, FRSNI Ltd)?
Working in private practice, every day brings new projects with individual challenges. Some may be fire safety issues, others around equality of access, and often the most challenging – and most rewarding – are those that involve works to heritage projects. The diversity of work means no two days are the same.
What inspires your work?
Solving problems! In my building control days, when raising issues of non-compliance with architects or builders, I always strived to be part of the solution. Now in the private sector, I find a big proportion of my work is architects coming to me, late in the design stage, seeking a solution to a seemingly insurmountable problem. That drives my determination to find innovative and practical solutions.
How does it feel to be the new Vice-President of CABE, and do you have any areas you intend to focus on specifically?
I feel enormously humbled, privileged and honoured that my colleagues voted me to be Vice-President. If I had to select one priority area, it would be the delivery of quality member services.
What challenges do you see the industry facing?
Right now, we are in the perfect storm. Over the past few years our industry was slowly recovering from a major downturn that saw two generations effectively leave construction. Young people saw other industries as more secure, while those with decades of experience often left, not to return.  Already suffering from a shortage of skilled operatives at all levels, the impact of Brexit could see the UK construction sector as less attractive to foreign workers. Thirdly, the Covid-19 shut down (which was absolutely necessary) may have a collateral impact globally upon the economy and fiscal spending that lasts for years.  
How do you think these will be addressed?
I've no doubt those who are willing to adapt by focusing on education, innovation and collaboration will survive and prosper. CABE has an important role to play in supporting members through this evolution.
What advice would you give your 20-year-old self?
Firstly, to watch, listen and learn from those around you.  Secondly, would be to seize every opportunity to learn: go on courses, read technical papers and, of course, ask plenty of questions.