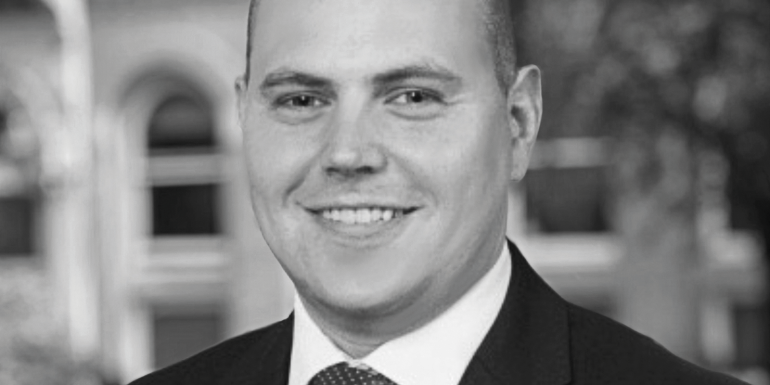 Mark Lee MCABE Building Consultancy Department, Head for Kershaw Surveyors, part of WT Gunson
Q What was your path into the profession? 
I had a slightly unconventional route. I served as a tank driver/gunner in the Armed Forces. After leaving, there weren't many jobs for tank drivers so I had to retrain. I became a locksmith and as part of that role I worked on a derelict site, where I ended up acting as the on-site contact for various contractors and consultants. On meeting the project manager, I became aware of an entire industry. After some research, I landed on building surveying; the variation of the role really appealed to me, and is one of the aspects that I still enjoy.
I self-studied A-levels in economics and environmental studies and sat exams as an external candidate. For me, this was a much quicker route to university than undertaking a foundation degree. Being a mature student, I was aware of the value of experience, so made the most of my spare time by working part time as a building surveyor in a small practice. I became a chartered building surveyor through RICS but, having made the most of the CPD and other events with CABE, I was keen to join the Association. I really value my membership because of the emphasis on technical aspects of building/construction. I feel this has made me
a better surveyor.     
Q What are the current challenges of your role?
The variety of my role – one of the main reasons I was attracted to it – is also one of the main challenges. One day I can be acting as an expert witness in a building dispute, the next I can be working on a dilapidations or defect analysis. As a building surveyor you have to be on your toes and have a well-rounded perspective, but where you can really add value is considering the commercial aspects of instructions to help maximise clients' investments.
Q What question are you asked most often?
"How much does it cost to..?" It can be relatively straightforward to give costs and estimates to clients, but it is often more difficult to help them see value in environmental issues or selecting long-term solutions over short-term gains.
Q What inspires you?
The people around me. Throughout my career, people have helped me in all kinds of ways without expecting anything in return. As a surveyor, I have been privileged to work with some inspiring people whose knowledge and passion for the industry has had a real impact on me. It's one of the reasons I became involved with my regional CABE committee – where would we be if we didn't help one another?
Q What is the biggest challenge facing the profession?
There are so many it's hard to pick the biggest one. There are well-known issues, such as attracting talent to the industry, and various challenges surrounding the use of technology and big data, but I think in lots of ways the construction industry as a whole has never really learnt to adapt well – particularly at the pace needed to keep up with technology or the workforce's expectations. There have always been buzzwords thrown around and talk of 'integrated project processes and closer collaboration with the supply chain'. Although there have been improvements, I still think this is often the exception rather than the rule.
Q What advice would you give your 20-year-old self?
I'm not sure I would give my 20-year-old self any advice and I'm not sure he would listen anyway! Like many people, I have learnt so much as part of my journey, and I continue to learn new things most days. I think one of the things I would say is, it is all right not to know. When interacting with clients, consultants and contractors it is easy to think you – especially when acting as lead consultant – should have all the answers, but this simply isn't true. A good consultant knows when to draw on the expertise and experience of others.