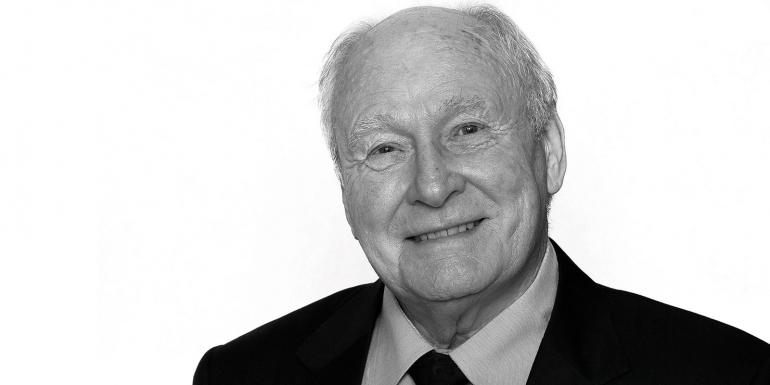 The CABE Gold Service Award is presented to members who have supported and advanced the Association through their ideas and values. Every year the CABE Awards Panel convenes to decide on the recipients of the Gold Service Award, and this year the panel have chosen two recipients – Joe Twomey and Carol Langham – for their dedication to the Association and their desire to help its members.
Joe Twomey PPBEng C.Build E FCABE Retd Joe's passion for the built environment started when he was 13. He remembers that during a school trip with his technical college he visited Liverpool Metropolitan Cathedral. He stood on the arch 
centres of the crypt as bricklayers were laying the bricks to create the corridors down in the basement. The crypt, designed by former President of the Association Edwin Lutyens, inspired a young Joe and sparked an interest in Lutyens' work that has continued throughout his life.
Joe began his career as a local authority surveyor serving in Bootle and Liverpool, before gaining experience in building control. In 1984 he became a building surveyor at the Irish Department of the Environment, before he was seconded from his role to work at the European Commission. During a three-year period of service in Brussels, Joe established himself as a font of information for building industry professionals, regularly giving his free time to attend meetings and clarify the complexities of draft 
EU regulations.
Joe became a keen a member of the Association in 1964, qualifying through the old Institute of Architect and Surveyors (IAAS) examinations. He was awarded the prestigious Peter Stone Award in 1992 in recognition of his outstanding contribution to building surveying in the European arena, and later became involved more closely with the Association. He became Association of Building Engineer's (ABE's) first Irish president in 1995, and during his time at the helm he toured the old branches, meeting members and making not just professional connections, but developing lasting friendships.  
During his inaugural address, Joe said that he wanted to reflect on the past, consider the present and provide for the future. A sentiment that is still echoed by the Association today.
After completing his presidency, Joe continued to be involved at the Association and has for the past ten years been a trustee of the CABE Benevolent Fund, visiting members in need of assistance and support. Earlier this year, he stepped down from this position, but his unwavering support will be remembered for years to come.
Unfortunately, we have not been able to present Joe Twomey with his Gold Service Medal in person, but CABE President Jayne Hall had the pleasure of delivering the news to Joe. On hearing that he was to receive the honour he said: "I would thank all of the people with whom I have worked throughout the years. I managed to borrow something from each of them, which helped me to understand life, comradeship, friendship and support. I would also like to thank my wife and family for all of the love and support they gave me.
"The Association is more than a group of dedicated professionals, it's a family."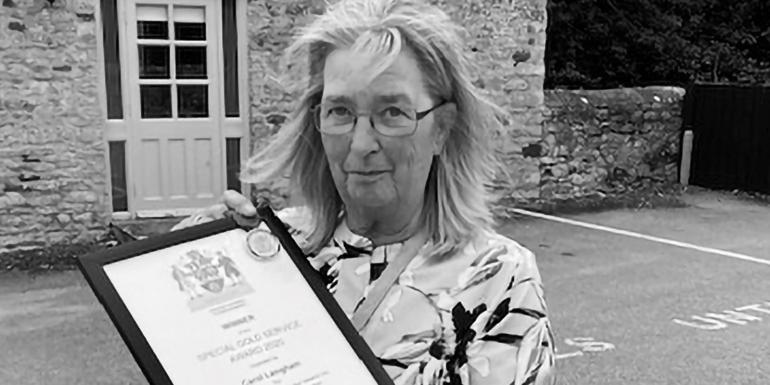 Carol Langham
Although usually reserved for members of the Association, this year the Awards Panel has made a special exception and awarded Carol Langham a Special Gold Service Award for her unwavering support of the Association for nearly 20 years. As many of you know, Carol was the editor of Building Engineer until September 2019, when she stepped down to take on the role of librarian and archivist.
Although recently retiring from the Association, Carol's role as librarian and archivist has seen her catalogue, archive, protect and cross-reference the Association's historic artifacts and library collection to protect CABE's history for posterity in an accessible way as we approach the Association's centenary. Most of you will remember her as the editor of Building Engineer, a role she began is June 2001. For over 18 years she almost single-handedly edited and produced the journal.
She was instrumental in maintaining the profile and stature of the Association, particularly in the difficult recession years. Throughout her time as editor she made sure Building Engineer always met its deadlines and continually covered the most important industry issues. Her desire to share knowledge and information with building engineers is commendable.
Carol's support of the Association has often spilled over into her personal life. She always carried the latest issue of Building Engineer and over the years has spoken to hundreds of 
industry professionals and prospective members that she has met, explaining what CABE stands for and why building  engineers are professionals who can be trusted.
Ken Ewing C. Build E FCABE said: "Carol brought about a full-swing change to the journal when she came to the Association all those years ago. She went far and above the call of duty, spending many long hours turning the publication into the well respected one we grew to trust. Over the years, many professionals I have met during the course of my work with CABE have commended the quality of our publication."
Gavin Dunn, Chief Executive of CABE, had the pleasure of presenting Carol with the Special Gold Service medal at a recent meal to celebrate her retirement, commenting: "The Association is incredibly grateful for the commitment that Carol has shown and as a colleague she will be sorely missed."