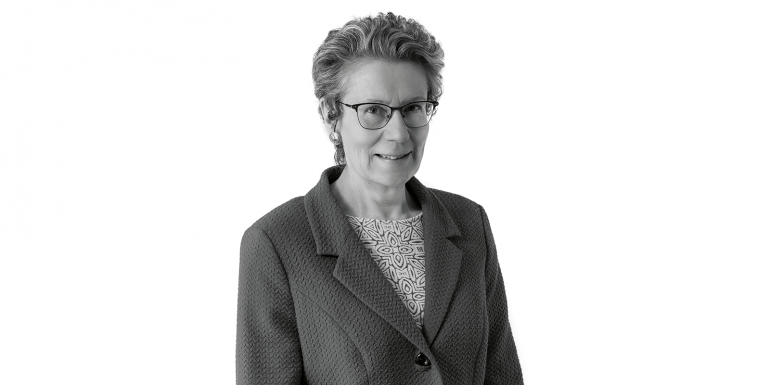 Winner: Ann Bentley, Global Board Director at Rider Levett Bucknall. A 35-year career supporting cross-industry initiatives makes for a worthy winner of CABE's most prestigious award 
The Peter Stone Award is the most prestigious presented by CABE. It is given to a person, company or organisation that, through invention, research, design, publicity, education, training or any other related activity has, in the opinion of the awards panel, made a significant contribution to the advancement of building engineering.
Ann Bentley (pictured) has supported cross-industry initiatives and is a member of the UK government's Construction Leadership Council (CLC), sitting on the Steering Co-ordination Group. She previously headed up the business models and supply chains workstream, and recently authored the CLC's Procuring for Value report. Ann sat on the Ministry of Housing, Communities and Local Government (MHCLG) independent expert advisory panel on building safety following the Grenfell Tower disaster, is a member of the CBI's Construction Council and is an advisor and board member of the Construction Industry Council.
She is a Chartered Member of the Institution for Civil Engineers, a Fellow of the Royal Institution of Chartered Surveyors and holds an MBA from Henley Business School. In the academic world, Ann is a visiting professor of business management, project management and quantity surveying at Birmingham City University and a visiting lecturer in the School of Construction Management and Engineering at Reading University. A judge for a number of industry awards, she is also a regular commentator in national and trade media as well as a speaker at national and international construction conferences.
Changing for the better
Ann's current focus is on making positive change in the construction industry; indeed, this was reflected in the title of her address to the CABE annual conference, Making sure we change for the better, by focusing on outcomes. She has worked closely with the Construction Innovation Hub on the development of the Value Toolkit, sitting on the Value Toolkit Board and leading the value definition workstream. Ann is also part of the industry steering group on the Construction Playbook, contributing to both its development and implementation. She is an advocate for diversity and social inclusion in the construction industry as well as making career opportunities open to all sectors of society.
With more than 35 years' experience working in the property and construction sector, Ann is experienced in working with commercial, public and third sector clients. In 2012, Ann became Director and Global Board Director at Rider Levett Bucknall (RLB), a construction, property and management consultancy employing 800 staff in the UK and 4,000 worldwide in more than 40 countries. She was its Global Chair from 2015-2017 and became its Global Board Director in 2017, helping provide strategic direction and corporate oversight, cohesion and governance.
Ann is chair of the RLB Global Risk Group and global lead on people development. Ann provides advice to the RLB UK Board on governance, global matters and government level thinking on issues affecting business and the wider industry, now and in the future.
For her work at RLB, on the MHCLG's Independent Expert Advisory Panel, as a member of the CLC and her work in education, CABE is honoured to present Ann Bentley with the 2021 Peter Stone Award.    
For more, visit bit.ly/CABEAwardWinners