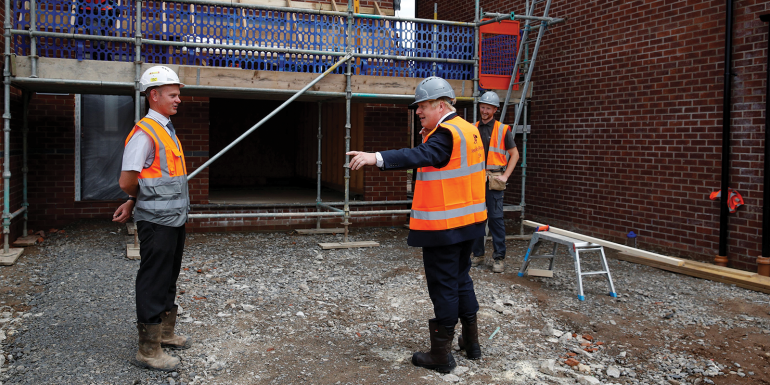 In response to the government's white paper Planning for the Future, Cllr Mark Crane, District Councils' Network, said: "Getting the country building again will be a vital part of the national recovery from Coronavirus. But we cannot compromise on the quality of new homes and places and sideline public consultation, which we fear will be the consequence of the government's planning reforms.
"To tackle the housing crisis, councils need the funding to invest in infrastructure and the powers to build homes that are green, high quality, and affordable. District councils and their local communities continue to grant nine in ten planning permissions, while tens of thousands of homes with planning permission remain unbuilt – the housing delivery system is broken, not the planning system."
The Federation of Master Builders agreed that the planning shake up must not compromise on quality. Its Chief Executive Brian Berry said: "The Prime Minister has said we need to 'build, build, build' our way to recovery, and a flexible and responsive planning system is essential. New measures that make the planning system quicker and more affordable are welcome, but it is vital that high standards in design and build are not compromised."
The CIOB is concerned that: "The overarching drive to deliver additional housing could result in reduced quality of residential conversions created through permitted development rights (PDRs), with many failing to meet national space standards, lacking amenity space and suffering from low-quality design and poor locations. High volumes of PDRs have wide-ranging impacts on transport, community facilities, play space and green space, and without Section 106 agreements or Community Infrastructure Levy contributions to offset the costs associated with community infrastructure, local authorities are further financially burdened."
There is fear, too, that the relaxation of the Town and Country Planning Regulations will unleash a storm of badly constructed, ugly appendages. While environmental and housing campaigners remain deeply concerned that the relaxation of planning rules will have a range of adverse environmental impacts. 
Image credit | Getty