CABE welcomes new President Joseph Birt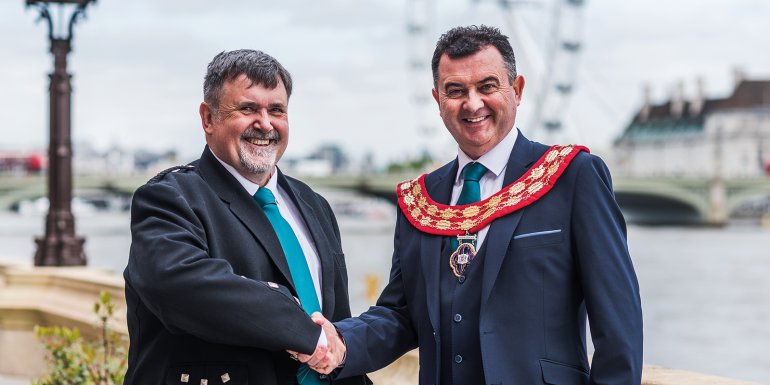 Joseph Birt takes up the mantle from outgoing President Stewart McArthur and sets out his plans for the year ahead
Members of CABE's Presidential Team, Executive Team and Board, as well as CABE members and their friends and families, gathered in the Cholmondeley Room of the House of Lords in London on 13 May to celebrate the successful year of outgoing President Stewart McArthur and to welcome Joseph Birt to the role.
The event was formally opened by CABE Patron Lord John Lytton, who gave a short speech in which he addressed the challenges faced by the industry in the past year and outlined those yet to come. He offered assurance that CABE is well equipped to deal with these challenges, and offered thanks to all who attended to mark this special occasion.
Stewart's last role as President was to make an emotional address to the audience, reflecting on his time in the role and thanking everyone for their support, before passing over the Chain of Office and formally declaring the start of Joseph's term. Stewart went on to wish Joseph and his wife the greatest of success in the year to come.
Joseph presented Stewart with his Past President Chain and offered his sincere gratitude for the hard work and dedication he has given to the Association in the past year. He acknowledged that Stewart had continued to put members first throughout his time in office and had been the only President in recent years to have attend every Regional AGM, even though some of these had been virtual due to Covid-19 restrictions. "Stewart, we are all indebted to you for your wise counsel; this Association is indebted to you for your service," Joseph added.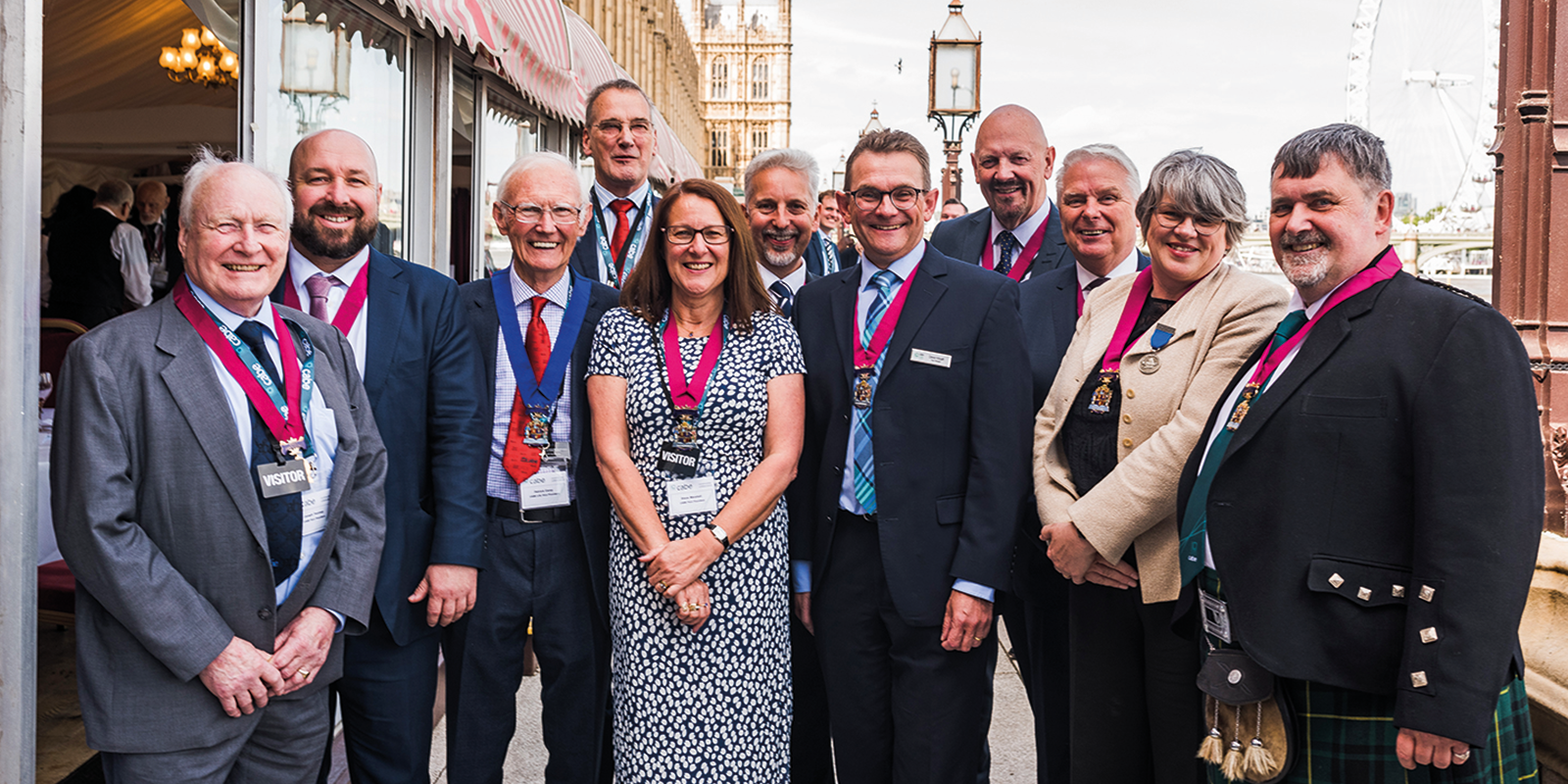 Man of the hour
Joseph travelled from Portaferry in Northern Ireland, alongside his wife Geri, two of his daughters Grainne and Geraldine, his sister Fiona, and his goddaughter Grace to take part in the ceremony. During his inaugural speech, he reflected on the pandemic and those members still facing restrictions, the worldwide skills shortages that the construction industry is facing, and the work that CABE Academic Partners are doing to attract more young people to the industry.
He highlighted the importance of climate change and the need to do more to protect the environment and reduce energy consumption, especially considering rising energy costs. He spoke about the importance of the Building Safety Bill, and – more importantly – the central requirement of competency; not just for those working as fire safety professionals, but everyone working in construction.
Joseph emphasised his intentions to "work with those on the Presidential team and the Board, to ensure that members are well placed to step up to the challenges that they face," with the hope that "collectively as building engineers globally, we can make a real difference."
We are honoured to welcome Joseph as CABE's new President and look forward to his efforts in driving our Association forward even further to deliver for our members.  
---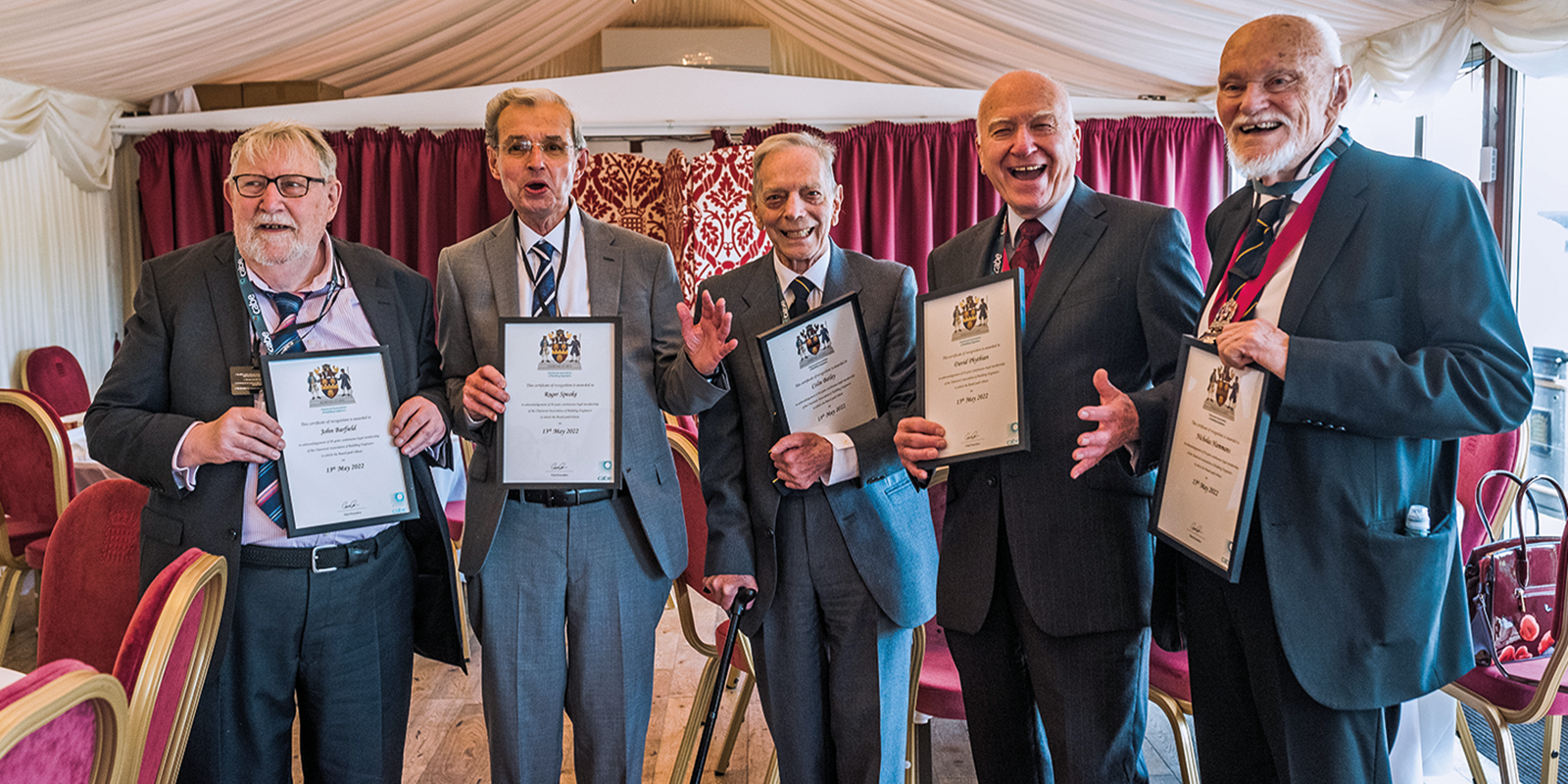 50 not out
A special group of CABE members has been part of the Association for more than 50 years. These members have dedicated their lives to the construction industry, and have worked to raise standards and improve communication between construction specialisms.
Since 2020, Covid-19 has prevented us from celebrating members who reach this milestone. This year's Presidential inauguration gave us the opportunity to rectify this and allowed us to congratulate every member who has achieved 50 years of continuous membership in recent years.
Unfortunately, not all the recipients were able to attend, but we were delighted to welcome Colin Bailey, John Barfield, Stuart Beesley, Nicholas Hammans PPEng, Kevin Honour, David Phythian PPBEng, Roger Speake and Terry Westwood PPBEng to the House of Lords. Past President Nicholas Hammans was invited to speak on behalf of the 50-year members, and commented on CABE's history, the status that professional qualifications bring and the importance of proving competency. He then thanked the Association for the support he had received throughout his time as a member.
Congratulations go to every member for reaching this milestone:     
Colin Bailey FCABE Ret     
John Barfield FCABE Ret     
Jennifer Barriff C.Build E MCABE Ret     
Charles Beenham ACABE     
Stuart Beesley C.Build E MCABE Ret     
William Brown C.Build E MCABE Ret     
Barry Chugg C.Build E MCABE Ret     
Roderick Eldridge FCABE Ret     
Frazer Garner FCABE     
Michael Golston C.Build E MCABE Ret     
Nicholas Hammans PPBEng FCABE Ret     
Kevin Honour C.Build E MCABE Ret     
Joseph Hoskings C.Build E MCABE Ret     
Robert Hutchinson ACABE Ret     
Roger Jones ACABE     
Alan Mann ACABE Ret     
Edward McManus C.Build E MCABE     
Daniel O'Riordan FCABE     
John Pettifer FCABE     
David Phythian PPBEng FCABE     
Kenneth Ridge ACABE Ret     
Alfred Ruddock C.Build E MCABE Ret     
Charles Searle FCABE Ret     
Christopher Smith C.Build E MCABE Ret     
David Smith FCABE     
Roger Speake C.Build E MCABE Ret     
Ernest Spencer FCABE     
Keith Street FCABE     
Peter Thornhill C.Build E MCABE Retired     
Terence Westwood PPBEng FCABE; and     
Eric Whapples FCABE.
---
Welcome to the Board:
Richard Flynn –  Vice President  
A consulting chartered building engineer specialising in onsite wastewater treatment at Flynn & Shaw, Richard is Chair of CABE's Membership and Professional Standards Committee (MPSC). This role has given him a far-reaching understanding of CABE's management practices and governance.
Dave Courtney – Ordinary Board Member  
A building surveyor, environmental and project management consultant and former Chair of the Southern Ireland Region, Dave's knowledge of CABE and his experience from the regions means he will be a great asset to the board.
Lindsay Richards – Ordinary Board Member  
A chartered quantity surveyor and managing director of the Richards Partnership, Lindsay believes there should be a more collaborative approach across professions, and that this will help CABE achieve its mission to become a unifying voice in the construction industry
---
About Joseph Birt
Joseph started his career as a trainee in Local Authority Building Control and worked his way up the ladder until he reached the position of senior surveyor. He returned to university and obtained a postgraduate certificate in fire engineering, then spent 12 years specialising in fire safety as a specialist support officer in building control for a cluster of councils in Northern Ireland. He then moved into the private sector, where he has worked as a consulting fire engineer for the past five years.