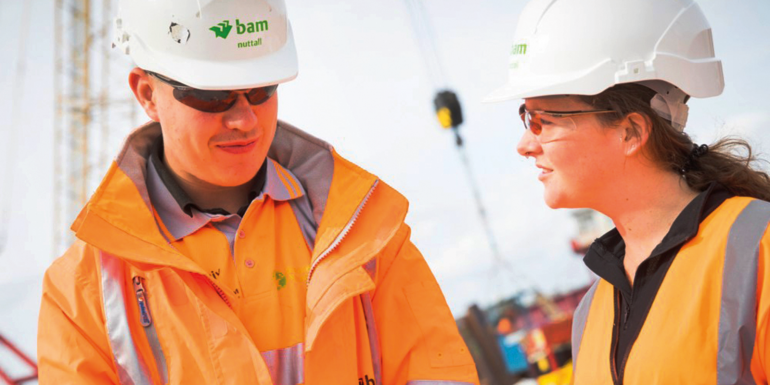 Since choosing Leeds College of Building (LCB) as a training provider four years ago, construction firm BAM has significantly increased the number of female apprentices enrolled on its Level 4 programme.
Construction management, site supervisor, quantity surveying and civil engineering apprenticeships have risen from being 20% female to nearly 30%, compared with only one in eight (12.5%) construction workers nationally (GMB, 2019).
The programme is also nearly three times more ethnically diverse than recorded in the sector. Black, Asian and ethnic minority representation stands at 15%, compared with less than 6% of construction workers nationally (ONS Labour Force Surveys).
BAM highlights the benefits that its diverse lecturing team brings to the apprenticeship scheme. The Faculty of Higher Education, Construction Design and Management at LCB employs 30% female staff from careers including architecture, civil engineering, quantity surveying and transport planning.
Paul Skerry, UK Early Careers and Professional Development Manager at Royal BAM Group, said: "We are working hard to improve the diversity of our business and our industry. We have four active @BAM People Networks that amplify minority voices and work to achieve a larger critical mass of under-represented groups.
"These include WISE@BAM, our gender diversity network, and ABILITY@BAM, which champions those who are disabled or neurodiverse and supports our business to become Disability Confident Level 2 in 2021."