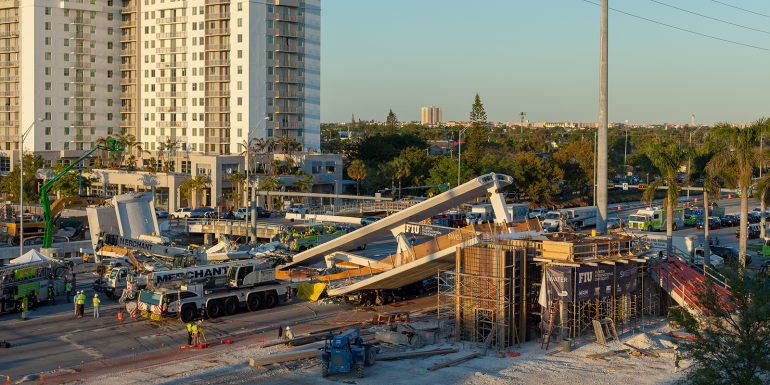 A new video examining the Florida bridge collapse in 2018 has been released.
On 15 March 2018, a 175-foot-long (53 m) section of the Florida International University pedestrian bridge collapsed while under construction. At the time of the collapse, six lanes of road beneath the bridge were open to traffic. Six were killed – one worker and five motorists. Ten were injured, with one left permanently disabled. 
The National Transportation Safety Board (NTSB) identified the engineering design error that directly led to the collapse as a miscalculation of resistance to sliding of the connection between the walkway surface and the truss that held it up. 
The walkway surface was poured concrete, which was allowed to harden before the truss braces were poured above it. These truss members were connected to the deck by steel reinforcing rods embedded in the deck and in the concrete of the truss. 
To hold up the bridge, these connections had to prevent the truss from sliding along the walkway surface. The resistance to sliding was miscalculated, and was not enough to prevent the connection from sliding causing cracks in the truss concrete. As the cracking enlarged, it ultimately caused the complete disconnection of one of the truss-to-walkway connections, leading to the collapse.
In the video, Network Rail's Steve Williams explains what happened in the lead up to the collapse, why the collapse happened, and what can be learned by industry to avoid a repeat event.
He gives recommendations, thoughts for the future, and further reading materials to help prevent similar failures. 
Watch the video below.
 
Image credit | Shutterstock