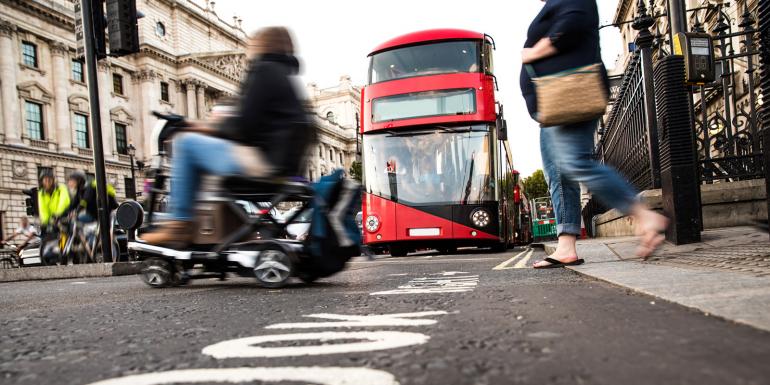 The Centre for Accessible Environments (CAE) has launched its new, ground-breaking Pathways programme to transform the lives of young disabled Londoners. Following a £322,000 grant from City Bridge Trust, CAE will train young people on inclusive design and the accessibility of buildings and services. The three year+ programme, which is aimed at 18-30 year olds, will provide the knowledge, skills and support young disabled people need to kick start a career in inclusive design and access. The programme is now open for entry and young disabled Londoners are encouraged to apply.
The Pathways project aims to work with 40 participants over three years offering advice, support and continued professional development opportunities during and after the programme. Participants will be able to attend two days training per month over 12 months on a wide variety of topics relating to disability awareness and inclusive design with practical exercises. There will also be on the job shadowing and mentoring from industry experts, matched to participants' area of interest.
Fara Muneer, Head of Business Development at CAE, says: "We are delighted to be working with City Bridge Trust to tackle the disproportionate level of unemployment amongst young disabled Londoners. This pandemic has shown us more than ever how crucial space is and these young people bring an insight to removing barriers to create equality of access in the built environment. We are delighted to be offering this program supporting the development of skills and confidence for the next generation of access talent. After the programme, the participants will be well equipped to deliver the vision of a more inclusive environment."
Actress and disability campaigner, Sam Renke, adds: "For young disabled Londoners like me, it can be an anxiety fuelled journey trying to find a job. This is why we need more programmes that support disabled people into work. I think it's great that CAE are not only providing disabled people with employment support, but are encouraging them into careers in inclusive design, which is a subject that effects all disabled people." 
Young, disabled Londoners interested in the programme can find more information or apply at https://cae.org.uk/our-partners/pathways/
As the recognised experts in the field we can help organisations meet their duties under the Equality Act 2010 through our research, consultancy, training and guidance publications.
For more information, please contact Habinteg's media officer on 07591 952 041 or [email protected]. 
Image credit | iStock