Study shines spotlight on safety benefits of panelised MMC for new homes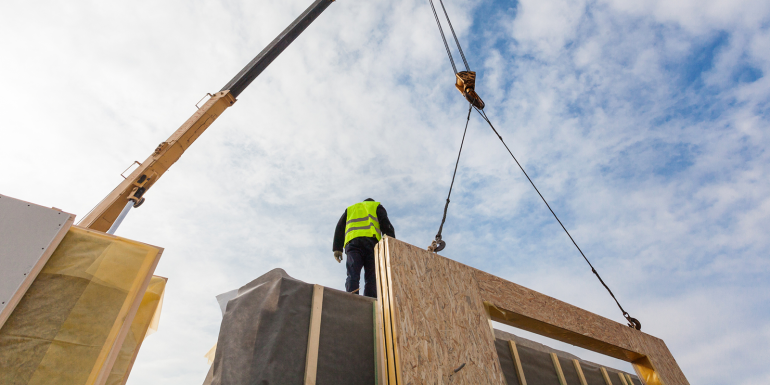 A new report has revealed how health and safety (H&S) hazard exposure on construction sites could be reduced by as much as a fifth when using advanced crane erect timber modern methods of construction (MMC).
The study, titled Health and Safety Risk Profiling of MMC Solutions, assessed the difference in risk exposure between two timber frame systems: one built on site using manual assembly techniques with the aid of a forklift (GEN1); the other a more advanced MMC system (GEN3), using higher levels of pre-fabrication, requiring the use of a crane.
H&S risk profiling was undertaken on the following build techniques, with the GEN3 build techniques designed to increase the level of offsite prefabrication and simplify construction assembly on site compared with GEN1:
GEN1 forklift and loose joists vs GEN3 crane and floor cassettes
GEN1 forklift and site fitted windows vs GEN3 crane and pre-fitted windows
These two areas were selected to highlight the differing safety requirements and risk profiles. AIMCH partners have built several homes using both techniques to prove the case for scaling up using increasing Pre-Manufactured Value (PMV, the proportion of offsite manufactured components within overall construction cost). The ultimate focus is on building a weatherproof, insulated, and secure structural shell in one day, ideally with no scaffolding and using a pre-tiled roof.
Increasingly, these systems are being used to build new homes that have more pre-manufactured elements such as pre-fabricated floor cassettes, pre-fitted windows, and pre-insulated closed walls. These systems require a crane to offload and position the components on site.
The report, prepared by Stewart Milne Group, lead partner in the Advanced Industrialised Methods for the Construction of Homes Innovation Project (AIMCH), with support from Limberger Associates, concludes that advanced MMC can reduce H&S risk exposure on-site by 20%, with a changed risk profile compared with more traditional methods – It is concluded that GEN3 crane erect advanced MMC systems can provide a generally safer onsite working environment, although the safety risk profile differs from traditional systems. This is because many smaller, more frequent, and lower impact risks, that over time can lead to health issues, such as MSD (musculoskeletal disorders), are reduced or eliminated in GEN3. However, there is an increase in risk of very low likelihood, but high impact safety events., due to the use of a crane for heavy lifting operations. Cranes are not uncommon, but as the use of advanced MMC increases, this will become an increasing safety consideration with stringent management requirements.
Stewart Dalgarno, AIMCH Project Director and Director of Innovation and Sustainability at Stewart Milne Group, said: "This is the first study we have undertaken to compare the health and safety risk exposure of both construction methods and it is gratifying to see that the crane-erect panelised MMC methods championed by AIMCH reduce safety risks and hazard exposure by 20% on site, where the injury rate per 100,000 workers is 42% higher than in manufacturing, and where 50% of deaths are attributed to falls from height, compared with 16% in manufacturing."
Some H&S risks associated with advanced MMC methods are displaced to MMC factory, according to the study – there is a transfer of some H&S risks from the construction site to the factory. Whilst this is beneficial to constructors, it is recognised that the MMC supply chain must drive safe factory operations to ensure that there is no net increase in risk for more advanced MMC-built homes. Risks can be effectively mitigated and controlled within the factory environment, where workplace safety systems are generally well managed. Many MMC suppliers are investing in safer and more productive factory techniques that eliminate manual working hazards, through introducing mechanical handling, automation, and robotic applications, as well as through standardisation of processes and components. Hence, in order that transfer of risk to the factory does not lead to an abdication of risk management, the procurers of MMC systems must ensure that effective controls are put in place so that an overall net safety gain is realised for the good of the sector.
Image credit | iStock