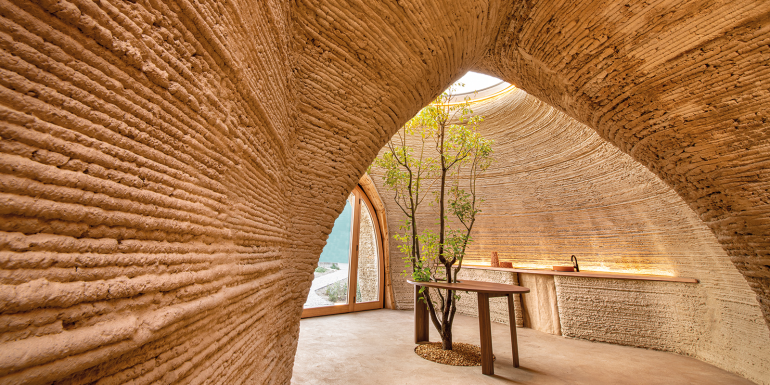 Andy Pearson takes a closer look at an experiment in bioclimatic architecture and construction to produce low-carbon homes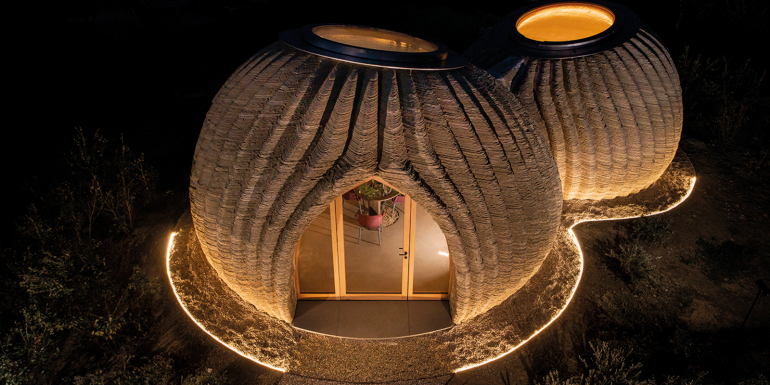 In Massa Lombarda, a small town near the Italian city of Bologna, a prototype home has been built that could revolutionise house construction and help deliver a more sustainable future. Conceived by Mario Cucinella, founder of Mario Cucinella Architects (MCA), the twin-domed dwelling is the first 3D-printed home in the world to be constructed using raw earth, which is mainly sourced from the local area. The result is intended to be a potential solution to the global shortage of affordable housing.
Named Tecla, an amalgamation of the words technology and clay, the house was designed by MCA and constructed using 3D printing technology developed by Italian specialist company World's Advanced Saving Project (WASP). Construction took just 200 hours, used minimal energy – the printer uses just 6kWh per day on average – and produced virtually no waste.
This pioneering structure comprises two connected dome-shaped volumes, each of which is 4.2 metres high. Each has a distinctive corrugated outer wall formed by 350 layers of 12mm-thick horizontal bands of 3D-printed clay. The horizontal layers fuse the two domed elements together to form a visually coherent organic form.
Although the walls of the domes are windowless, each is flooded with daylight from a circular skylight set into its roof, the light from which serves to emphasise the textured internal walls. A glazed door set into a pointed arch provides the home's entrance. Even the fitted furniture was printed from clay.
The 3D-printed domes enclose a floor area of 60m2: the living dome comprises a seating area and a kitchen, while the night dome houses the bedroom and bathroom. The twin domes are linked by an arched corridor. Internally, the bare, ribbed walls and furniture give the home's interior a warm cave-like appearance.
"The aesthetics of this house are the result of technical and material effort; it was not an aesthetic approach only," says Mario Cucinella. "It is an honest form, a sincere form."
The printed self-supporting wall structure was developed by Milan Ingegneria, a Milan-based engineering consultancy. The firm worked to optimise the dwelling's shape in order to create a self-supporting wall structure that could be printed.
Before building could start, the ground on which the dwelling was to be built had to be stabilised and drainage installed.
"In this case, we have opted for a mix that incorporates more concrete than the rest of the building," says Irene Giglio, an architect at MCA and project manager for the scheme. "It's a fully innovative construction, so we needed to play safe with the foundations, but we are investigating other options for the future that include stabilising the soil in a more effective way using different materials and techniques" she adds.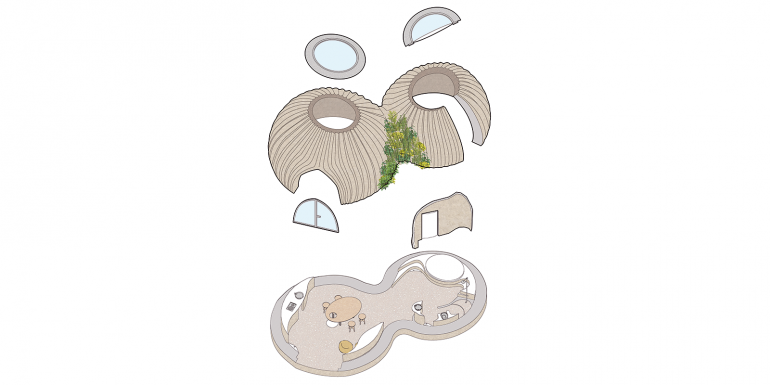 WASP printer
The home was extruded using the Crane WASP, a modular and multilevel 3D printer. This uses two truss-mounted synchronised arms, each fitted with a printing head. The Crane WASP can print an area of 50m2, enabling houses of any shape to be printed in a matter of days. In another first, Tecla is the first home to be built using multiple 3D printers. Software comprising more than 7,000 machine codes (using the G-code computing language) ensure Crane WASP's two printing arms can print simultaneously while avoiding collisions. "Tecla shows that a beautiful, healthy and sustainable home can be built by a machine," said Massimo Moretti, founder of WASP.
To enable earth to be used for 3D printing, WASP and MCA also relied on input from Italian construction materials specialist Mapei. Its role was to identify the key components within the local raw earth mixture that would enable a printable material to be created suitable for constructing the domes. Mapei analysed the raw earth from the site to establish its chemical and physical composition, and assessed how to modify it in order to develop a mix design with appropriate rheological properties. The priorities are to optimise flow from the printer while retaining sufficient mechanical strength to self-support without the need for additional structure. Mapei also had to ensure the mix was able to harden in time to support the subsequent layers printed on top.
The soil sampling process is followed by a dry filtering process. This uses a rotating screen to eliminate stones larger than 9mm and serves to homogenise the earth's granularity, ensuring replicability of the mix.
Soil mixing takes place in a wet pan mill rotating mixing machine. In addition to raw earth, Mapei's design for the final mix includes:
water
fibre from rice husks (the site is located in a rice-growing region of Italy)
a powdered stabilising agent to consolidate the soil, promoting durability and resistance to leaching once it has been extruded
a super-plasticising admixture to help the mix maintain workability and pumpability for up to two hours after preparation; and
a synthetic latex rubber to help the slurry bond to surfaces that have already set.
Once mixed, the soil slurry is pumped to the extruder inlet at a constant flow and pressure. Deposition takes place using a screw conveyor, which modulates the quantity of material to ensure even layering and minimal waste. "The printers are set to a speed based on what is considered the best layer time for this specific application," explains Giglio. "It is a delicate balance: if the soil is too damp it cannot bear the weight of the following layers, but if it is too dry it is difficult for it to actually stick [to the previous layer]; it also depends on the climatic conditions," she adds.
Wall structure
The walls are built up from a 3D-printed ground beam; they are 600mm wide at the base, tapering to 250mm at the top where they support the skylight. A total length of 150km of clay was extruded to form the home, using 60m3 of material. The walls are not solid – instead, they form a complex lattice-like inner structure. "Solid walls would take ages to dry," Giglio explains. "The voids are meant to provide for ventilation and their cavities can be filled with insulation materials, such as rice husks and straw". The walls also incorporate what Giglio describes as "dedicated pockets" for electrical cabling to provide lighting and power.
The architects say structural tests are being carried out as part of the project. The team are also trying to establish a U-value for the thermal property of the walls. "I think the walls work pretty well right now; what we're trying to do is to evaluate the possibility of using different materials for different locations where different waste products other than rice husks are readily available," Giglio says.
In Massa Lombarda, a water repellent was sprayed onto the domes' dry external walls following construction to help waterproof the structure. This process has still to be perfected; there are reports that water can pool on the domes' textured external surface, resulting in several leaks.
However, the team are already working on ways in which the design could be improved. Giglio says that, because this is a prototype, "the quality of printed walls is not as good as it could have been" as printing was often stopped to make improvements to the printer or to collect data. "This has definitely affected the overall quality; you can actually see [in the walls] when and where we stopped printing, even if only for a couple of days".
Improvements are currently focused on the earth mix design, which Giglio says "needs more research to be optimised". MCA is also working on different external treatments and plasters, as well as evaluating the possibility of optimising some of the printer's components, which Giglio says "will be key". The team are also trying to assess the expected lifespan of the dwelling. "It really depends on the maintenance of the envelope – once that ceases, the home can deteriorate quite quickly," says Giglio.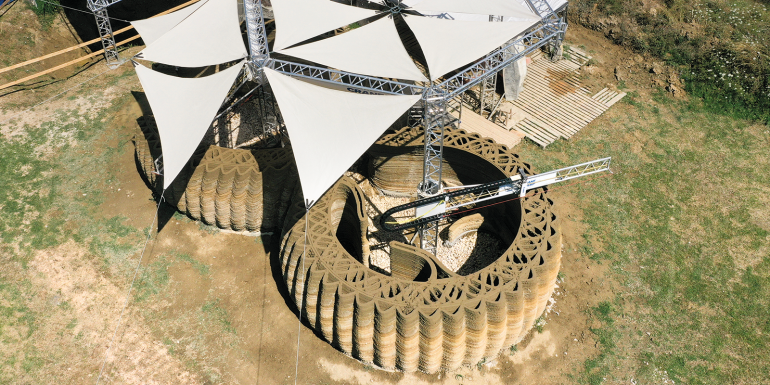 An experiment
The Tecla home was developed as part of a study conducted with the support of masters students on the Sustainable Environmental Design programme at the Architectural Association in London. The study looked at using bioclimatic architecture and construction to produce low-carbon dwellings to house people without a home – as the result of displacement following a natural disaster, for example, or simply because they have insufficient funds.
Building in situ using locally sourced materials will enable future examples of the Tecla to be printed using materials extracted from the construction site, wherever that is in the world. By tweaking the amount of water, fibre and chemical binder added to the soil, the team expect to be able to adapt the system to a range of soil types and characteristics, climates and site conditions.
MCA says the design can be easily adapted too, depending on capability of the local materials and whether the homes are being built in a warm tropical or cool temperate climate. For example, a Tecla home could be printed with more openings to help increase ventilation in humid climates, or openings could be minimised and shading added to make it suitable for warmer environments.
Using 3D printing to construct a home is a relatively recent concept. A number of 3D-printed homes have been built in recent years, many using specially formulated concrete, such as the boulder-shaped home completed this year in the Netherlands by Saint Gobain. In comparison with concrete, there are some structural drawbacks to using clay; for example, it can take clay weeks to dry out, whereas concrete can cure in days. A bigger issue is the fact that clay is not suitable for building large multi-storey dwellings for inner city housing, which is where homes are often most needed.
While 3D printing is relatively new, using earth as a construction material is not. Adobe buildings made of sun-dried earth, water and fibrous material such as straw are common throughout the Middle East, Western Asia, North Africa, South America and Eastern Europe – and adobe's durability, biodegradability and natural insulation have ensured the material has remained in use for several thousand years. In England, cob has been used to build homes since prehistoric times. Homes built from rammed earth, where damp soil is compacted within formwork, can be found on every continent except Antarctica.
The use of 3D printing with indigenous materials could be particularly appropriate for rural areas, such as parts of Africa, where industrial construction materials are harder to come by. The method could also be useful as a means of providing housing in disaster-hit environments. And, where space permits, Tecla has the potential to build new autonomous off-grid ecocities. That said, 3D printing using earth will not be a cure-all for the global housing crisis simply because it is best suited to rural or semi-rural sites where soil is abundant, uncontaminated and relatively homogenous, and where sites are large enough to house the equipment and soil mixing process.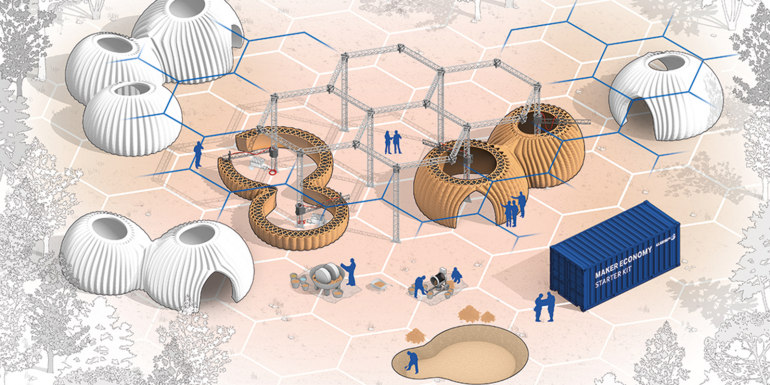 What of the future?
Cucinella is realistic about the application of the technology: "Building a village of clay homes is not going to solve the issue of overpopulation in Chinese cities, for example." Nevertheless, for those communities that want to print a series of homes or a village, WASP produce an economy starter kit in a shipping container with all the elements needed to print a home – even including a generator to provide power.
Using natural materials for 3D printing could also be an important tool in the international drive to carbon neutrality. The carbon footprint of a UK house depends on its size and the materials chosen. In his book How Bad Are Bananas? The Carbon Footprint of Everything, Mike Berners-Lee estimates the embodied carbon in a typical two-bed UK home to be 80 tonnes. This includes the energy used to extract materials, manufacture and transport to site. However, a house may last for a century or more, so the carbon cost per year will be much less.
Printing using earth mined from the construction site reduces transport and manufacturing emissions to almost zero, and the energy used in 3D printing will be minimal. While the life expectancy of the Tecla home is currently unknown, when it has done its job it can simply return to the ground it came from – whereas demolishing a conventional home can produce tonnes of waste, much of which ends up as landfill.
"We like to think that Tecla is the beginning of a new story; it would be truly extraordinary to shape the future by transforming this ancient material with the technologies we have available today," Cucinella says. 
 Watch the Tecla house being built at bit.ly/Tecla_house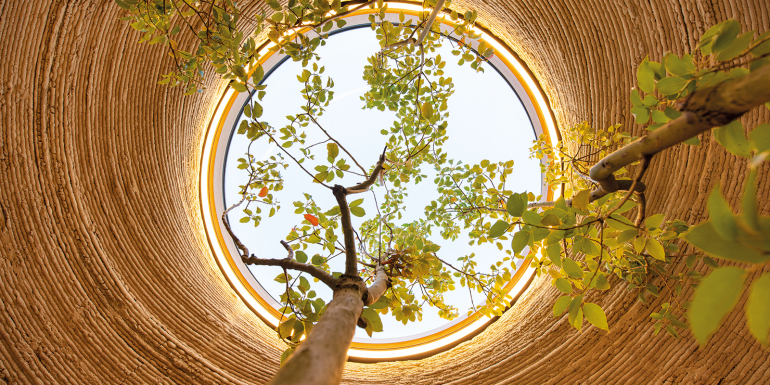 Image credit | WASP | Mario Cucinella