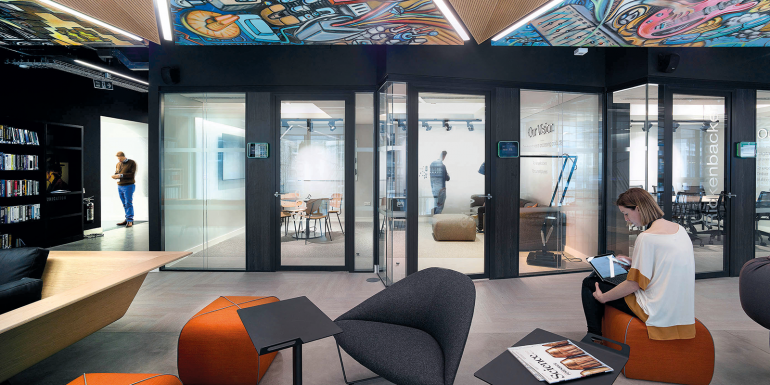 The modern, open-plan office may well have become the norm but a lack of privacy and poor acoustics can have an impact on productivity, creativity and employee job satisfaction. The dominance of these open-plan layouts has been, in part, fuelled by the advent of agile working, which gives employees the flexibility to work in different locations within the office.  
The definition of agile working is broad; in its practical form, it can pertain to co-working zones within office areas and this is changing the way office spaces are designed to enhance employee health, satisfaction and productivity. A co-working space for example, could be a collaborative bench space, a 'breakout' space with soft seating for brainstorms or relaxing, or a 'touchdown' space which people passing through can use as a base to log-on and recharge. Either way, it should be designed to suit the different tasks employees undertake and raises some important questions about the quality of the work environment.
Acoustics 
Historically, commercial offices were designed to maximise space, make it worth its money, and not really think about the human condition. Now there is a greater appreciation that an employee who is not happy in their work environment is a cost and the number of people on stress-related leave has risen to 30% in some countries. Even just on a day-to-day basis, when people stop work due to being interrupted, it can take, on average, close to 27 minutes to return to the same level of concentration. 
Workers in open-plan offices complained about noise levels ten times more than those in cellular offices (Pejtersen et al, 2006). And many office interiors are built using hard, reflective surfaces which have the effect of amplifying sound so general office noise seems louder and more intrusive. Research (Kjellberg and Landstrom 1994) shows the optimum level of steady background noise is between 45dBA and 50dBA. This provides a good degree of speech masking but is not so high as to disrupt concentration. Designers are familiar with the demand: 'I want a soundproof office'. But background, white noise is inevitable and there'll always be a degree of flanking sound; it's about getting people to think about using ambient sound to mask unwanted noise and using sound absorbing products for ceilings, rafts, wall panels, carpets and free-standing structures to shorten the reverberation. 
Another significant acoustic and psychological consideration is the notion of privacy. In an office environment, when related to sound, privacy can be defined as the ability to hold a conversation and not be overheard/understood in adjacent areas. It is crucial to achieve the right mix between open and private areas; not only to facilitate employees' different working styles, but also for the sake of a space's acoustic performance. Noise levels in open plan offices can be addressed by the introduction of quiet working rooms for concentrated work and quiet zones for meetings and private discussions. 
According to the What Workers Want survey, only 45% of employees were satisfied with the amount of quiet spaces for focused work in open office spaces. Glass partitioning offers great acoustic performance for those areas of sensitive or confidential discussions without compromising the open plan aesthetic (see box on the science of acoustics). Partition panels can also be tinted, with special films designed to ensure screen privacy without losing the flow of natural light. 
Light
Light reflects in a similar way to sound – too much reflection can have the perceived effect of increasing  the sound as it bounces off surfaces causing the effect of greater intensity. This too can hamper work and cause irritation to the building's occupants. That said, natural light is beneficial for workers reducing eye strain and increasing positivity. A fine balance must be struck between allowing an abundance of natural light to flow through the space and ensuring that there are as few reflective surfaces as possible, so the light isn't overwhelming. Glass partitions are again a solution, defining individual workspaces and creating private areas without losing the sense of space and light.
Excellent spatial planning is crucial in co-working spaces, where employees are filtering in and out throughout the working day. Due to the high amount of traffic (movement of employees and office visitors), co-working spaces should be designed to be secure and acoustically sound. By creating an environment which balances public and private space, staff will have the choice to decide where they can work best.
A staple of modern office design, open-plan environments have the capability to be spaces where employees feel motivated to work in, providing the expanse is balanced with more private zones. Designing for the people who will thrive and be happy in a space will create a more environmentally healthy environment for everyone to benefit from.  
Planet Partitioning designs, manufactures and installs demountable partitioning, fire and acoustic partitioning and doors. Its products have won major industry awards and it continuously sets new benchmarks for acoustic and fire rated performance. Visit planetpartitioning.co.uk 
---
Science of acoustics
Sound is a series of waves or pressure fluctuations from the movement of an object – such as vocal chords, the sound of keyboard keys being depressed and released, doors opening and closing etc. This vibration moves the air in all directions at about 1,200km/h or 786mph (the speed of sound). As it travels from the source in concentric circles, the radius of the imaginary line of sound grows larger and the energy in the sound dissipates. However, if it hits a hard surface it bounces off and amplifies (because of the build-up of energy in the 'bounce'). If it hits a soft surface some of the energy can be absorbed. 
The acoustic quality of a room is found by measuring the reverberation time (RT) – the length of time it takes for reverberation to die down. Acoustic problems in a room are often derived from either long reverberation times as the noise bounces off hard internal surfaces (creating an echoey space) or from noises outside a room with poor sound insulation. If a room has a long reverberation time, one spoken word does not have time to die down before the next reaches the listener. This overlapping of sound causes discomfort and is often an issue in open plan offices. Generally, the shorter the reverberation time, the better the speech intelligibility and the better the acoustic performance it is considered to have. Specialist glass booths for example, don't allow sound to enter or escape by reflecting it and for that reason are 'private' spaces where it's possible to hold a conversation and not be overheard in adjacent areas. Specialist film on the interior of the glass helps absorb the sound waves so as not to create an echo chamber internally. 
For more information, visit the Finishes and Interiors Sector's guide to acoustics bit.ly/2tWr9wr