Building Safety Act 2022 represents accountability for construction industry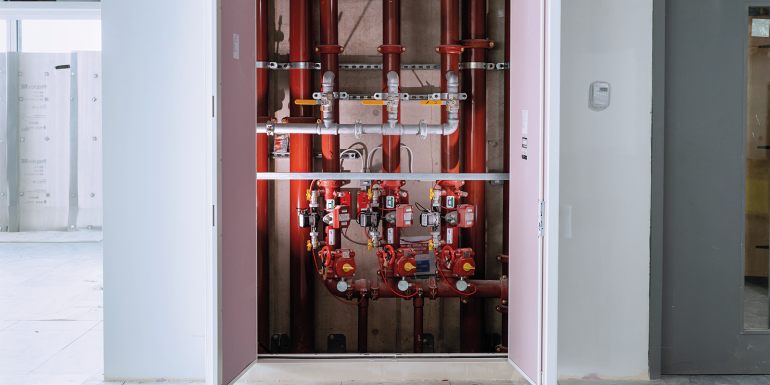 The Building Safety Act 2022 represents a new era of accountability for the construction industry. Marcus Parnham, Commercial Director at Profab Access, explores its implications for building engineers
The Competence Steering Group's Setting the Bar report aims to achieve a system of competence standards for all those in safety-critical disciplines working on higher-risk buildings, in line with the Hackitt report. Building engineers responsible for procurement, construction, inspection and maintenance can partly achieve these objectives by specifying and installing components with comprehensive third-party certification.
Unfortunately, differences still exist between industry guidelines and regulatory requirements. For instance, for fire integrity riser doors in non-residential buildings, there are disparities between the guidelines outlined in BS EN 1634-1:2014+A1:2018 and clause C3 of Approved Document B2. Where a door leaf is symmetrical, Part 1 of the BS EN guidelines allows for testing from one side only. In contrast, clause C3 stipulates that each side should be tested separately, irrespective of symmetry.
Different manufacturers take different approaches to address this. Some may conduct product assessments via a third party in accordance with the BS EN standard, while others may undertake third-party testing of both sides of the door leaf, supported by ongoing third-party certification, to show their products are consistently suitable.
Customer responsibility
While the National Construction Products Regulator will be able to conduct its own tests of building materials specified for fire-critical environments, it is the responsibility of the manufacturer to guarantee the products they supply are suitable for the proposed application. However, customers also share this responsibility. Building engineers need to decide how best to assure the performance of fire integrity riser doors. Certainly, third-party assessment of performance is a minimum. 
By using evidence of comprehensive due diligence through procuring riser doors that have been bi-directionally tested by a third party, and are supplied with ongoing certification and test reports rather than single product assessments, building engineers can be confident that no assumptions have been made regarding suitability and performance. This includes whether the doors will perform effectively from both directions. This ensures the long-term suitability and safety of the building.
Regarding riser doors in particular, extensive third-party bi-directional testing to the BS EN standard for both sides of a door leaf shows the manufacturer has exceeded the minimum requirements to meet the requirements defined in clause C3. Building engineers should check that third-party testing has been undertaken for the complete doorset, including each individual component, to successfully validate overall performance.
It is also critical that the testing involves installing the doorset into an approved wall construction. This helps to remove any uncertainty or ambiguity as the wall certification also states the approved application.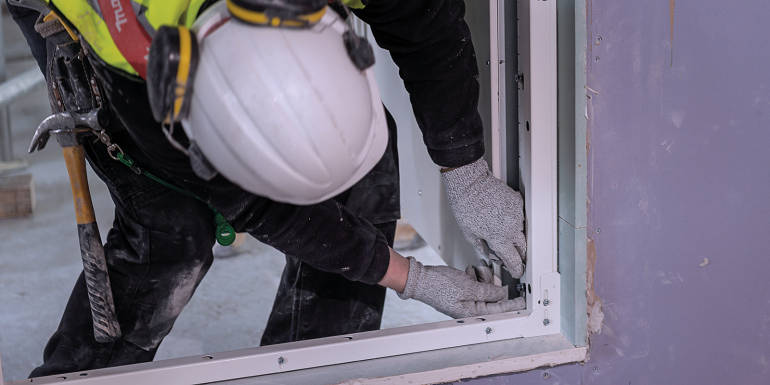 Practical risks
In practice, installing a riser door poses a number of risks to overall fire integrity through variables such as the packer type and intumescent mastic bead application. One solution could be steel riser doors with adjustable frames and an integral fire-stopping intumescent strip between the wall and frame. This would eliminate the need for packers and for a dry liner to rely on the correct thickness of intumescent mastic bead. It also helps confirm compliance and adequacy for the installation as its performance has been sufficiently documented by an independent assessor. This also makes installation more efficient and reduces the potential margin for error. 
More details at profabaccess.com
Image credit | Profab-Access