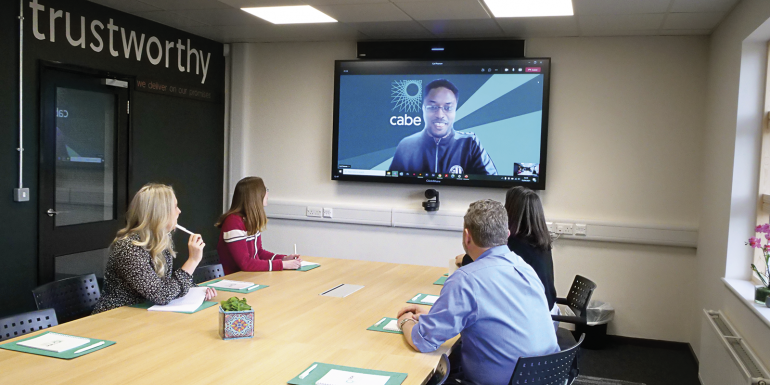 Past visitors to CABE's Lutyens House headquarters may have noticed that the facilities had seen better days.
The building was no longer fit for purpose and did not represent the professionalism of the CABE membership. It also failed to provide a good working environment for staff, with a lack of infrastructure and IT systems.
In 2019, the board took the decision to undertake a significant renovation project. Alongside the executive team, it determined five desired outcomes for the building:     
provide CABE with a modernised headquarters that delivers an accessible, high-quality learning and working environment     
improve sustainability and building performance in a progressive manner, ultimately leading to zero-carbon performance     
create a building destination that is an asset in promoting building engineers to current and new members     
ensure the most up-to-date IT, digital and video-conferencing facilities     
share learning and good practice.
In November 2020, the renovation project began and in just 23 weeks the building was transformed. Throughout the project, the board and executive team were committed to sustainability and extracting best value from the project, wherever possible re-using and reconditioning the materials and furniture already in the building. CABE was committed to being a good client and worked closely with the architect, Ben Stagg, and the contractor, Steele & Bray, to deliver the project and its outcomes on time and to budget.
Lutyens House is now revitalised. It is modern and welcoming, and the accessibility and energy efficiency of the building have improved dramatically. Five meeting rooms with digital conferencing facilities have been created, providing a modern area for professional interviews, training and conferences. The rooms have been named after the CABE values and reflect the behaviours that building engineers strive for:     
collaborative     
responsible     
progressive     
rigorous     
trustworthy.
We have introduced Covid-19-safe processes and recently welcomed staff back into the office. Everyone is incredibly proud of their building, which now reflects the professionalism of both building engineers and colleagues.
The future
In the next few months, CABE will be welcoming visitors back, with plans to launch a new training programme in the autumn.
We will be launching a micro-website dedicated to Lutyens House; rooms will be available to rent, both for members and other professionals. This will allow the building to become an income generator for the Association, ensuring that the cost of the refurbishment can be recouped.
In the March 2021 issue of Building Engineer, you will have read about the planned landscaping project. The scheme will create a more biodiverse landscape and open the garden for both staff and visitors. Work to lay the foundations to the project will begin soon and, over the next four years, the garden will evolve, creating a celebration garden for CABE's centennial anniversary in 2025.    
Read more about the project at: buildingengineer.org.uk