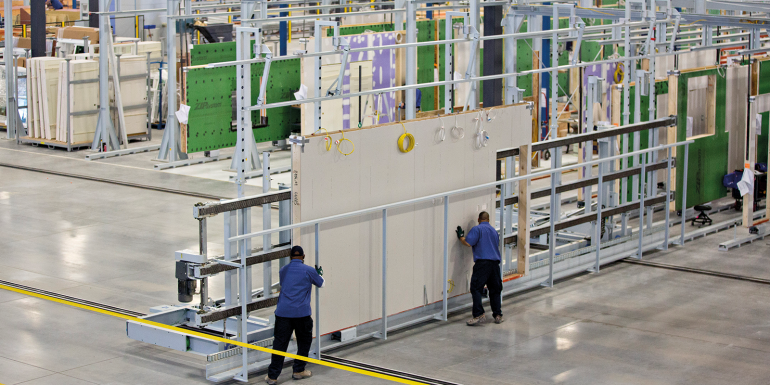 An EY white paper by Eric Ottinger ACABE, Harshit Minglani, Mark Gibson and Amanda Alexander examines changing building practices
Industrialised or manufactured construction is a familiar concept. We have been building with components and even whole wall panels for years. However, with a heightened focus on efficiency owing to skilled labour shortages and tighter margins, industrialised construction is accelerating around the globe.
According to a survey conducted by Commercial Construction Index (CCI), 62% of general contractors are using prefabricated components, of whom nearly half have seen increased use in the past three years. Modular and prefabricated building accounted for about US$237bn of construction activity in 2019. This industrialised (prefabrication, prefab or modular) approach shifts many activities away from the construction site and into a factory.
Design repetition of housing presents a significant opportunity for industrialised construction because countries across the world are struggling to meet demand. In 2014, McKinsey projected that 1.6 billion people would be in need of affordable housing by 2025. That number has already been surpassed. In March 2020, the UN reported that 1.8 billion people in the world lived in substandard housing conditions or were homeless. The UN projects this to increase to 3 billion people by 2030. This problem will continue to escalate with urban expansion and rising prices.
Slow income growth and the prospects of a recession exacerbate this issue. The Organisation for Economic Co-operation and Development showed that 2019 third-quarter housing prices had grown faster than incomes in more than half of the world's countries. This research suggests that it will take about US$1.6trn-US$2.1trn per year to address the growing affordable housing gap in the next decade. Should demand continue to accelerate at the speed of the past five years, the cost could be substantially more.
This research explores both the opportunities and risks of industrialised construction in relation to the four core dimensions of project management: scope, time, cost and quality. 
Scope 
New opportunities in the commercial sector are being explored – for example, office and retail are being added to hotels, hospitals, multi-family properties and mixed-use developments, all of which have building components that can be standardised for replicated application. In fact, during the Covid-19 pandemic, prefabrication has made vital contributions to remediation efforts. Using prefabricated modules, Chinese contractors built a 1,000-bed, 645,000 sqft (59,900 sqm) medical facility in ten days.
Historically, design standardisation has led to declining interest from home buyers and high-end commercial developers. However, standardisation doesn't mean that all of the buildings have to look the same. The structural and foundational components of walls, floors, ceilings and roofs can be constructed using industrialised methods while still allowing for customised finishes and in many cases, projects require customisation. Still, the limited design options are often not fully context- or user-specific and can lack the ability for customisation. Design and factory changes can incur time, cost and quality implications. In some cases, contractors may have to revert back to traditional construction methods.
Like most construction projects, risk increases with the size of the building. This risk becomes more prevalent when utilising industrialisation. Single family homes are much easier and repetitive to construct than large commercial projects.
Time
Industrialised designs can be reapplied to multiple projects, saving time in planning, procurement, manufacturing and deployment. With similar products repetitively being built in one factory, production time is reduced. As processes become more standardised, workflows and efficiencies are optimised.
Nearly 79% of contractors reported schedule reduction using off-site factories. Meanwhile, building inspectors can perform 90% of their inspections within the factory, alleviating the need to schedule multiple site visits. With inspectors coming to factories on a daily basis, consistent relationships and expectations are established that further enhance productivity.
Industrialised construction offers contractors the advantage of preparing the construction site and prefabricating building components in parallel. Factory work provides the benefit of performing many activities 24 hours a day unimpeded by the weather-related conditions that can slow or stop on-site activity.
Work performed in the factory reduces labour on the project site by up to 80% and eases the burden of on-site management. Multiple contractors are alleviated from "working on top of each other". McKinsey also found that industrialised construction led to schedule compression of up to 50%. Utilising industrialisation, a 2,500 sqft (230 sqm) house can take about six weeks for site work, three weeks to assemble the modular components and an additional seven weeks for the façade and finishes to be completed. This is substantially less than the eight months it could take to build the same house using traditional methods.
While there is growing demand for construction, productivity in the industry has lagged far behind that of general manufacturing. This is down to many factors, including increasing design complexity, more regulation, and reduced availability of labour and materials. Whereas general manufacturing has seen a growth in automation, industrialised construction is still reliant on labour. If the assembly teams are not experienced at panelised construction, time and costs will increase.
Because of this, accurately estimating productivity in modular projects carries risk. New industrialised methods do not have years of project data for analysis. In addition, productivity assumptions are highly sensitive. As each module is built in the production line, underestimating the time to build one component can have an impact on the entire project. 
As site work and building components in a factory occur simultaneously, it introduces another risk. Delay of site or factory work may affect the other and therefore, contingency plans for such instances need to be established for every project.
Cost
Reducing schedule duration through repetition leads to lower construction costs. For example, McKinsey reports that it can cut costs by up to 20%. With most industrialised designs repeatedly used for multiple projects, design costs can be allocated proportionally. Customised design costs are typically 7%-12% of a project budget. Depending on repeatability, industrialised design costs can be 10% of that of traditional construction projects. In addition to cost savings, this presents opportunity for revenue diversification, such as selling in-house architectural designs and prefabricated components.
As industrialisation continues to gain in efficiency, investors and contractors can realise a quicker payback period owing to a compressed schedule, leading to less interest costs.
Cost savings are to be found in the factory setting, too. Factories reduce waste by controlling inventory and protecting building materials. According to CCI, 79% of contractors highlighted reduced waste as a key benefit of industrialised construction. 
Industrialisation also provides cost savings in labour. Site labour often requires subcontractors that charge a mark-up. Much of this trade work, such as mechanical, electrical and plumbing (MEP), is moved in-house to the factory and can be conducted by lower-skilled manufacturing labour. General contractors reported using prefabricated and modular MEP systems in 51% of their projects. Almost 70% of contractors reported lower construction costs as one of the key benefits of adopting prefab and modular technology.
Reducing on-site equipment and labour with enhanced co-ordination in the factory makes it easier to implement safety measures. About 71% of contractors highlighted safety as a derived benefit of industrialisation. With factories operating in a controlled setting, industrialised projects have an estimated 80% lower accident rate than site-intensive construction.
However, industrialised construction faces financing challenges unlike the traditional industry. New methods of industrialised construction have a limited track record, resulting in many lenders being hesitant to commit. If a developer secures initial financing, underbidding could require extra capital. When lenders do approve, a significant upfront payment and higher interest rate are often required. Typically, lenders allocate monthly loan draws based on percentage of on-site work complete. With industrialised construction occurring in the factory, the off-site prefabricated components do not add value to the construction site. The percentage complete becomes difficult to assess, therefore, affecting loan distributions.
In addition, industrialised firms may have significant upfront costs. These capital expenses – such as factories, architectural designs, manufacturing processes and logistic routes – and any operational costs should be included in return-on-investment calculations of the supported projects.
Whereas prefabrication work is executed in a predictable factory environment, transporting equipment and large modules to the construction site can be challenging. Robust project, supply chain and logistical controls are required.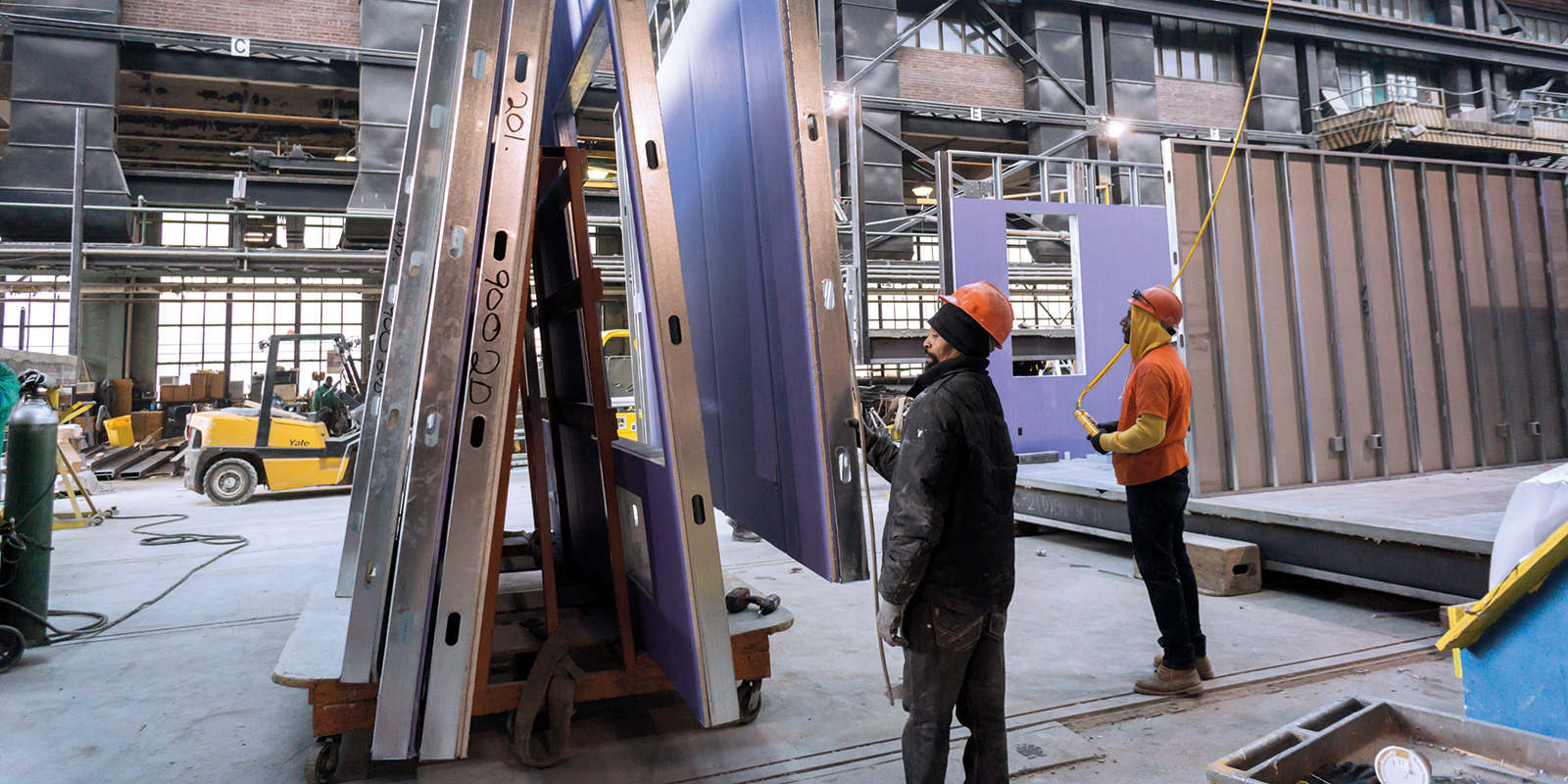 Quality
Standardising factory processes can vastly improve production quality and almost 73% of contractors identified increased quality as one of the key benefits derived from prefabrication.
Increased production quality can have a significant impact on building operations. It can help to alleviate the regular maintenance programme and prolong the useful life of the asset. This supports whole-life costing of a building, of which operations can be up to five times the cost of the capital investment.
The arrival of 3D printing, machine learning, artificial intelligence, the internet of things and other technologies are expected to provide further quality enhancements. New technologies such as sensors, energy management systems, solar panels and battery packs can be incorporated with the internet of things to create smart buildings. This enhances sustainability and enables carbon neutrality, net zero energy use and predictive maintenance.
As the prefabricated structures are also built much more quickly, less energy is expended than traditional construction. Less time on the construction site reduces contamination, such as fumes and runoff. It also produces less noise pollution and public disturbance, which are often the subject of neighbourhood complaints, leading to mandated working hours.
What's more, modular buildings can be recycled. Certain components can be disassembled, relocated and refurbished. This reduces the demand for raw materials, further minimising the amount of energy used to create a building. It also introduces the potential for multiple uses. In the past decade, developers have used shipping containers to build affordable housing and student apartment complexes, for example.
However, industrialised products have a poor industry perception as being cheaply constructed with low-quality materials. Unfortunately, this is based on the mobile and modular home industry of the past, where this has been historically accurate. While this image is a barrier for new entrants, it is improving for most users who have experienced the newer prefab and modular products. With enhanced technology constructing higher quality products, this historical market perception is no longer accurate. Nevertheless, it will require substantial marketing and years of success to build industry trust.
While industrialised construction is gaining momentum, a household brand name has not yet been established. To achieve this, many firms are focusing on digitisation and new strategies in prefabrication and modularisation. Technology is a dominant theme and is laying the groundwork for the future.
As innovation continues to influence industrialised methods, demand will rise for expedited schedules, lower costs and greater quality. This will help in meeting the rising need for affordable housing and sustainable infrastructure. With market forces aligned to substantiate economic activity, the construction industry will continue to drive industrialisation. 
We expect a dominant set of players capitalising on this opportunity to emerge in the next five years. It is unlikely that any of these players will be traditional construction companies. Instead, they will become vertically integrated, technology-backed manufacturers. With technology driving market acceptance and growth, new financial models will be developed. This will enable industrialised growth to begin approaching an exponential upward trend in regard to the global construction industry at large.    
Read the white paper at bit.ly/EYFourDimensions
Image credit | Getty