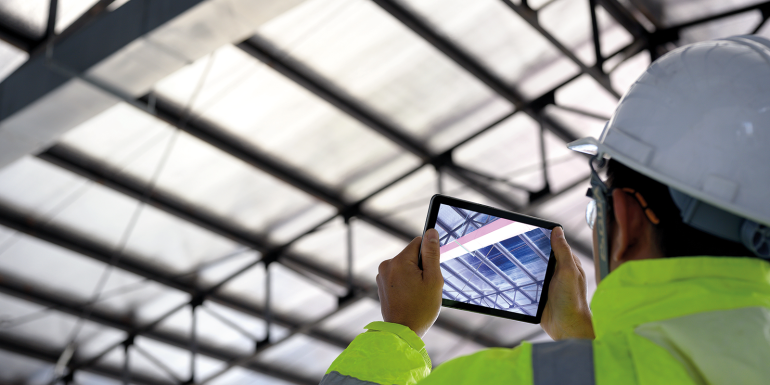 Screening Eagle Technologies' Chief Executive and co-founder Marcel Poser says more must be done to retain building asset health if demolition is discouraged as part of climate goals
A major focus on structural inspection and sustained investment in the field is essential if we are to expect longer lifespans from our buildings to mitigate the pace of climate change.
In a recent report by the Royal Academy of Engineering, leading engineers demanded that governments must "end the unnecessary demolition of buildings", as the construction of new buildings results in significant carbon emissions.
As the embodied CO2 associated with new construction accounts for 30-40% of a structure's emissions across its entire life-cycle, more must be done to preserve the life of existing buildings. And if buildings need to last longer, then asset owners must have greater awareness of and confidence in the structural integrity of their built assets.
Many structures are decaying at unprecedented rates; many have been poorly constructed or poorly maintained over the years and have become inefficient. Structures are crumbling, and that means not only unprofitable assets but also massive inefficiencies and safety risks. A more responsive approach to fault-finding has to be found.
We must shift from sporadically identifying snags every few years via old-fashioned analogue methods towards technology-driven preventative methods. As well as making buildings and structures – such as roads, bridges and tunnels – safer and more efficient, this approach can also flatten the curves of degradation over the lifetime of these assets.
Digitised workflows
Technology has made great advances in the realms of inspection: full-scale 3D scans of a building can be made via tablets and smartphones; measurements and photo evidence can be captured via the same devices; AI programs can, for example, compare and identify cracks from this evidence with precision and at speed; and all the information can be fed into CAD and building information modelling systems.
Additional information from inspection work using non-destructive tools – such as ground-penetrating radar, ultrasound or rebound hammers – can all be presented on a single platform. Significantly, the data can interact to build a better picture of the structural integrity of a building.
For example, Screening Eagle has created inspection software that can digitalise all visual inspection workflows in a single tool. It also avoids the pitfalls of data being fragmented across multiple platforms by moving everything to a single data platform, and places all defect-related data on 2D/3D views or on maps. The latest AI technology is used to analyse all defects during an inspection, while a collaborative emphasis makes it possible to bring in siloed individuals and external teams in a seamless way.
The result is that asset owners or operators using the software can make informed decisions about maintenance. This improves the prospects for preserving and protecting our buildings. 
 More information at screeningeagle.com
Marcel Poser is Co-founder and Chief Executive of Swiss-based Screening Eagle Technologies and is Co-founder of Screening Eagle Dreamlab in Singapore. He gained his undergraduate engineering degree from the University of Zurich and also holds a master's degree from the University of Texas.
Image credit | Shutterstock