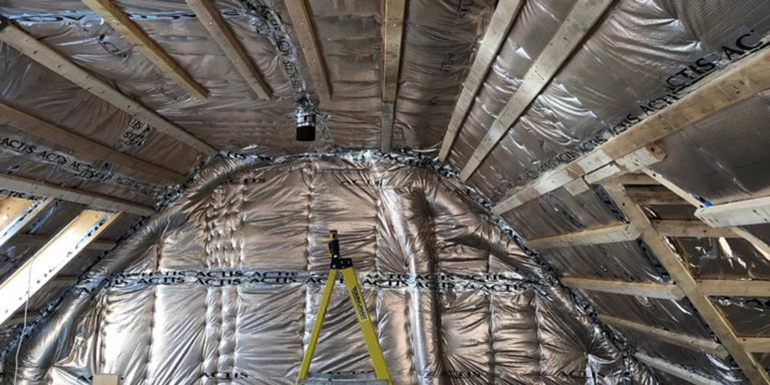 Inside Actis' thermally efficient honeycomb-design insulation, which is being shown off to full effect in Scandia-Hus show homes
Scandia-Hus, a UK-based designer and supplier of Swedish energy-saving, timber-framed homes, has achieved U-values in two show homes of 0.14 in the roofs and 0.16 in the walls by using Actis Hybrid system products. It is in the process of creating a third to the same specification that will act both as a show home and an educational tool to showcase the components of a timber-frame building. The 249m², three-bedroom chalet bungalow, built to Scandia-Hus' Mulberry design, will have brick exterior cladding and a clay tile roof. The first floor will be used as a Scandia-Hus seminar space. Once completed, architects expect it will offer the same U-values achieved in the initial two buildings.
Multifoil membranes
The buildings use HControl Hybrid insulation, which consists of a reflective multifoil insulating membrane with a built-in insulating vapour control layer, and Hybris honeycomb reflective insulation. The insulation thickness is 155mm in the pitched roof and 105mm 
in the walls.
Reflective insulation is a composite of an insulating core material with reflective faces. Reflective films act as a barrier to thermal transfer by radiation while the insulation core material acts against conduction. Reflective insulation products are typically airtight, and can avoid air infiltration and act against convection if the joints are taped during installation. The Hybris honeycomb insulation achieves a thermal conductivity of 0.033 W/m²K and a declared emissivity of 0.06 for the inner layer and 0.10 for the outer layer.
The HControl Hybrid multifoil insulation is an airtight multi-layered product composed of a series of reflective films interspersed with separators such as wadding and foam. Together, the layers act as an insulating blanket. The external foils reflect infrared radiation back towards the source of heat (namely, indoor heating systems in the winter and solar radiation in the summer). Each internal reflective foil acts as an additional barrier to thermal transfer by radiation. The low-density separators between the reflective foils create insulating air gaps, which are also barriers against conduction – the same principle used in double glazing.
Reflective insulation removes cold air infiltration in the winter and warm air infiltration in the summer. HControl Hybrid has a built-in vapour control function for use on the warm side of any insulation material, behind the internal finish in roofs, walls, ceilings and suspended floors. It has a core thermal resistance of 1.90m²K/W, horizontal heat flow thermal resistance (with two air cavities of 20mm) of 3.20m²K/W, and declared emissivity of 0.06.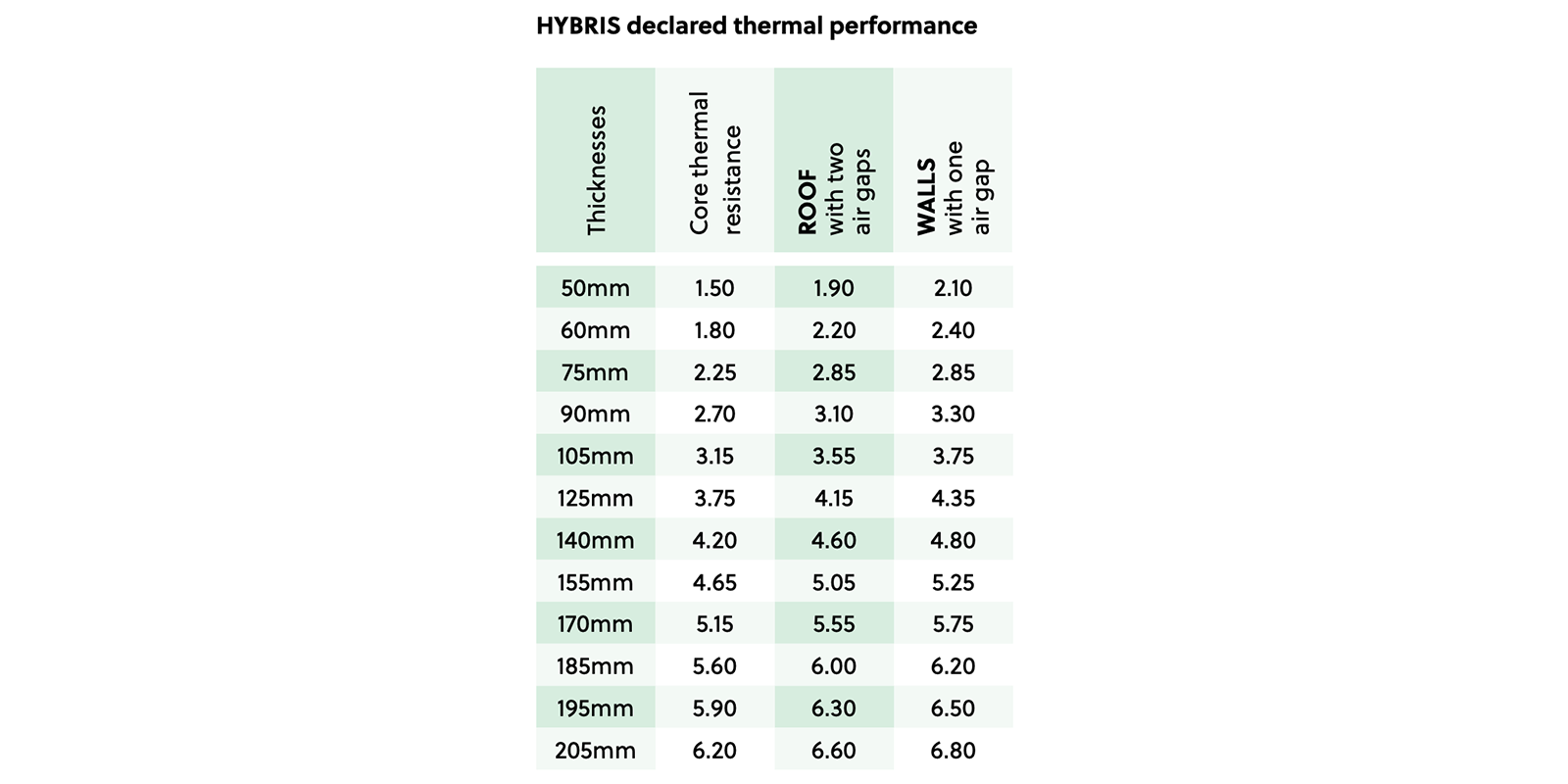 Thermal imaging test
Scandia-Hus trialled the system on its first show home, carrying out a thermal imaging exercise after completion. The test, carried out with an outside temperature of 8°C and an inside temperature of around 21°C, involved infrared pictures being taken from both outside and inside. Analysis of the images showed no signs of any defect in the installation and no visible thermal bridging or leakage. It also showed homogenous temperatures over the surface of the walls.
Hybrid products are flexible, so can be bent around corners to address the issues of thermal bridging and air tightness. The panels are easy to cut to size and slot into a stud wall without the air tightness being compromised by follow-up trades. Actis' Liane Bayliss comments that the Hybrid system is popular with timber-frame builders such as Scandia-Hus because of the high U-values it can achieve from its thinner product profiles, and that the show homes are a good way to showcase its thermal efficiency.    
Specifications available at bit.ly/Actis_Hybrid
Image credit | Actis