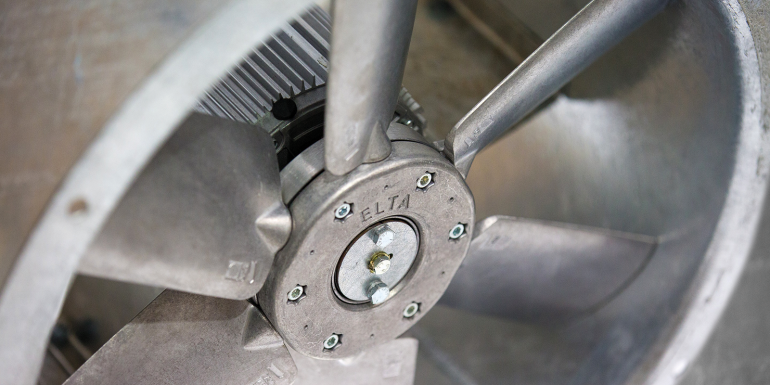 David Millward, Group Product Manager at Elta Group, discusses how building engineers can help to restore trust in the ventilation systems of public buildings.
The high-profile closing down of many public spaces, coupled with an increasing focus on infection transmission via indoor air quality, has understandably damaged people's confidence in the buildings they once used to frequent. Many urban environments are now having to be reshaped, and with a recent government white paper stressing that ventilation is an important factor in mitigating the risk of infection transmission, more needs to be done to improve indoor air quality.
Until now, little attention had been paid to the future use of a building – whether that's the physical layout or in terms of its purpose and occupancy levels. So how can engineers be better prepared in future?
Specification beyond minimal compliance
A good start is to acknowledge that regulations change, often becoming more stringent and, therefore, requiring higher levels of ventilation. This means that ventilation that was compliant at the time of installation is often less effective several years down the line.
The World Health Organization recommends between eight and ten litres of air per person per second, for most environments based on design occupancy. Some may argue that increasing the minimum ventilation rates would suffice. However, it's not that straightforward as balance is required with other aspects of the building, such as CO2 emissions. Also, simply pumping in large volumes of outside air is expensive and is likely to affect the temperature within a building. A balancing act is required to deliver the correct amount of air without incurring high energy bills or a reduction in thermal comfort.
The solution lies in demand control ventilation and effective application of speed control. While this is a common theoretical approach to ventilation strategies, not enough is being done in the specification stages to account for future changes. For example, when calculating the air flow requirement for a room, the losses within the duct system must be accounted for. The capability to overcome this pressure is a key factor in energy use and this design requirement is the basis of all equipment selection. With a change in future occupancy or building use the ventilation rate may no longer be suitable. For instance, if a room's use is changing from a Zumba class to a library then downwards demand control will enable energy savings.
With demand control, a value is set at that initial required duty but because it is speed controlled and monitored, the air flow can be adjusted automatically depending on condition, adjusting air flow and energy use. Specification typically allows for 20% more air flow and 10% more pressure than the selected ventilation rates. However, this is predominantly to cover miscalculations in system design and is often removed during the tender process to lower equipment cost. Including this increase above the design requirement provides some future-proofing if the needs of the building change.
With legislative limitations placed on the amount of electricity a ventilation system can consume while operating, a common mistake made when selecting fans is to ignore the additional energy losses – surplus to specific fan power (SFP) – associated with speed controls. These can be significant and should be added to the power consumed by the fan to accurately calculate a ventilation system's SFP.
To help reduce current, it is advised to install a fan with a low-energy EC motor, composed of a permanent magnet motor and drive. The non-domestic compliance guide provides a definition for specific fan power which includes losses through switchgear and controls; this is often overlooked in determining SFP. However, as EC motor controls are built into the product's electronics, it is accounted for; what's more, EC motors have relatively low losses compared with equivalent AC motors, especially at reduced speed.
Put simply, a smart demand control ventilation strategy, coupled with a low-energy EC motor and high-performing impeller, will aid any building engineer tasked with future-proofing a building's ventilation system.    
Elta Fans' Revolution SLC EC is an innovative long-cased axial fan that has been designed with these core principles in mind. For more information visit eltafans.com/revolution-slc-ec 
Read the government white paper at  bit.ly/CovidControlVentilation