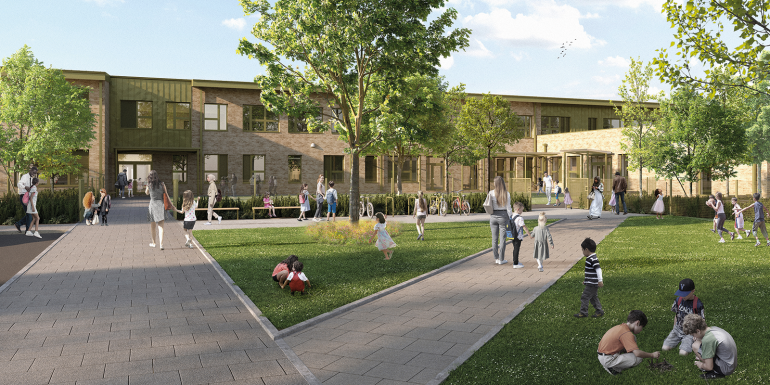 Meeting climate challenges head on with a Passivhaus building design for a primary school.
A new school will be built to the Passivhaus Standard to replace both the current North Muirton and Balhousie primary schools in Perth, Scotland. It will be built on the site of the current North Muirton Primary School and have a capacity for 500 pupils. A nursery and ASN (additional support needs) provision will also be incorporated, each with their own dedicated outdoor space. Both original schools will remain in operation until early 2023, when the building is due to be completed. It will be one of the first Passivhaus Standard primary schools in Scotland.
A Passivhaus building requires very little energy to achieve a comfortable temperature throughout the year, typically offering space-related heating and cooling energy savings of up to 75% compared with the average new build. The standard can be applied to all building types and focuses specifically on orientation to maximise the impact of natural sunlight. Passivhaus buildings also employ superinsulation, airtight envelopes, high-performance window installation, minimal thermal bridging and mechanical ventilation with heat recovery (MVHR). This will make them a key element in the drive to halt global warming.
The new school will use an all-electric heating and hot water strategy, and have solar photovoltaic panels fitted to the roof. An MVHR system with a 92% efficiency rate will control the internal environment. There will also be a focus on in use energy use, with all kitchen and plug-in equipment usage being reviewed and verified. This will ensure the school meets the Scottish Government's requirements on fossil fuel usage, as well as achieving the Scottish Futures Trust's Learning Estate Investment Programme benchmark of keeping in-use energy below 67kWh/m2 each year.
Sustainability agenda
Two of BakerHicks' Scottish architectural team have certified Passivhaus Designer status and were involved in the formation of the energy strategy for the building, including ensuring it met Perth & Kinross Council's renewable energy strategy and net-zero carbon aspirations. Laura James, Head of Scotland at BakerHicks, says the agenda matches the company's own sustainable goals: "We want to design differently, to use less energy in all our projects, to help create the environment that our society needs. It is brilliant to see local authorities like Perth & Kinross really driving this effort to construct more sustainable buildings."
Councillor Caroline Shiers, Lifelong Learning Convener for Perth & Kinross Council, commented: "We aim through this project to enhance education provision for children in the north of Perth, but also support a more environmentally friendly learning and teaching environment."
The designs for the building were carefully considered following consultation with the local community; it will provide 16 classrooms, with a further two available for future school expansion. The landscape design will retain many of the existing pedestrian paths that connect the school with the neighbouring area to encourage active travel through walking and cycling to school. In addition, the new school will benefit from an outdoor activity trail and a sheltered outdoor classroom for both informal self-guided play and programmed outdoor learning.  
For more, visit bit.ly/BakerHicksSchool
---
Project file
Client: Perth & Kinross Council
Contractor: Robertson Construction Tayside
Mechanical and electrical design services: BakerHicks
Lead consultant and Passivhaus designer: Architype
Passivhaus certifiers: WARM