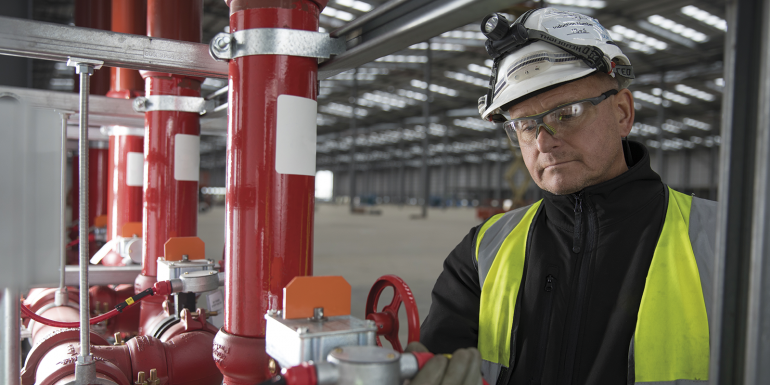 Shaun Hughes, Regional Manager Southern UK at Victaulic, suggests best practice for using fewer resources.
The construction industry, by its very nature, is a big user of natural resources. But with growing concerns over climate change and the finite nature of these resources, there is increasing pressure on construction firms to reduce their environmental impact.
The need to embrace modern and cleaner methods of construction has been highlighted at both a global and local level. The United Nations' General Assembly seeks to ensure sustainable consumption and production patterns as one of its Sustainable Development Goals (SDGs).
In the UK, the government's strategy for the construction sector seeks to achieve a sustainable and smart industry, which efficiently uses resources and leads the world in low-carbon and green construction, by the year 2025.
While the Edie State of Sustainability in Construction report found almost two-thirds of businesses operating in the UK construction industry are now more committed to taking action on sustainability than 12 months previously.
One of the government's key priorities is to adopt innovative technologies and embrace digital design. There are already several options to do this, such as Building Information Modelling (BIM) – an intelligent 3D model-based process that has been a solution of choice in even the most challenging piping system projects for some time.
The key reason the construction sector, and specifically the PVF sector (piping, valve, fitting), is increasingly choosing to employ the use of pre-site methodology such as BIM is due to its ability to save resources; the technology allows contractors and engineers to pre-emptively conceptualise structures. Bespoke tools, such as Victaulic's own software add-in Tools for Revit®, offer engineers an easy way to increase pipe size or rotate components such as valves and fittings during the design. It also allows engineers to complete pipe runs at specified angles, create fabrication assembly documents, resize pipe and change fitting and accessory sizes thereby minimising waste by avoiding potential errors.
Energy-saving alternatives
Sometimes the simplest innovations bring the biggest change. Victaulic's grooved mechanical pipe joining technology involves grooved pipes encased by a gasket, positioned by coupling housings and tightened by a pair of nuts and bolts. It is a strong installation alternative and a means to transitioning to low-carbon construction practices (compared to more traditional methods such as welding or flanging).
Aside from the fumes, welding can use up to 4kW per hour on an eight-inch joint, whereas grooved mechanical joints use just a fraction of that. This is due to their mechanical nature, as a grooved coupling is installed by simply tightening two nuts and bolts by using much more efficient tools such as an impact gun or, in some cases, a hand ratchet. This process is much more efficient than arc welding, which for a typical four-inch, Schedule 40 carbon steel joint consumes 5kW of electrical energy with an estimated 25% waste during installation.
The impact of this energy-saving potential is seen more clearly as a case study. A recent project numbering 1,105 welds on Schedule 40 pipe sized 10 inches through 24 inches required 123,227kWh of energy to be consumed at a total cost of £16,500. Factoring in a 25% kWh waste on welded joints equals a loss of £4,125 and 30,807kWh on this job alone. By using the grooved mechanical pipe joining, this single project saved 131,250kWh – the equivalent of the average electricity consumed by 375 UK homes in one month (working on an average use of 350kWh). The wasted electricity (32,900kWh) would have equalled the amount of average electricity consumed by almost 94 homes in one month.
In addition, the systems are easy to modify or expand without engaging in rework as the pieces are not permanently welded together. Eliminating rework eliminates the associated waste, such as the need to order more than what's needed or to stockpile product replacements that drive up raw material and transportation costs. Using grooved technology also considerably decreases the use of consumables, which accounts for up to 9% of the cost of a welded installation, making grooved couplings not only a more sustainable alternative, but also a more cost-effective measure.
Adopting sustainable construction methods will reduce an organisation's impact on the environment and bring tangible benefits too. Piping systems shouldn't be overlooked as they present great opportunities for a cleaner construction future.  
Visit victaulic.com for more information, or for the BIM software tool visit victaulicsoftware.com/#intro