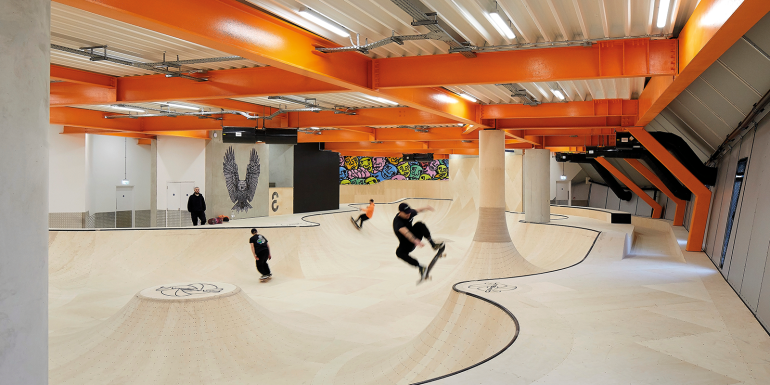 Highly Commended: Jenner Group - for F51. To design and construct a legacy building requires vision and a collaborative approach
The site was originally intended to be a multi-storey car park, until local philanthropist Sir Roger de Haan stepped in. He recognised that the site in the heart of the coastal town of Folkestone in Kent had greater value as a community space and would breathe new life into one of the town's most deprived wards.
With that in mind, architects Hollaway Studio and engineers Ramboll decided to push the boundaries and create a skateboarding park over multiple floors that would become a world-first in design and construction.
---
Project team
Architect: Hollaway Studio
Construction: Jenner Group
Concrete Skatepark Design  Maverick Skateparks
Timber Skatepark Design:  Cambian Action
Engineers: Ramboll
---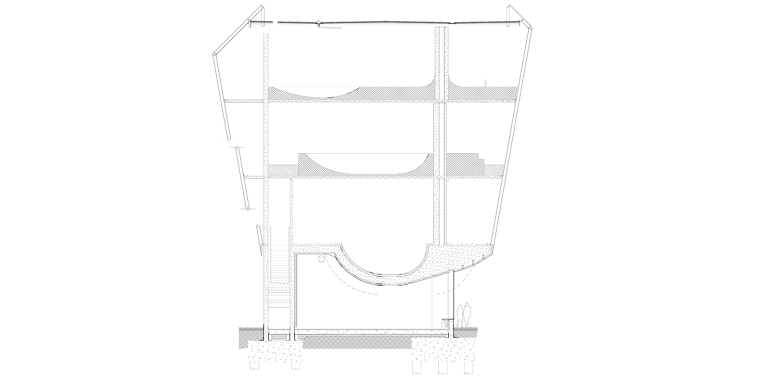 Working closely with renowned skatepark designers Maverick Skateparks and Cambian Action Sports, Jenner constructed three floors dedicated to wheeled sports. This impressive feat includes two suspended concrete bowls, a boxing gym and a climbing venue that hosts the tallest climbing wall in the south-east and a dedicated bouldering area. F51's design, location and conception revolutionises the way we look at town and city spaces.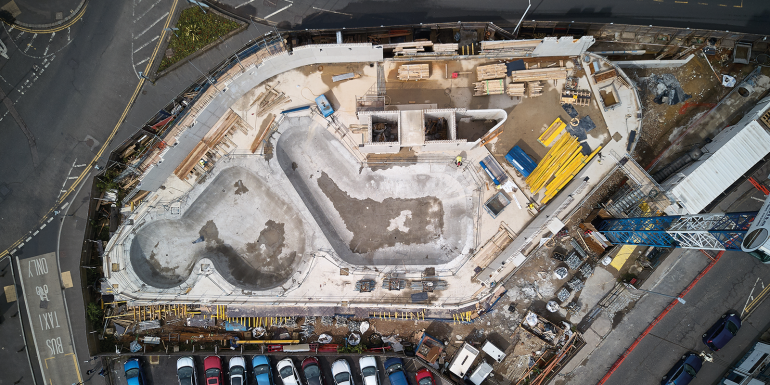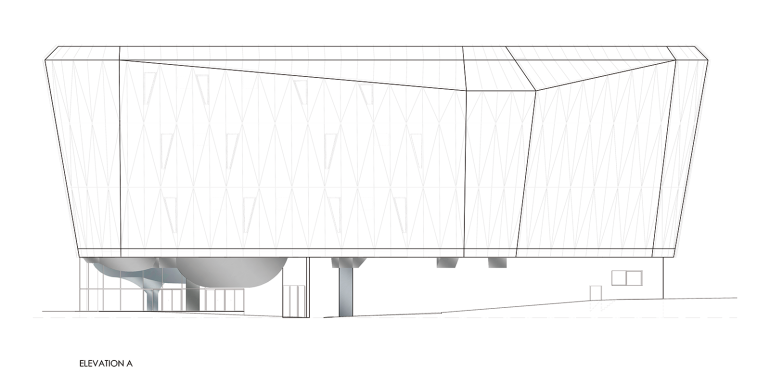 F51 is set over four storeys but stands higher than an average eight-storey building owing to floor heights. It has been meticulously planned around the suspended concrete skate bowls of the first floor. A 3D digital model was utilised to aid installation, and specialist firm Cordek was engaged to manufacture polystyrene moulds that acted as the falsework for the bowls. These were delivered to site in eight articulated lorries and subsequently pieced together.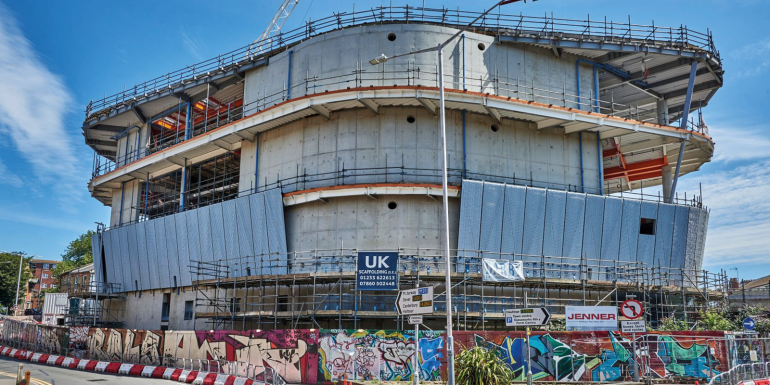 Design challenges
The rebar was complex as every bar was positioned individually prior to a spray concrete mix being applied. It took six weeks to design and schedule and a further four weeks to fix into place. While a traditional concrete slab would be poured continuously, the bowls were marked into sections and completed one per day, with the spray concrete bringing time and cost efficiencies.
Further challenges presented themselves: every floor needed to be centrally cantilevered so the building could widen as it got taller and the original curtain wall cassette system of aluminium mesh was enhanced with an inner layer to make the building weathertight. This generated a far more complex cladding system with load- and wind-bearing implications, major structural changes and 485 façade panels (each a different shape and size) which had to be individually lifted and pieced together. Folkstone-based contractors Jenner Group found effective solutions to each design challenge.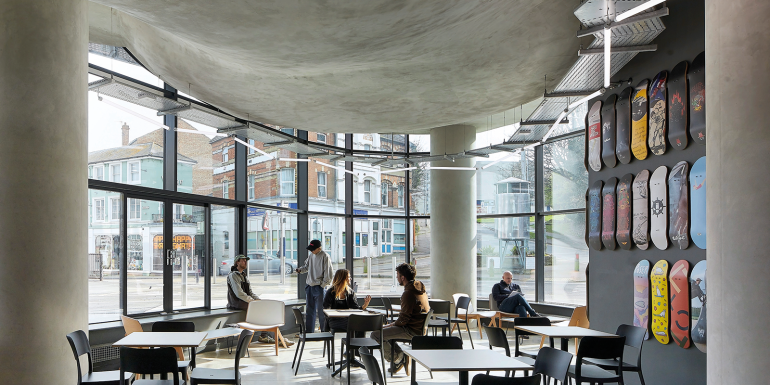 The team included specialist professionals identified as the best in their field; they worked seamlessly to overcome the complexities of this multi-faceted build. Delivering the world's first multi-storey skatepark has had countless challenges, not least a global pandemic that slowed progress as supply-chains were disrupted and new safety measures were implemented. Success was achieved through the strength of contractual relations and respect among the team.
For more, visit bit.ly/CABEindoorskatepark
Image credit | Hufton+Crow | Holloway-Architects