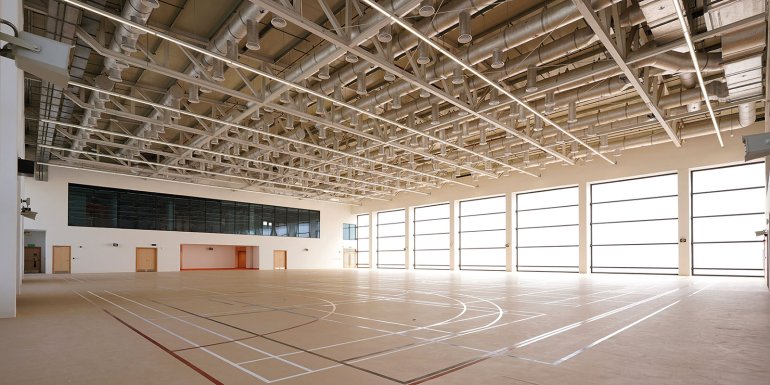 There is plenty of innovation happening in the construction sector, and – subject to safety testing and certification from official bodies – these materials, products and systems could move from left field into the mainstream.
These innovations are not endorsed by CABE
Used cooking oil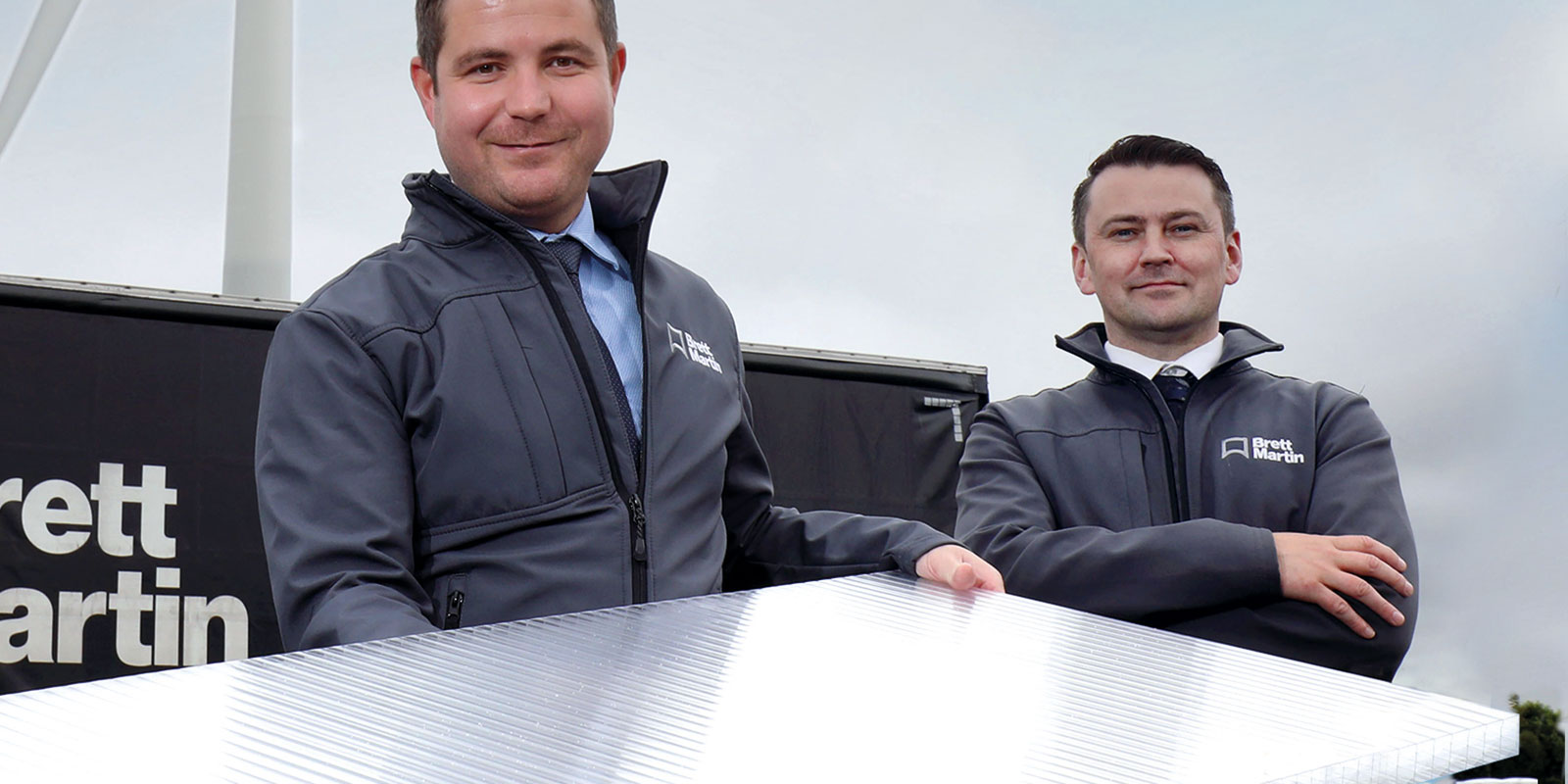 Brett Martin has created a new polycarbonate glazing product largely based on bio-circular attributed material, such as used cooking oil. Called Marlon BioPlus, it offers a major carbon footprint reduction by cutting the use of fossil-based materials by 70%. In addition, further reductions in carbon have been made by producing the sheet using 100% renewable energy, generated on-site at the company's wind turbine and dedicated solar farm in Mallusk, Northern Ireland.
Marlon BioPlus has already achieved the International Sustainability & Carbon accreditation with ISCC PLUS. ISCC PLUS is a globally recognised sustainability certification program for bio-based and bio-circular (recycled) raw materials, with a focus on the traceability of raw materials within the supply chain. This new low-carbon alternative retains the same physical and performance properties, and will be available as polycarbonate multiwall, corrugated or flat sheets for use in roofs and walls.
Paul Martin, Brett Martin's Director, says: "The development of this new product reflects the newest technology in the plastic industry to introduce bio-based material. The process, known as mass-balancing, certifies the input of the material through the production system, similar to the way renewable energy enters the power grid.
"Importantly, the material is a recycled source and therefore the bio-based content does not compete with food production. And because the substitution occurs at the earliest stage of the resin production process, all the visual and mechanical properties of the finished sheet remain completely unchanged."  
The product will be available to the market globally. For more, visit brettmartin.com
---
Ultrasonic gutter monitoring
According to 2019 data from the Association of British Insurers, around 100,000 commercial buildings in the UK suffer roof leaks every year, creating an annual cost to businesses of more than £800m.
Sharmans has launched an ultrasonic gutter monitoring technology and drainage management system to help prevent the costly damage caused by roof leaks. It analyses drainage performance, provides early warning of imminent water ingression and generates alerts to highlight capacity issues. The system also helps the planning of evidence-based gutter and roof fabric maintenance programmes, as users can view gutter performance via an app. It can be integrated into existing computer-aided facilities management (CAFM) software or  function as a standalone system. RoofCare's Andrea Holbrook says the system can help building managers analyse, diagnose, alert and plan.  
For more, visit roofcaregroup.co.uk
---
Breaking the mould for plastics
Microban International showcased its antimicrobial formulations for plastic materials, including two next-generation products based on non-heavy metal ingredients – LapisShield and Ascera – at PLASTINDIA 2023 in New Delhi in February. LapisShield is a broad-spectrum antimicrobial technology designed to seamlessly integrate into any water-based coating formulation, inhibiting bacterial growth by up to 99.99%. Ascera – a technology inspired by acids found in nature – delivers antibacterial protection for moulded polymers and solvent-based coatings.
These new technologies demonstrate the company's continuing drive to deliver more sustainable solutions that fight microbial growth, helping to protect treated plastic surfaces from stains, odours and premature degradation, and prolonging their useable lifespan.
The company is headquartered in North Carolina, with operations in North America, Europe and Asia Pacific.
For more information, visit microban.com
---
Wonderwall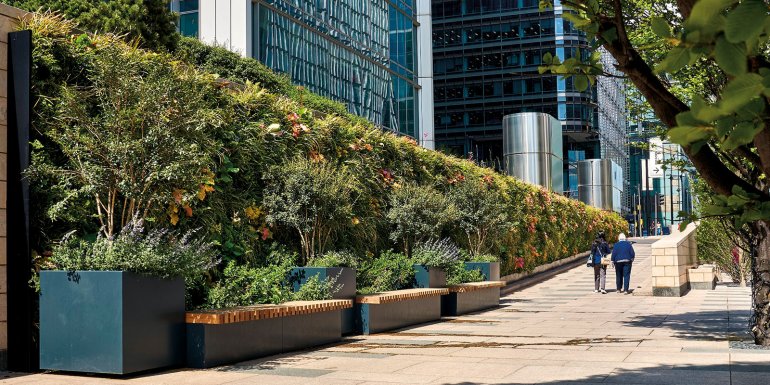 Biotecture took to Futurebuild in the UK in March to demonstrate how living walls enrich urban spaces. Urban greenery provides many benefits, from reduced air pollution to better wellbeing. When space is at a premium, both literally and financially, living walls are a space-efficient solution for bringing more plants into urban areas. A survey commissioned by Biotecture found that 66% of people who live in urban environments want to see more botanical beauty where they live, and 78% say greenery improves their mental wellbeing.
With this in mind, the team showcased its BioPanel system, a patented modular hydroponic living wall that combines efficient water management with remote sensing technology and the PlantBox system – a stackable, modular living wall that only requires restraint fixings, and is ideal for a quick win on urban realm improvements. The PlantBox living walls at Canary Wharf won a prestigious BALI Award. The products are made from recycled materials.
Find out more at biotecture.uk.com
---
Plug-n-play boiler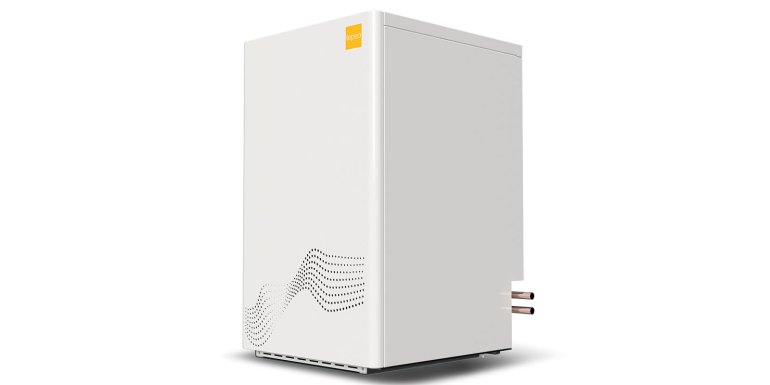 The Zero Emission Boiler (ZEB) by Tepeo is a plug-n-play replacement for an existing boiler and works with the hot water tank to give low-carbon and low-cost heating. Using off-peak electricity, the ZEB charges up when electricity is cheaper and greener, storing energy until it is needed. In a home consuming 12,000kWh annually, the ZEB could save 2.5-3 tonnes of CO2 a year.
For more, visit tepeo.com/the-zeb
---
Circular economy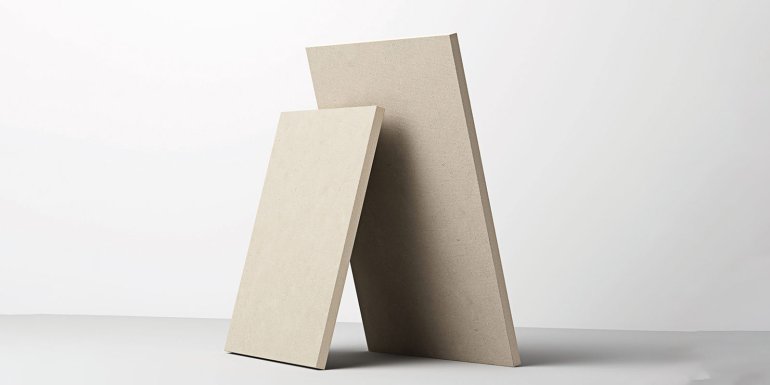 HONEXT® Boards are carbon-negative and flame-retardant alternatives for interior building materials such as acoustic panels, interior cladding, sandwich panels and partitions. Manufactured using a bio-based, non-toxic process, they are recyclable when they reach end of life and are made from 100% industrial waste fibres as raw material. They are certified circular material.
For more, visit honextmaterial.com/products
---
For hard-to-reach areas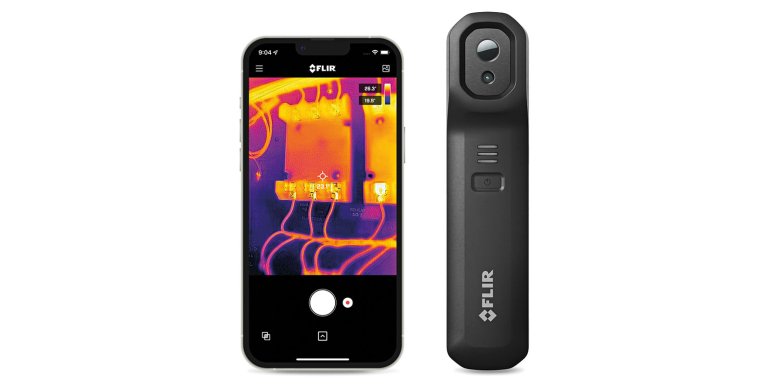 The FLIR ONE Edge Pro by PASS Ltd is a handy wireless thermal camera that transforms the smartphone or tablet into a thermal imager. This can be used to find areas of missing insulation, dampness, water ingress and more in a building.
For more, visit bit.ly/FLIRONE_thermal
---
Plug-n-play SuDS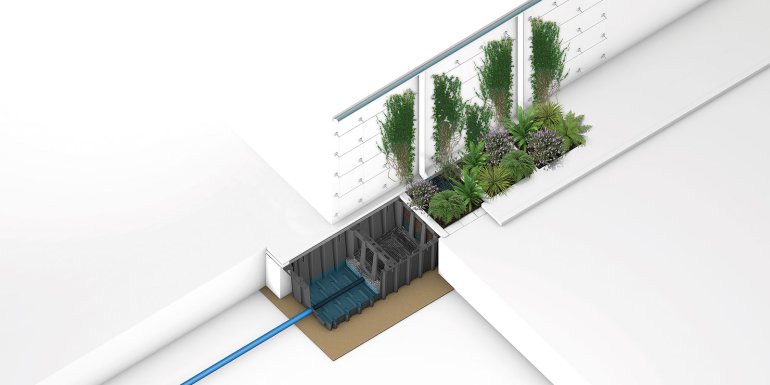 GreenBlue Urban's HydroPlanter is a sustainable urban drainage system (SUDs) that can attenuate and cleanse stormwater while providing amenity and biodiversity to new and existing spaces. Made from 100% recycled materials, the slot-together modules provide an easy, flexible rain garden system.
For more, visit bit.ly/GreenBlue_HydroPlanter
---
Sunlight on the water
WFG panels are water-filled glass panels that use water to absorb energy, making the window an effective solar collector. Glass has low insulation and lets radiation through the façade, which leads to overheating in summer or rapid heat loss in winter, increasing energy demand and compromising thermal comfort. During the summer, WFG uses its water layer to absorb heat before reaching indoors, which protects indoor temperatures from extremes. The same heat can be reused by mechanical systems for infrastructure such as providing hot water, leading to additional savings. During the winter, the water layer captures radiant heat behind the insulation layer and recirculates it back into the building. This improves thermal comfort and reduces energy consuption by having higher efficiency than a conventional heating system.
For more, visit waterfilledglass.com
---
Walking the walk
In addition to the above innovations that were showcased at Futurebuild 2023, the exhibition also led by example, using innovations to reduce the event's carbon footprint. More than 9,000m2 of aisle carpets were omitted from the hall layout, eliminating the event's biggest waste stream. This led to a remarkable reduction of 27,707kg in carbon emissions from just the carpets alone. For the spaces that were carpeted, Rewind carpet was used. This is a Cradle to Cradle silver certified product that requires 85% less energy to produce compared to traditional event carpets and uses non-toxic dyes. Exhibitors were also offered Rewind carpeting at no extra cost.
All signage at the event was 100% recyclable, including wall graphics and hanging banners. Recycle points for badges and lanyards were also in use. The event used an app for the event programme rather than a printed show guide, saving more than 30,000 documents from being printed. And last but not least, Cupapeel no-plastic paper cups were also used. 
---
Mind the gap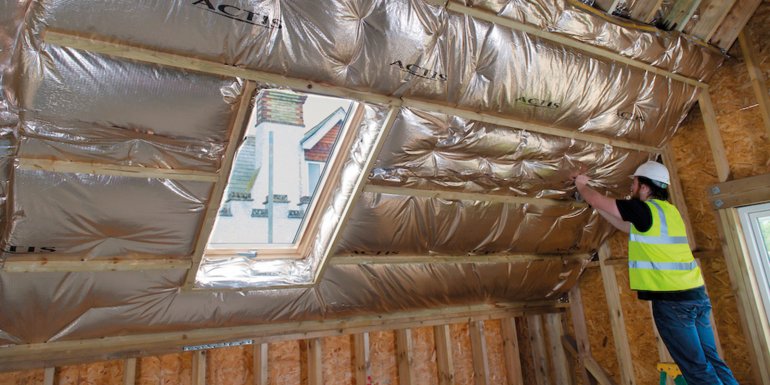 Actis' new insulation product doesn't need the usual 25mm air gap to avoid condensation. The two-in-one reflective insulation and vapour barrier is created from a number of layers of reflective films each separated by a thin layer of fibre, trapping air between each section. Actis Eolis HC can be used on roofs with shallow or uneven rafters and still deliver thermal performance.
Thomas Wiedmer, Architect and Actis UK and Ireland Technical Director, explains: "High resistance (HR) underlays usually require a 25mm ventilation gap on their warm side to avoid the risk of interstitial condensation, in accordance with BS 5250. Where ventilation of the air space is reduced, then a condensation risk analysis in line with EN 15026, such as a WUFI assessment, needs to be carried out." This dynamic simulation tool analyses the way heat and moisture move through a construction and can be used to assess the risk of moisture accumulation within any part of a roof build-up.
"The Fraunhofer Institute for Building Physics IBP carried out an assessment using its WUFI software, based on parameters deemed as a worst-case scenario for UK applications. The assessment concluded that, over the simulation period of 30 years, there is no moisture accumulation in the assembly and that the water content of components is not critical from a building physics point of view, even without a ventilated air cavity between Eolis HC and HR underlay."
The results of the WUFI assessment, which takes into account all elements of the build-up along with weather data to generate its results, will demonstrate compliance in most locations within the UK.
Unlike PIR board, there is no cutting between each rafter – instead the product can be laid like a blanket across the rafters on the inside (warm side) of the building, sealing each section to the next with the self-adhesive lap feature.    
For more, visit bit.ly/Actis_EOLIS
---
The Water Breakthrough Challenge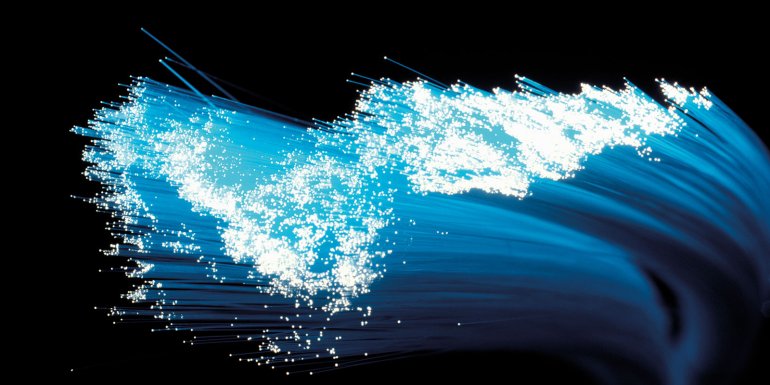 These two projects are just some of the solutions being awarded a share of £40m in the water regulator Ofwat's latest innovation competition – the Water Breakthrough Challenge.
The first initiative, Fibre Optic Leak Detection, has been awarded £1.5m to find a leak detection solution using the fibre-optic cables already adjacent to water mains. These cables (often part of the broadband network) can be used to report tiny changes in ground stability, which in turn acts as an early indication of water leaks. This technique is cheaper and more environmentally friendly than current monitoring practices.
The concept has already been successfully demonstrated in the first funding round, and the additional funding is to prove the solution at scale. This project will see Costain work in partnership with Severn Trent Water, Focus Sensors, Welsh Water, Northumbrian Water, South Staffordshire Water and Hafren Dyfrdwy.
The second project, Stream, has been awarded £2m to unlock the potential of data to benefit water customers, society and the environment. Stream will put in place technology and processes to remove the barriers to sharing water company data within the industry. Costain is partnering with Pinsent Masons to provide the legal and commercial framework that will enable this improvement in collaboration.
The Water Breakthrough Challenge encourages initiatives that help to tackle the biggest challenges facing the water sector, such as achieving net zero, protecting natural ecosystems and reducing leaks. It's part of a series of competitions from Ofwat, run by Challenge Works with Arup and Isle Utilities.
Find out more at waterinnovation.challenges.org
---
In a bind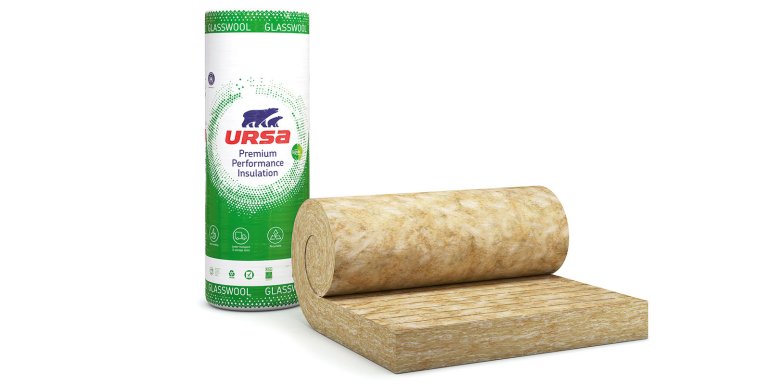 UPM Biochemicals and URSA have developed the first industrial glass wool insulation made with a binder from renewable, sustainably sourced forest biomass. Synthetic resins from fossil-based raw materials have traditionally been used as binders in the production of glass wool and mineral wool respectively.
The new binder is based on lignin, a natural polymer found in wood and other plants. UPM BioPiva lignin is a sustainably produced, cost-effective and versatile raw material that has proven valuable in the creation of many value-added industrial applications, especially in lignin-based phenolic resins (LPF).
Wolfgang Marka, Managing Director of URSA-Adria, says: "URSA is dedicated to the manufacture and commercialisation of thermal and acoustic insulation materials oriented towards sustainability and energy efficiency in buildings. Our latest premium products using a lignin binder represent the beginning of new technology for the development of sustainable insulation material in the construction industry."  
For more, visit upmbiochemicals.com and ursa.com
---
As seen from space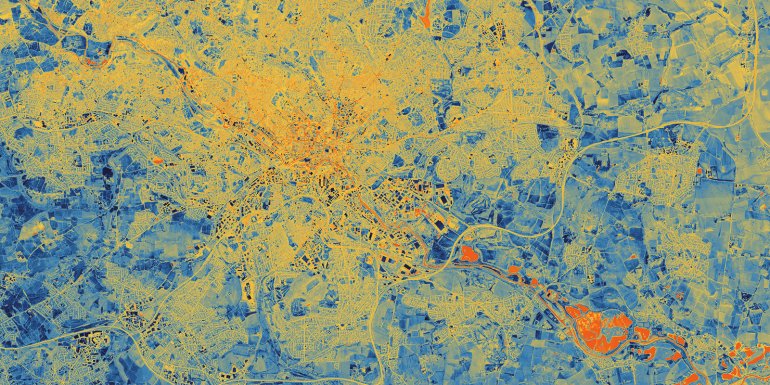 A specially equipped plane mounted with a thermal imaging camera, developed by Satellite Vu, was flown over Leeds in the UK to capture data on how much heat was being lost from the buildings below. The aerial thermal imaging technique can help identify the 'leakiest' buildings in a large area – collecting and analysing heat loss data at an unprecedented level of detail and scale. Information gathered can be used by local authorities to more effectively target and prioritise funding for homes most in need of energy-saving upgrades.
According to the Leeds Climate Commission, a quarter of the city's carbon footprint comes from the energy used to heat and power residential buildings. Poorly insulated roofs, walls and windows are common ways that properties lose heat. The test was funded by the net-zero charity MCS Charitable Foundation and was carried out in partnership with Leeds City Council.
The council intends to use insights from the test to help residents better understand the thermal efficiency of their properties and motivate retrofitting in the private sector. It will also use the data to help secure more funding for local area-based retrofit projects. For example, the Holbeck Group Repair scheme saw around 300 of the city's coldest and oldest homes receive a whole house package of energy-saving upgrades, including new roofs and external wall insulation that combined to cut energy use by 25-30%.
Eventually, the technique will utilise cameras looking down on streets from satellites orbiting approximately 500km above Earth.
---
Digital biodiversity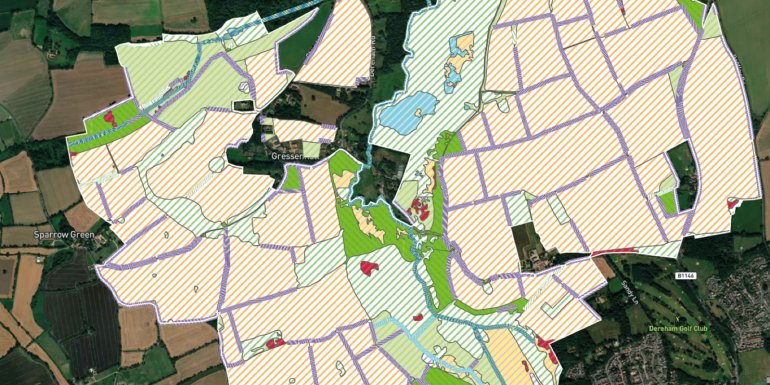 In the UK, the Environment Act 2021 establishes biodiversity as one of four targets for the recovery of the natural world. It requires a 10% biodiversity net gain (BNG) in new developments, and its enforcement will be in place across the UK by the end of 2023. Furthermore, the European Commission proposed a new Nature Restoration Law, with an overarching target to restore 20% of the EU's land and sea area by 2030 and all ecosystems in need of restoration by 2050. This includes restoring agricultural ecosystems and increasing grassland butterfly and farmland bird populations.
In the US, a number of bills are in development or already in effect, including Recovering America's Wildlife Act of 2022 for the conservation or restoration of wildlife and plant species, and Safeguarding America's Future and Environment Act (SAFE Act, 2021), which responds to the effects of extreme weather and climate change on fish, wildlife and plants.
However, traditional solutions for measuring biodiversity are often manual and highly complex, involving sending ecologists to sample key areas to collect data and extrapolate findings for the entire site. These measurements are inherently incomplete, prone to unconscious bias, and can be expensive and time-consuming for large areas or distributed estates. As a result, these legacy solutions are impractical for biodiversity planning to meet the 2023 deadlines.
Instead, satellite- and AI-powered operations and maintenance provider AiDash has created an Intelligent Sustainability Management System (ISMS) capable of analysing the site and giving accurate, objective measurements in a week. Using satellites and AI, ISMS climate technology takes stock of the current environment, from tree cover to wetlands, and enables end-to-end planning to manage carbon offset and biodiversity efforts. ISMS helps local governments as well as gas and electric utilities, water and wastewater utilities and construction companies to assess the environment quickly and accurately with fast, easy and economical satellite measurements combined with ground information in a single dashboard to help identify biodiversity net gain targets and plans. The system also avoids the emissions inherent in sending cars and trucks to sites for survey work.
For more, visit aidash.com
---
Not set in stone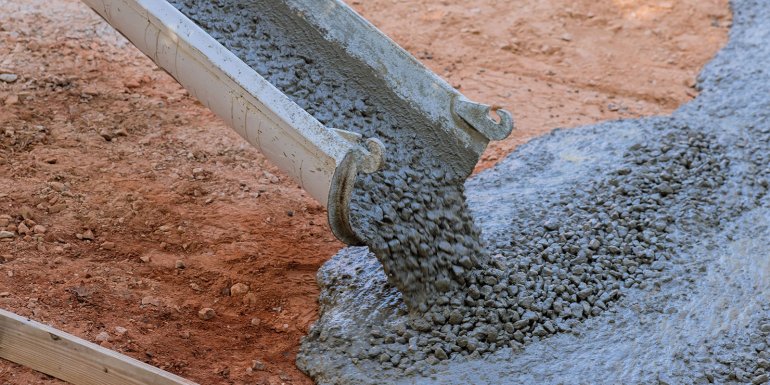 "The importance of reducing the immense CO2 emissions of the concrete industry cannot be overstated," says Mark Gillespie, CEO of Recycl8. Concrete is the world's most used material after water. According to the Institution of Civil Engineers' (ICE) Low Carbon Concrete Routemap, in the UK alone concrete accounts for approximately 1.2% of greenhouse gas (GHG) emissions. However, globally, cement production GHG emissions associated with the use of concrete could be as high as 4-5%.
While cement accounts for 10-15% of the make-up of concrete, it is responsible for nearly 90% of the CO2 emissions from its production. In the UK alone, the annual CO2 emissions of cement production is a staggering nine million tonnes.
Recycl8 has created a process that repurposes incinerator bottom ash (IBA) into a low-carbon, high-performance solution for concrete manufacture. It reduces the quantity of cement required to make concrete – and therefore the volume of CO2 that is generated in the process, without sacrificing strength or quality. In fact, it bonds with more strength than traditional cement with less permeability and significantly enhances the heat resistance, physical and chemical properties of the cement. Find out more at r8iba.com
Meanwhile, the GCCA Innovandi Open Challenge invited applications from start-ups interested in working with leading companies on new materials and ingredients for low-carbon concrete. More than 70 start-ups from across the world applied for the challenge.
The Global Cement and Concrete Association (GCCA) and its members account for 80% of global cement production capacity outside of China, as well as some key Chinese manufacturers. Member companies have committed to reducing and ultimately eliminating CO2 emissions in concrete (which currently account for around 7% globally) through the implementation of the GCCA's Concrete Future 2050 Net Zero Roadmap (bit.ly/GCCA_netzero). The GCCA Innovandi Open Challenge is an opportunity to showcase innovation in this area and support an innovation's development so it can be rolled out at scale to become standard.  
Watch out for this year's shortlisted innovations at bit.ly/GCCA_challenge
Image credit | Eric Corme, Place Photography / GettyImages / Shutterstock