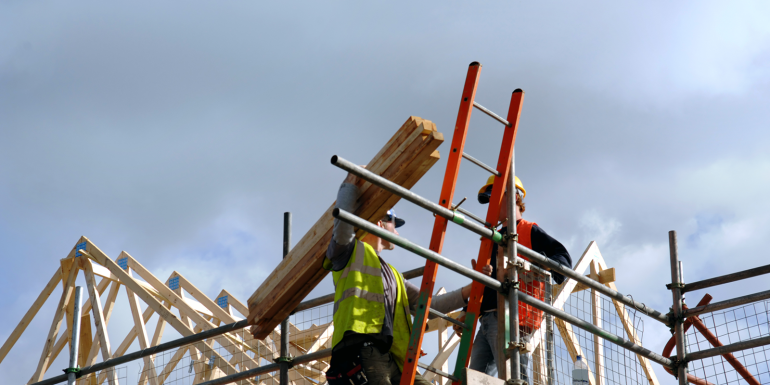 Builders, contractors, specialist sub-contractors and tradespeople in Ireland will all need to begin registering with CIRI this year. Will it fulfil its aim of creating more competent builders? Peter Crush investigates
Some might say it's been a long time coming. When the Republic of Ireland's 2007 Buildings Control Act first proposed mandatory registration for surveyors and architects, many thought it wouldn't be long before building services providers would have to follow suit. It's taken 15 years to arrive, but finally the Regulation of Providers of Building Works Act – was passed in July 2022 and comes into force this month (January 2023).
The legislation, part of the Irish government's 2030 Housing for All plan, is significant because it finally transitions builders away from an existing (but voluntary) Construction Industry Register Ireland (CIRI) – administered by the Construction Industry Federation since 2014 – to a compulsory one. Designed to stamp out what Minister for Housing, Local Government and Heritage Darragh O'Brien branded a legacy of "housing defects… poor construction design, workmanship and materials", all builders of residential and non-residential properties subject to building regulations must start the process of registering with CIRI this year. Full registration is a legal requirement by 2024.
With its unequivocal aim of ensuring "the mistakes of the past are not repeated," and to guarantee that "homes are built to the highest standards", few would quarrel with the spirit of the regulation. "It's the fulfillment of something that's been promised for a while, and as an assessment of builder competence, we can all agree this is a good thing, including demonstrating commitment to continuous professional development," says Richard Flynn, CABE Vice-President.
While most agree the legislation's aims are laudable, some believe it may not achieve what it hopes for, and others note a worrying lack of detail.
"Registration is clearly a step in the right direction, but without local authorities devoting additional resources to carry out inspections, I can foresee problems," argues Seán Canney, TD (TeachtaÍ Dála) for Galway East. "Builders can get registration, but still exhibit bad practice, cut corners or use the wrong, or cheaper materials if not regularly scrutinised on-site," he says. "Registration is not protection against bad building per se. Builders might be buying the certification rather than having the skills."
No structure yet in place
According to the legislation, registration with CIRI applies to companies and sole traders, not their employees. Because companies and sole traders are (in theory) responsible for the work of their employees "this should still provide protection", says a building surveyor who asked not to be named. But Flynn says he regards this as a loophole that means CIRI registration won't necessarily guarantee the competence of day-to-day workers on site.
But more fundamental to this, is the criticism that while registration is required, there does not appear to be a ready structure in place yet. It is anticipated that the Construction Industry Federation will oversee the mandatory registration, but as of the end of November, it confirmed to Building Engineer that "We haven't been appointed; no registration body has been established," and that the "statutory register is not active yet".
Assuming registration follows the same process as the voluntary path – comprising an "onerous review process" where builders have to demonstrate (among other things) competence and experience; technical capability; CPD; an H&S statement; and environmental and quality assurance – commentators suggest it could force smaller builders out of business.
"Smaller businesses just aren't geared up for this," says Canney. "They might not have the turnover to do extra training to meet the criteria. If it's an annual process too [existing CIRI members must supply an CPD record with their renewal each year], registration could just become a treadmill of continuous auditing."
If this is the price for creating consumer confidence, the counter-argument is that builders shouldn't complain. "The register should improve the quality of the construction process; it should not be used to reduce competition" the building surveyor says. "Registration will prevent cowboy builders simply closing down and setting up with a new name. But what I would like to see clarity on is the process for removing those who have complaints made against them. It's proper that bad companies be struck off to protect consumers, but I don't know what the process is – whether it's immediate, or whether builders are given a chance to improve. I read the 100-plus pages on the legislation and didn't see anything on this."
So far all that is known is that CIRI will have an Admissions and Registration Board and it will comprise a chair, nominated by the Minister, and have ten ordinary members, five of whom will be Minister-nominated. It will also have an Appeals Committee.
Standards push
Will the register be a success? It is anticipated mandatory registration will see the number of officially assessed competent builders rise from the current 800 to 5,000. "I think there will still be questions around how ingrained standards are within a business if just the owner has to be registered," concedes Canney. "Awareness," he adds, "will also be an issue." The building surveyor agrees: "Who's going to inform small builders of this new regulation? Many still won't have a clue about it," he says. Flynn notes: "It's consumers that also need to be aware of it too. At the end of the day, it's they that need to demand better, more competent tradespeople."
But Canney, despite his misgivings, still accepts anything that drives standards has to be a good thing. "We must applaud this," he says. "Builders rightly need to have pride in what they're doing, and not just pay lip service to it. It's right that CIRI registration moves from being the exception to the norm." 
Debates and procedure from the draft of the bill to its enactment bit.ly/Act_debates_procedure
Image credit | iStock