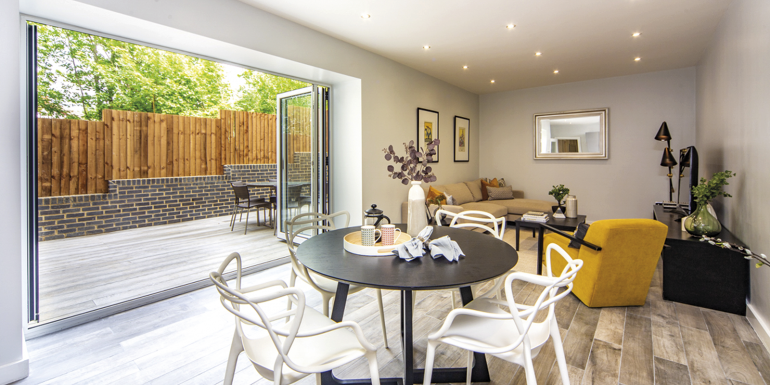 Living with Beauty, a government report released just over a year ago in January 2020 by the Building Better, Building Beautiful Commission, called for more industry action to recycle existing buildings to improve local communities. While the plea was applauded by the UK construction industry, particularly by SME property developers, progress has been slow, with only limited numbers of brownfield sites securing planning permission.
New hope for the initiative emerged following Chancellor Rishi Sunak's Spending Review in November 2020. Sunak announced £7.1bn of funding for the National Home Building Fund, of which £2.2bn of new loan finance will go towards supporting housebuilding, including funding for SME housebuilders, modern methods of construction (MMC) and a new Help to Build scheme for custom and self-builders. An extra £100m will fund authorities in 2021-22 to support housebuilding and regeneration, which includes unlocking brownfield sites and serviced plots for self and custom builders. 
I strongly believe that the reconstruction of abandoned buildings can have a significant positive impact on the UK's housing shortage and am proud of the schemes that Clearview Developments has been involved in, seeing first hand how they have rejuvenated communities.
The Old Bank
For example, Clearview Developments has previously transformed a former NatWest Bank in Tunbridge Wells, Kent, into seven modern luxury apartments via a series of four separate planning consents. Named the Old Bank, the property stood empty for 12 years and was deemed too difficult a project by other developers, mostly because of the structural challenges. These required the team to penetrate the 150cm-thick walls of the subjacent vault chambers of the former bank.
We surgically reconfigured the entire structure, with new columns lowered in from the roof down to the ground floor to accommodate new beams for the residential loads, allowing us to create open-plan kitchen-living-dining areas in the conversion element. 
Taking existing housing stock to transform into new, modern homes is a big undertaking. Property developers are often put off by the risks these projects carry. To encourage more developers to take on restoration projects, the government needs to create more incentives and make the planning and construction process for these sites as attractive as possible.
Tuffley Primary School
MELT Property is another property developer currently breathing new life into a site in Tuffley, Gloucestershire. Having stood empty since 2014, the dilapidated building, which previously housed Tuffley Primary School and the Tuffley Resource Centre, had been in dire need of a new purpose. MELT secured planning permission to create Lime Grove – a residential community that puts particular emphasis on sustainability. 
Already incorporating the government's Future Homes Standard 2025, which asks for new homes to be built without gas boilers, Lime Grove will be a completely gas-free development. In addition, all properties will utilise ground-source heat pumps, a highly efficient, renewable energy source that has a low environmental impact and reduces carbon output by as much as 70%. 
Evan Maindonald, CEO and Founder of MELT Property, comments: "Integrating a new residential community into an existing neighbourhood is a delicate matter. We wanted to ensure that Lime Grove's design combines technical innovation with exteriors that reflect Tuffley's surroundings."
MELT's forward-thinking and sustainable approach hasn't gone unnoticed. Most recently, Lime Grove scooped up three awards at the UK Property Awards, including recognition for its architectural design and layout. Maindonald adds: "The existing structure of the school building is being protected and preserved, but will benefit from a 21st-century makeover to feature seven stunning two- and three-bedroom apartments. Naturally, we have named these the Schoolhouse Apartments to pay tribute to the building's history. In addition to the apartments, we are creating 12 new family homes, using timber frames – one of the most sustainable building materials available."
According to CPRE, the countryside charity, there are more than 18,200 brownfield sites in the UK, covering in excess of 26,000ha of land. Even allowing for a relatively low housing density of 41 homes per ha, England has sufficient brownfield land to build more than one million new homes. These are serious figures that cannot be ignored if we want to create the housing stock that is required. Not only does the creation of communities on brownfield sites have less of an environmental impact than newbuilds, it holds real potential to boost the number of new homes.  
For more details of both projects, visit bit.ly/TheOldBank bit.ly/MELTawards