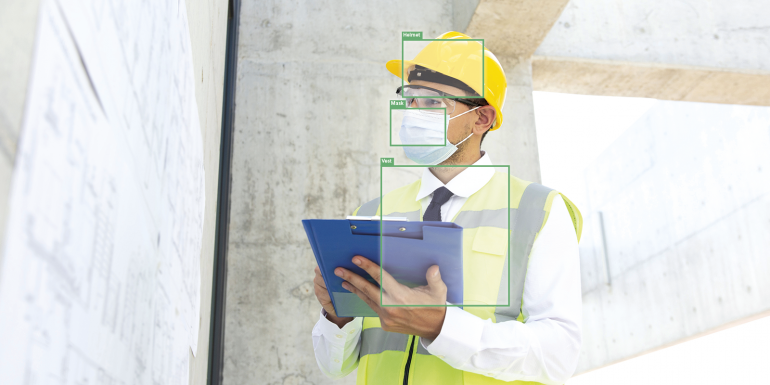 Salman Chaudhary, CEO at EmpiricAI, considers the role of computer vision AI in returning sites to full productivity and improving health and safety.
According to research by McKinsey, more than 60% of workers, including those in the construction sector, reported inadequate safety in their workplace. Some of the safety concerns have, understandably, come about because of Covid-19 and these have the potential to have a long-term influence on confidence. McKinsey's research also suggests that in a muted recovery it could take up to five years for the most affected sectors to get back to 2019-level contributions to GDP. However, addressing concerns can present an opportunity for businesses; creating a workplace where people feel safe can result in a step change in attitudes and efficiency.
Powered by artificial intelligence (AI), computer vision technology has the potential to improve construction site safety. Integrated into on-site CCTV, computer vision AI is able to carry out real-time monitoring and detecting of any non-compliance with guidelines for social distancing, correct usage of personal protective equipment (PPE)/masks and occupancy rates.
Immediate notifications and e-mail alerts for any type of safety violation are built into the system, allowing for swift action. Metrics from the system can show a range of visual prompts too, including hourly violation percentages, average distance between people and pictorial evidence of non-compliance. This approach can be used for a wide range of applications on construction sites, ranging from checking that safety harnesses and other PPE is being worn, through to automatic monitoring of skills cards. One customer experienced an 80% decrease in non-compliance with social distancing guidelines within their first month of installing computer vision AI, effectively reducing the risk of infection.
Visual cues
AI within the health and safety sphere works by feeding the platform with information about all the elements depicted in the image and which of those are relevant. It learns to identify the point of interest via computer vision – eg a safety harness – and can outperform experienced health and safety professionals in identifying potential risks. Humans, will, of course, be the ultimate decision-makers, meaning the technology is used as an augmented intelligence that is capable of raising alerts while relinquishing health and safety operatives from the monotonous task of collecting data.
The system uses existing surveillance/security assets such as indoor and outdoor cameras to carry out employee headcounts at the entrance, product counts at loading areas and PPE compliance and asset monitoring in operating areas.
It gives a comprehensive view of workplace safety by providing real-time compliance monitoring and support for decisions about environmental, health and safety (EHS) policy. Making the data accessible to all helps to ingrain a health and safety culture at all levels.
AI works best when it is designed and trained to accomplish specific tasks, such as visual observation of social distancing or safety harness use. Combined with logical decision-making on when to sound an alert, it brings a new level of dependability to health and safety adherence.    
For more, visit empiric.ai
Image credit | iStock