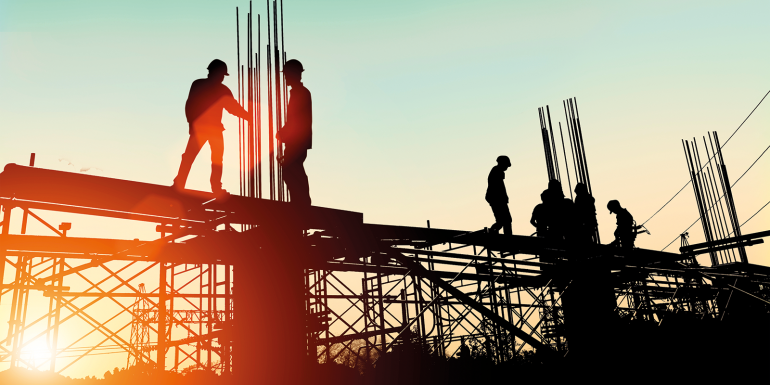 Jayne Hall, Immediate-Past President of CABE, discusses signs of slavery in the supply chain.
The word slavery conjures up different images to different people. The history of slavery spans across many countries and cultures, from ancient Egypt or Rome, or other civilisations that were built by the hands of forced labour, to the slave ships of the 16th-19th centuries, the sugar plantations of the West Indies and the cotton fields of 1800s America.
More recently in the 20th century, millions were incarcerated against their will and forced to work under horrific conditions in the Gulags of Stalinist Russia. Millions of people died in that system; they died of starvation, of beatings, of gang justice, disease and despair. Hard to imagine that in the 21st century slavery still thrives. It's all around us, yet we don't, or won't, see it... at the hand car wash and the nail bars, at the restaurants, the massage parlours and the building sites in the high streets of our towns and cities.
Three years ago, in May 2018, the Chartered Institute of Building (CIOB) published a damning report about the hidden growth of slavery in the construction industry. In 2019, Construction News and BBC3 tasked an undercover reporter with investigating the labour supply chain. He was shocked to discover how easy it was to procure, at very short notice, an unfeasibly cheap labour force, willing to live on-site and work seven days a week without a break. More worryingly, the person offering to supply these people was clearly very experienced in doing so and had huge human resources to draw on.
In 2020, modern slavery charity Unseen UK said reports to their national helpline indicated that instances of suspected modern slavery cases in construction were higher than in any other industry in Britain during the lockdown period.
We know very well that one of the biggest issues facing the construction industry is the skills shortage across all sectors, exacerbated by the UK's exit from the European Union. With pressures to deliver building projects on time and within budget, it might be very tempting to turn a blind eye to the obvious signs that something is wrong in the supply chain.
Law, licenses and standards
In 2006, two years after the deaths of 23 Chinese cockle pickers at Morecambe Bay, the Gangmasters Licensing Authority (GLA) (now called the Gangmasters and Labour Abuse Authority) was set up to protect vulnerable workers in the shellfish, agriculture, food and food packaging labour markets. In 2014, MPs and academics campaigned for its remit to be extended into industries including social care and construction. To date, businesses who supply workers to the construction industry and construction businesses who need workers are not bound by the licensing scheme that ensures they meet the employment standards required by law.
In researching this piece, I was alarmed at my own lack of awareness of this diabolical situation in my industry. Tens of thousands of entrapped workers – many of them British citizens – are living in the UK within hidden communities, outside of official recognition, forced to work excessive hours for less than the minimum wage, often without proper PPE and welfare facilities, and controlled by force, threats, coercion, abduction, fraud and deception. Many of the incidents notified to Unseen's helpline were on smaller-scale residential building projects. The pandemic has alerted the public to safety measures, including PPE and social distancing. Where the government has supported construction in keeping building sites operational during lockdown, people have been noticing and reporting exploitative construction work.
As consumers we all are connected to the modern-day slave trade. We know there are human rights injustices around the world. We hear about high-profile cases in the media and we know that our cheap goods come at a cost, but we bury our heads in the sand because it's convenient and cheap for us. However, it is not convenient for the people who are living and working in horrific conditions, under threat of death and suffering beatings and entrapment. We must take time to consider whether modern slavery is on our radar. Are we unwittingly feeding the underground slave economy?
History has shown us that the powerful will always be able to exploit the weak and vulnerable. I am not naive enough to think this will easily change.
I don't suggest that we can eradicate human slavery overnight, but we all have the power to decide not to feed an industry where people work under duress to provide vast profits for criminal business owners and shareholders.
Modern slavery is a serious violation of human rights. Section 54 (transparency in supply chains) of The Modern Slavery Act 2015 requires certain commercial organisations to publish an annual statement setting out the steps they take to prevent modern slavery in their business and their supply chains. All businesses can voluntarily take steps to deal with modern slavery risks in their businesses and supply chains by producing a Modern Slavery Statement, introducing policies and training on modern slavery and trafficking. There is full guidance on the government's website at bit.ly/GovUKGuidance. Companies that are interested in joining Unseen's online business portal can contact [email protected]
As individuals we can Recognise, Refocus and Report (see boxout). We are fortunate... we are free. We can make choices. Let one of those choices be to open our eyes to injustice, think about how we may be indirectly contributing to the suffering of others, and do what we can to end this vile practice.
Further reading: CIOB slavery in the construction sector: bit.ly/CIOBSlaveryReport
Buying slave labour in London: bit.ly/CNUndercover
Modern slavery statement guidance: bit.ly/GovUKGuidance
Gangmasters and Labour Abuse Authority advice: bit.ly/GLAAGuide
---
Recognise, Refocus and Report
Recognise: the signs of modern slavery
Workers' detailsCheck mobile numbers, bank accounts, e-mail addresses and home addresses to reduce the risk of a person being controlled by a third party.
Appearance
Are there signs of injury or malnourishment? Do they look unkempt? Are they wearing the same clothes all the time?
Behaviour
Do they appear frightened, sad or anxious? Are they always accompanied by others and unwilling to engage or talk to anyone? Is someone normally speaking on their behalf?
Working conditions
Do they work excessively long hours without days off? Do they appear isolated and interact little with other colleagues? Do they have the right equipment for the tasks they perform?
Restricted freedom
Do they always travel with others and never alone? Do they appear to be dependent on others? Are they in possession of their own identification documents?
Refocus: stop judging the victims
Look more closely at the signs of entrapment... the sunken faces, the shabby clothes, the broken posture. Stop seeing the vulnerable as a scourge on society – a title that belongs solely to the profiteers who form this inhumane trade in people.
Report: your suspicions to the authorities
The Unseen UK Modern Slavery and Exploitation Helpline is a free, independent and confidential service available 24/7: 08000 121 700.
Credit Image | Shutterstock