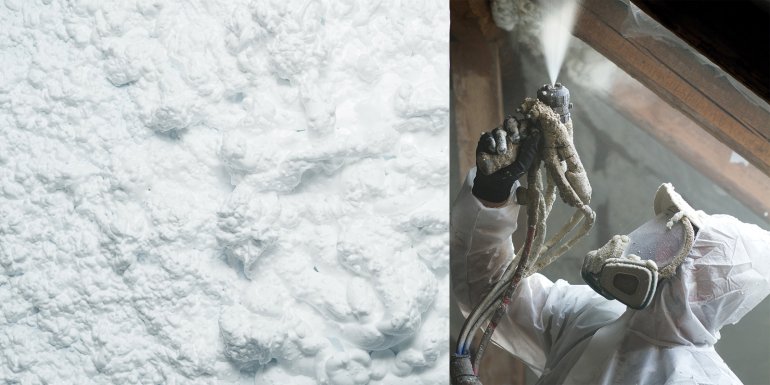 To spray or not to spray? The IMA sets out the case for the use of spray foam insulation, while RPSA Chair Alan Milstein highlights the issues surveyors face with this type of insulation.
IMA: do it right
With the current energy supply crisis and energy cost increases, our need to reduce emissions in line with net-zero carbon is coupled with an increased awareness of the importance of a properly and professionally insulated home.
Spray foam insulation is highly thermally efficient and extremely versatile, so is an effective method of improving the energy efficiency of homes and buildings. However, as with many construction improvements, installation must be done in accordance with all necessary approvals and relevant permissions. Spray foam has been used successfully for more than 30 years in many countries, from Canada to Spain, across very different weather environments. Once installed correctly, spray foam will continue to perform as intended for the life of the building without the need for maintenance or servicing. But the need for correct installation cannot be over-emphasised.
Simon Storer, the Insulation Manufacturers Association (IMA) Chief Executive, says: "With government encouragement, many homeowners have … invested in spray foam insulation improvements to their properties but, unfortunately, recent negative views have undermined the value of these insulation applications.
"It should now be recognised that professional and accredited installations are as beneficial to a property as many other home improvements and should be considered as such."
Guidance
Spray foam installation must be in line with the manufacturers' instructions and carried out by a registered and professional spray foam installer. Unfortunately, there have been occasions where correct procedures have not been followed and unscrupulous operators have been responsible for incorrect installation and poor workmanship, giving rise to claims of defective performance relating to the use of spray foam insulation systems.
While the IMA does not represent installers or contractors of spray foam, it does represent some manufacturers and distributors of spray foam products. The IMA works with these suppliers to promote best practice and highlight the correct procedures for installation. These include pre-installation surveys and roof condition analysis, moisture risk analysis, product identification and supply information, as well as the post-installation home pack – these have all been incorporated into the code of practice.
All IMA members' products are independently tested by UKAS-accredited testing houses (either BBA or KIWA-BDA certification), and these products must always be installed in line with this certification.
There have been recent claims that any property with spray foam is unmortgageable, but the IMA's experience is that these claims are as untrue as they are unjustifiable. That's why the IMA has collaborated with spray foam manufacturers and installers, surveyors, valuers and lenders to develop an inspection protocol for spray foam insulation and a code of practice for installation.
The protocol provides a framework to assist property professionals and residential surveyors undertaking non-invasive visual inspections of spray foam applications to the inside of pitched roofs, while the code of practice is designed to ensure that installers follow all the necessary steps so that spray foam is both specified and installed correctly.  
For more information about the IMA visit insulationmanufacturers.org.uk
---
Further reading
IMA Sprayed Foam Insulation: inspection protocol for building professionals who are asked to consider spray polyurethane foam that has been applied to the pitched elevations of domestic roofs bit.ly/IMA_sprayfoamprotocol
IMA Sprayed Foam Insulation: code of practice for the installation of polyurethane spray foam (SPF) in domestic roofs bit.ly/IMA_sprayfoamcode 
---
RPSA: know risks
Moisture is the enemy of timber, and most roofs are made of timber, so what we don't want to do is introduce elements that risk trapping moisture against the timbers in a roof," says Alan Milstein, Chair of the Residential Property Surveyors Association (RPSA). He notes that, from a surveyor's point of view, it is not a problem as long as we can inspect what we are concerned about.
"What happens with spray foam is that, in most cases, it is sprayed on the underside of the roof covering and that means that we cannot see the bits of timber – particularly the upper side of the rafters that are most at risk from the effects of moisture. If, as surveyors, we cannot inspect that, then we cannot say to a property owner that there is no risk to your roof."
This is where the statements about a property's unmortgageability or invalidated insurance have arisen. It is the issue of unknown risk that has led to some mortgage lenders being unwilling to lend on properties with spray foam roof insulation. In 2021, concerned about the adverse lending environment, the RPSA published guidance for its members. In many cases, the only advice the RPSA could give was that where spray foam is present, in all likelihood, it would have to be removed. The reason for that advice was because, at that point, there was no formal way of carrying out any further inspection that would satisfy a lender.
Subsequently, over the course of 2022, together with the Property Care Association, the RPSA has worked with the industry and the Insulation Manufacturers Association (IMA) to come up with an inspection protocol for how we can go about assessing the level of risk in a roof. "The protocol is not a pass or fail," says Milstein. "We are not at any point saying there is no risk to a roof or that a roof installation is good – what we are doing is assessing the level of risk. The protocol allows a surveyor to know what they should be looking for to decide whether there is likely to be a low or high risk of damage caused by the spray foam installation."
He also notes that it's not only the spray foam technology itself that has created concerns. "We are also aware of some very, very bad selling practices with spray foam. We have heard cases of high-pressure sales tactics, especially with older and more vulnerable homeowners, with rogue traders saying they can install the spray foam the next day. But to do this properly requires quite extensive pre-installation surveys of the roof condition inside and out, with measurements of condensation levels within the roof.
"Unfortunately, while there are some responsible manufacturers and installers, it is extremely difficult for the consumer to know who those are because there isn't an approved contractor scheme."
The RPSA has called for manufacturers, via the IMA, to establish an approved contractor scheme so that a surveyor going into a roof can look for evidence that an installation has been done by somebody who is qualified, and has been checked and approved. As of yet, no such industry-wide scheme is in place.
"My advice for anybody considering spray foam insulation is, first of all, to get a number of quotes. Then consult an independent surveyor to get advice about whether or not installation is a good idea. Remember, it might be the case that you will achieve a similar level of thermal improvement to your house by fitting 275mm of fibreglass insulation on top of your ceilings. That will cost a fraction of the price and is known not to cause any issues."    
For more visit rpsa.org.uk
Image credit | iStock