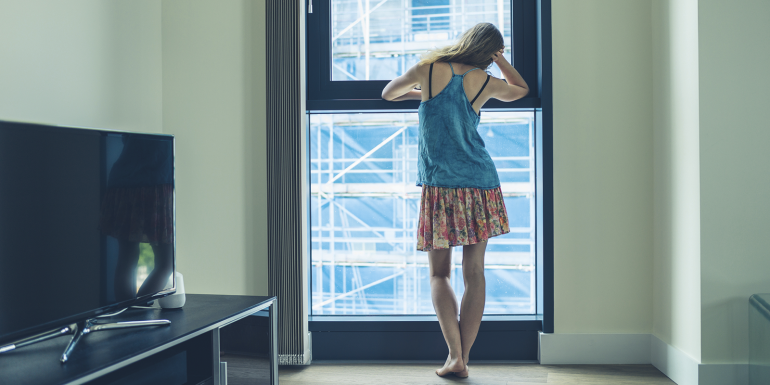 Stuart Fairlie MCABE discusses the fiendishly complicated issue of how the industry can stay cool about overheating
It might have felt odd to think about killer heatwaves after having seen snow flurries in December. But at the end of 2021, new Building Regulations were introduced in England to address the dangers of overheating in new homes.
The new regulations, Part O, are mostly concerned with two issues: how to limit unwanted solar gains in summer and how to remove excess heat from the indoor environment. Ideally, this should avoid the use of carbon-intensive air conditioning – which, of course, just compounds the problems of climate change that exacerbate deadly heatwaves in the first place.
One myth needs busting: this isn't just about London flats. Yes, the problems of unbearable overheating over extended periods can be much worse in urban areas and in apartments. But it can also be a lethal problem in a wide range of new homes, residential institutions, halls of residence and student accommodation. Figures from the Department for Levelling Up, Housing and Communities state that the UK suffers about 2,000 heat-related deaths every year – a figure that is expected to triple by 2050 due to climate change.
Unfortunately, tackling overheating is fiendishly complicated, so the new regulations are initially taking a relatively light-touch approach. Overheating has been removed from Part L and SAP assessments. Instead, Part O incorporates a simplified method for demonstrating compliance; it is very prescriptive, but should be relatively easy for housebuilders to follow. Alternatively, it presents a dynamic thermal modelling method that uses the expertise of CIBSE TM59 calculations and gives designers and housebuilders much more flexibility in how they approach overheating.
It's a very welcome start. What's also good is the transitional arrangements attached to these regulations. They take effect from 15 June 2022; any plot started after that date must be up to the new standard within a year. It's likely we can expect more complex versions of these regulations and tougher requirements on the journey towards the Future Homes Standard.
But we can already see that housebuilders will need real technical expertise to help them demonstrate compliance, navigate the complex ways in which
Part O interacts with multiple other parts of the Building Regulations, and to achieve more intelligent and cost-effective ways to reduce high indoor temperatures in homes, particularly apartments.
We're already getting a very positive response to our new Overheating Competency Scheme, which aims to give housebuilders and social housing developers access to a bank of fully qualified overheating assessors by June. Training of these assessors has already begun – I expect they'll be in demand.
It's noticeable that the new regulations go beyond the traditional focus on health and safety – Part O specifically talks about the need to ensure occupants' "reasonable enjoyment of the residence". In the face of stricter building control checks and a new regulatory regime for housebuilders, including the New Homes Ombudsman, many builders will be looking carefully at the best way to achieve compliance that doesn't get them hot and bothered. 
Learn more at elmhurstenergy.co.uk
---
Stuart Fairlie - Managing Director, Elmhurst Energy
An energy assessment expert, Stuart is also Chair of the Energy Assessor Scheme Operating Board and a member of the Advisory Council for the National Energy Foundation, the SAP Scientific Integrity Group, and the NHBC Foundation Expert Panel
---
Image credit | iStock