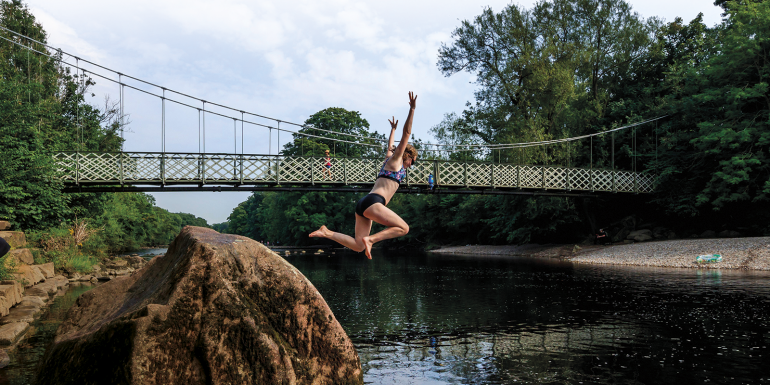 Water companies have set out ambitious plans to improve the health of England's rivers and want all sectors to support the changes
The water industry has set out ten key ways to dramatically improve the nation's rivers and waterways in its 21st Century Rivers: Ten Actions for Change report. Among its bold proposals are next-generation monitoring to revolutionise data, greater legal protection through a new Rivers Act, the creation of a national plan to eliminate harm from storm overflows, and the prioritisation of nature-based solutions.
The report stresses the importance that all sectors should work together to achieve these fundamental changes. Only around a quarter of the challenges facing rivers are caused by water companies, with the largest source of harm coming from agriculture. Other sectors, such as construction and local authorities, also have an impact on waterways.
The ten recommendations are:
A national plan for rivers – a long-term strategy for rivers involving all partners and the creation of a senior National Plan Steering Groupto lead progress.
Protection in law – A new Rivers Act to ensure legal protection and close loopholes.
Local empowerment – Ensure leadership and action at a local level by building on the success of the Catchment Based Approach.
Accountability – Use data to look at all sources of harm in rivers, challenging each sector to put concrete steps in place to tackle all barriers to river health.
Next-generation monitoring – Work towards creating a national monitoring platform to collate and make available data on ecology, chemistry and public health from all rivers.
Support people – Government, manufacturers and retailers should work together to transform the public's understanding of the water environment, and campaign to help consumers play their part, especially on wet wipes and unflushables.
Prioritise nature – Embed habitat restoration and species renewal within legislation and spending priorities.
Abstraction – Government to introduce a target under the Environment Bill to reduce the amount of water abstracted for the public water supply.
Storm overflows – Agree a plan to eliminate the 4% of harm caused by storm overflows to English rivers.
Bathing rivers – Develop a new approach to bathing rivers to ensure the safe recreational use of inland waters in every region of England.
Bathing rivers
The latter point is an interesting addition. Water companies in England want to work with government and other sectors to help create a series of bathing rivers across the country. The UK currently has just one river with designated bathing water status – the River Wharfe in Ilkley – but the proposals could create secure, safe, inland bathing waters in every region of the country.
Elsewhere, the report calls for a new long-term strategy for rivers to include input from government, regulators, water companies, agriculture and other sectors to help guide and prioritise investment and policy change. This would represent a step-change from the prior and current approach of disjointed, incremental, ad-hoc changes. The creation of a new Rivers Act will bring together existing legislation and provide greater protection for rivers in law.
Christine McGourty, Chief Executive of Water UK, says: "Rivers have been in a state of crisis for much of the past hundred years, and though there's been huge progress in the last few decades, there's much more to do and an urgent need for everyone involved to address the challenges together. Water companies are passionate about their own role as stewards of the natural environment and are committed to playing their part, but what's needed is a clear, single, national plan, involving everyone – river users, customer groups, environmental charities, government, regulators as well as agriculture, highways, and all the sectors impacting river quality. Water companies don't have all the answers and without everyone working together, we simply won't get the radical transformation that's needed and the healthy, thriving rivers that everyone wants."
Read the report and its conclusions at bit.ly/21stCenturyRivers
Image credit | Alamy