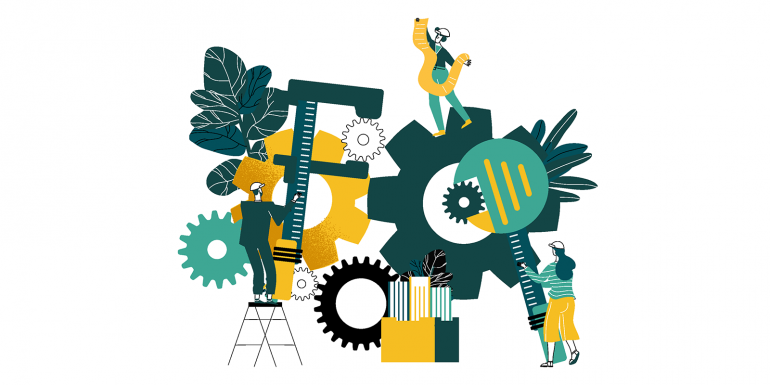 John Barfoot, CABE's Learning, Education and Academic Director, is tired of talking about the skills gap and says it's time for action. 
Amid the misery of 2020, there was a cause for celebration: CABE's membership survey showed that 17% of its members are in the 20-30 age bracket. In fact, the figures also showed a rise in the numbers of students and women joining the Association; more than 1,000 students joined during the pandemic and 25% of CABE's student membership is now female. It is a promising trend for an industry that has long worried about its attractiveness as a career choice and that a significant number of its skilled and experienced workers were moving into the retirement bracket while dwindling numbers joined.
CABE has always understood the value of promoting the sector and of close ties with education institutions. It has almost 60 academic partners, mainly in the UK, Ireland, Hong Kong and Malaysia, to support the transition from student to professional. In the past 18 months, there has been a noticeable change in the way students are learning. They are undertaking different types of courses, including apprenticeship degrees, and more of them are studying part time.
CABE is attracting a wider range of students, too, including full- and part-time Level 3 BTECs, Level 4 and 5 (HNC, and HND and foundation degree) students, higher and degree apprentices, NVQ students, international students, master's students as well as traditional, full-time undergraduate students.
Teaching experience
Because of Covid-19, many lectures moved online. This digital teaching experience has opened the door to more blended learning, bringing opportunities to study and work at the same time. While full-time undergraduate courses are still a well trodden route in, there has been a rise in part-time courses run in conjunction with the workplace, as well as apprenticeship degrees, such as the one featured in the news pages of Building Engineer's April issue. Ingleton Wood's Lily Green achieved the new four-year Level 7 Architecture Apprenticeship – the equivalent of a master's degree and the highest possible apprenticeship level. "I am proud to be among the first practitioners in the UK to become a qualified architect through this route. I was assigned a practice mentor who motivated and challenged me and it was incredibly useful to harness the expertise of the wider team at Ingleton Wood. Apprenticeships are a great route in – you earn a full-time wage while studying and gain a diverse range of up-to-date practical skills and knowledge to future-proof yourself," she said. 
Learning has changed and, as a sector, we have to find ways to support that if we want to bridge the skills gap. To that end, CABE has accredited many courses, some with direct routes into membership:     
Student to Technician     
Student to Associate     
Apprenticeship to Chartered Member.
Dr James Bishop, Senior Lecturer and Course Leader in Construction at the University of Bedfordshire, comments: "As an academic team, we are focused on delivering courses that support the development of industry-ready graduates. Working closely with industrial partners and professional bodies is a central aspect of achieving this and the accreditation of courses by CABE provides them with an important quality benchmark in terms of industrial relevance."
CABE is also encouraging progression from student-grade membership with several incentives. Visit cbuilde.com/page/current_special_offers for more details. It is working closely with academic partners to do more to support the trend and, of course, to listen to and encourage the next generation of building engineers.  
---
Recruitment options
It is approaching that time of the year when employers are looking to recruit, and there are now many options other than hiring graduates. Have you considered taking on a young person and supporting them through a government-funded apprenticeship or a part-time course? You would have the opportunity to shape their development and skillset to your business, while they would gain invaluable knowledge at college, university or other training providers. To view CABE's academic partners and accredited courses, visit bit.ly/CABEpartners
If you know or work with any students, please encourage them to join CABE. Student membership is free and it will enhance their industry knowledge and networking to give their career the best start. Visit bit.ly/CABEstudents
Image credit | Shutterstock