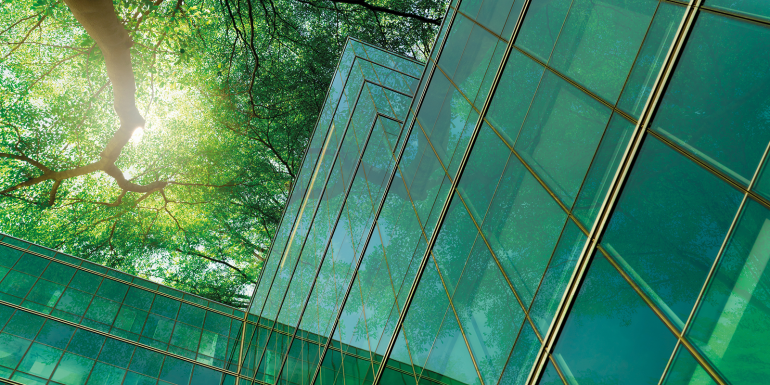 Embedding Sustainability 13-14 October 2022, Celtic Manor Resort, Newport
The construction industry has a key role to play in addressing the climate emergency. Buildings – whether they are new builds, renovations or simply existing structures – need to embed sustainable practices to ensure they reduce their environmental impact now and in the future.
If we are going to meet the environmental targets set at last year's COP26 global climate conference at an acceptable cost and without undermining the health and wellbeing of occupants, all professionals in the sector need to change their behaviour and mindset when it comes to designing, constructing, adapting, renovating and operating buildings.
The construction industry is ideally placed to make a real difference – but how do we meet these challenges?
This year's CABE Annual Conference will explore this issue, bringing together speakers including climatologists, government advisors and industry experts to explore best practice, delve into legislative changes and look at the wider economic risks from a legal and financial perspective.
Embedding Sustainability
Session 1 – Climate Energy Impact
As the world's climate changes and more extreme weather events occur, we need to be confident that the buildings where we live and work are a space of refuge, comfort and protection as well as being low carbon.
By examining the latest science on climate change and the effects this will have on our buildings, we can be confident that we are constructing and renovating structures that are fit for the future.
We are delighted to be welcoming our keynote speaker Dr Deborah Adkins from the University of the West of England. Dr Adkins is a senior lecturer in building physics and sustainability, and jointly holds a Wallscourt Fellowship in Sustainable Buildings. Her research aims to empower individual homeowners to help meet greenhouse gas targets.
During the session we will examine the impact of climate change on the built environment and explore the policy implications of what governments are doing and need to do to minimise the impact of climate change. We are pleased to announce that Julie James, Minister for Climate Change in Wales, will directly address this by explaining what the Welsh Government is doing.
Session 2 – Reducing the Impact of Construction
The UK built environment sector accounts for 40% of the UK's carbon, and so we need to focus on all areas – including reducing a building's energy usage and its embodied carbon – to minimise the sector's impact.
But how can we meet the zero-carbon targets, and reach above regulatory standards for the future? Oliver Novakovic, Technical & Innovation Director at Barratt Developments, Dr Shamir Ghumra, Head of Building Performance Services at BRE Group, and Will Arnold, Head of Climate Action at the Institution of Structural Engineers will join the lineup for this afternoon session. The Future Homes Standard, embodied carbon and digital systems will be covered as they share their insights and real-life experiences of achieving world-class building performance and working to standards that already far exceed the current regulatory requirements.
Session 3 – Wider Climate Risks and Opportunities
How does the wider economy assess climate risks, liabilities and opportunities? By turning our attention to other industries, we can understand the influence and impact they have on the construction industry.
Chris Paul, Head of Energy and Sustainability at law firm Trowers & Hamlins, will provide an update on climate law and the built environment. By highlighting the legal considerations, he will discuss how construction law is shaping sustainability policies and practice. David Willock, Managing Director of ESG Finance and Structuring at Lloyds Bank, will explain why engineers should be talking to bankers about sustainability and share opportunities lying within the finance industry.
Research Forum – Sustainability and Resilience in the Built Environment
CABE will be hosting an academic research forum – an exciting addition to the year's conference. The forum will give academic partners and researchers across academic institutions and professional practice the opportunity to share their research and design work with the conference audience. Their showcase of exceptional research will enable you to discover the latest findings and areas of development, connect with individuals who are influencing guidance, policy and regulations, and see the latest technology and innovations.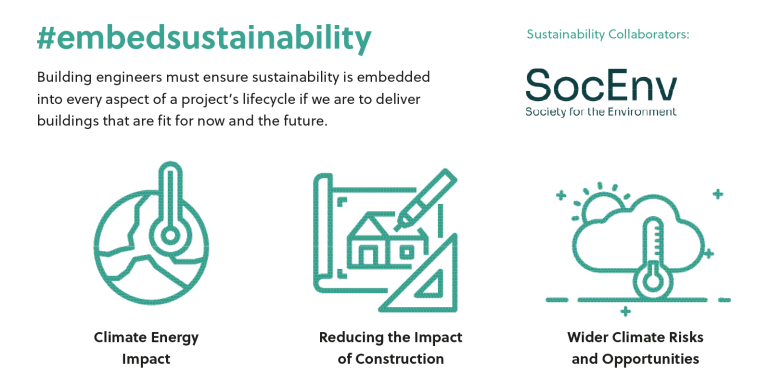 Exhibition
Alongside the conference we will be hosting an exhibition giving you the opportunity to discover the construction industry's latest products and services, build on your knowledge and understanding, and network with other industry professionals.
Gala Dinner and Awards Ceremony
Attendees at the annual conference can join us as we celebrate the winners of this year's Built Environment Awards, including the presentation of the first-ever Building Engineer of the Year award. The ceremony, hosted by comedian and writer Shappi Khorsandi, will honour the industry's finest projects and individuals.
By coming together and exploring the importance of embedding sustainability at this year's Annual Conference, you will discover how you can be part of a better future – a future where structures can cope with the changing climate, buildings use less carbon and energy, and practitioners choose the most sustainable building methods and materials. A future where it becomes the norm for construction professionals to embed sustainability in all their projects.
Conference tickets are on sale now at cbuilde.com/cabeconf2022
To find out more, or to take part in, the CABE Research Forum, visit bit.ly/CABEresearchforum
Dr Deborah Adkins, Senior Lecturer, University of the West of England
Dr Shamir Ghumra, Head of Building Performance Services at BRE Group
David Willock, Managing Director of ESG Finance and Structuring at Lloyds Bank
Will Arnold, Head of Climate Action at the Institution of Structural Engineers
Oliver Novakovic, Technical & Innovation Director at Barratt Developments PLC Group
Image credit | iStock