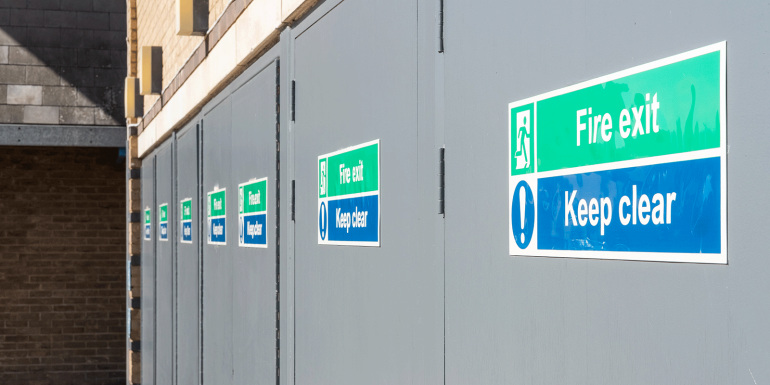 A report that highlights the use of inconsistent and inaccurate fire safety terminology says that specialist vocabulary needs to be better defined and understood.
A report from Collaborative Reporting for Safer Structures UK (CROSS-UK) has said that terms and definitions used for fire safety in buildings need to be better harmonised to avoid potential confusion, ambiguity, and miscommunication.
The CROSS-UK report says that while many terms relating to fire safety in buildings use everyday language, "they may also take on specific technical meanings which is not fully aligned to the common meanings". The report says this adjustment sometimes happens with the aim of improving comprehension for non-specialists, but it can potentially distort the topic unless explicitly addressed.
Building definitions
The particular area of misleading or misapplied terminology that instigated the report concerned the exact definition of what is a high-rise, a higher risk residential building (HRRB), a tall building, a complex building, or what constitutes a common building situation. 
In that specific instance, the CROSS-UK report points out that the UK government is currently working through a consultation on classifying groups of buildings and the most appropriate terminology for these. It also says that publications from HSE and the new Building Safety Regulator refer to HRB (Higher Risk Building) rather than HRRBs which is not now used. 
However, the general point still stands that different participants in a design process might have slightly different understandings of the same term and there is no universal common base in many instances. 
For example, the report says, there is a significant difference between a 'fireman's lift', a 'firefighting lift' and a 'firefighter's lift' and the level of protection these infer or offer. The term 'fire door' is another example, often referring to either a fire exit or a fire resisting door. Or another use of terminology that can lead to confusion is 'smoke control', which can be a generic term used for 'smoke clearance, natural ventilation, mechanical ventilation or pressurisation systems'. 
Resistant v retardant
CROSS-UK's panel of experts also noted some confusion over what 'fire resistance' means in terms of resistance, integrity and insulation, with many people thinking it means a product is 'fireproof' or it incorrectly gets confused or interchanged with the term 'fire retardant'.
"[This is] a very interesting area for discussion because poor communication is a source of danger in any technical environment. While it is outside the scope of CROSS to clarify fire safety terminology, it is considered of value to raise awareness about miscommunication and how this affects safety issues. There is a need for all stakeholders to make clear what they are referring to, and ensure they 'introduce' phrases or acronyms in order to follow best practice," the report said.
"BS4422:2005 - Fire Vocabulary, which is currently being revised, will address some of these issues, and unify the terminology used. Similarly, BS EN ISO 13943:2017 also clarifies the key terminology used in fire safety engineering testing and applications, with the addition of providing terms that are deprecated and should not be used. 
"However, the former standard 'does not include terms for which the standard dictionary definition is applicable. Neither does it include terms and definitions which are unique to any small, specialised discipline within fire safety'. The latter standard is an ongoing project which is expected to be updated in the future." 
As key learnings for regulators, enforcers, designers and engineers, CROSS-UK suggests:
Use terms and phrases relating to building safety in a consistent manner
Make use of fire safety vocabulary standards, such as BS4422, when appropriate
Be aware of the ever-changing fire safety landscape and adopt terminology as it evolves
In case of doubt explain the meaning of technical terms.
The need for heightened accuracy in terms of language is something that features significantly in the current building safety revolution, not least in the Building Safety Act and particularly in areas of competence and standards, such as the Proposed Construction Products Competence standard. 
To watch an exclusive CABE Webinar delivered by Digital and Policy Manager for the Construction Products Association (CPA) Hanna Clarke, which looks at this issue in more depth, click here: https://cbuilde.com/page/CPSWebinar.
And for more background when it comes to fire safety products, watch our exclusive CABE Webinar with the Guild of Architectural Ironmongers' (GAI) Technical Manager Douglas Masterson, click here: https://cbuilde.com/page/IronmongeryWebinar.