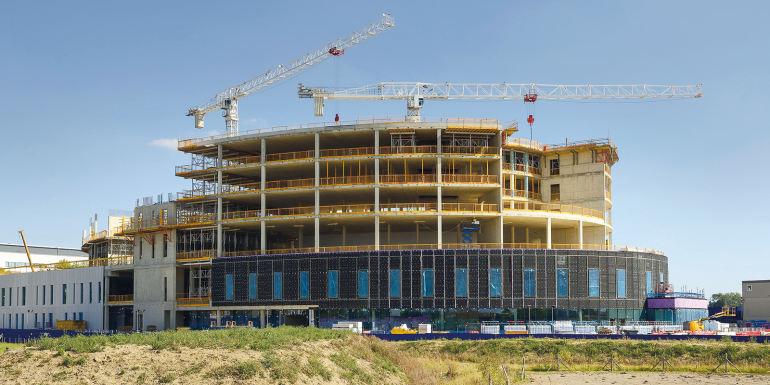 Polymer supplier REHAU's new Designing Healthy Healthcare guide explores the challenges and opportunities for contractors and specifiers involved in building healthcare environments, including hospitals, doctors' surgeries and care homes.
Alongside looking at how a patient-centric approach to selecting solutions can improve health outcomes, the report also explores technologies that can help the sector tackle future challenges such as climate change.
As construction firms are preparing to vie for £2.5bn of work under the UK's New Hospital Programme, REHAU asked 520 M&E contractors and architects about key issues affecting building design. Of the 25% of respondents working in the healthcare sector, 98% said they would be willing to pay extra for products with longer lifespans when constructing healthcare facilities.
"Additional hospital construction funding is clearly welcome news, but using this wisely will be key," said REHAU's Steve Richmond. "All sectors are under significant pressure to decarbonise, but in healthcare – where built assets must meet rigorous standards to assure patient wellbeing – doing so effectively may prove more challenging. Yet as existing estates continue to age, new high-quality building services will be required to create facilities fit for the future. As our report's findings show, the fact this must be done while ensuring a traditionally carbon-intensive sector meets net zero standards further demonstrates why quality, not cost, must be an overriding priority when specifying solutions."
Of those surveyed, 76% suggested wellbeing is value-engineered out of a building's design later in the project. Specifically, 44% said this often happened, with 32% saying it always happens.
"There is clear desire to equip facilities with better systems and services for key utilities such as water and heating, and this new funding offers a clear opportunity to do so. Now is an ideal time to improve new and existing stock," Richmond said.
Read Designing Healthy Healthcare at bit.ly/DHHreport
Image credit | Alamy