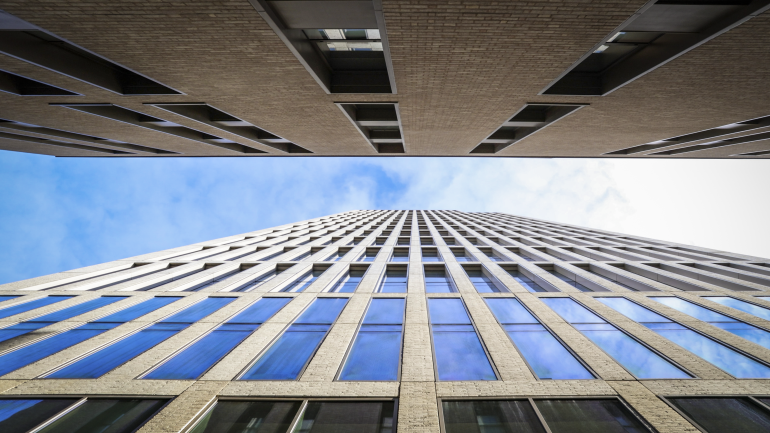 A structural retrofit of a 1960s London tower has extended the building upwards by 70% to create new work and retail space as well as social housing. We speak to the structural engineers behind the innovative and sustainable design
Completed in 2022, HYLO is a multi-award winning mixed-use development located at 105 Bunhill Row in Islington, north London.
Structural designers AKT II, architect Horden Cherry Lee and principal contractor J Coffey Group MACE collaborated on the project, adding 13 storeys to the existing 16-storey Finsbury Tower to create a new dynamic space for the client, CIT Group.
The innovative development has won four industry awards to date, including 'award for full exploitation of an existing structure to maximise retrofit potential' at the Institution of Structural Engineers' Supreme Award for Structural Engineering Excellence and the Royal Institution of Chartered Surveyors' (RICS) 'best commercial development' award.
The 13-storey extension creates 12,687m2 of additional office space, which includes 929m2 of affordable workspace to cater for small- and medium-sized businesses, as well as 1,328m2 of retail space.
In addition, HYLO includes 25 social homes as part of a new six-storey residential block at the rear, which has re-used an existing section of the original tower's basement.
As Albert Williamson-Taylor, co-founder and director at AKT II (formerly Adams Kara Taylor) explains, the design-led interdisciplinary engineering practice began repurposing buildings about 30 years ago.
'Personally, I've always felt that existing buildings have enormous value,' he says. 'But why is it that we never use buildings to their full potential? There is nothing wrong with updating them.'
Rather than demolish high-rises, particularly in inner city areas close to housing where residents arguably have got used the structures but are looking for aesthetic improvements, AKT II's philosophy is to take a bespoke approach and repurpose them to meet the requirements of the modern user.
Building on success
Drawing on the lessons learned from its design of the South Bank Tower , the structural designers applied the same principles to HYLO, but took the innovative designs a step further.
'The South Bank Tower was the first time we, or anybody else, decided to repurpose an existing tower and add a third more to it without having to strengthen the structure or knock it down,' he explains.
To overcome the challenges posed by adding to existing high-rise towers, AKT II applies advanced analysis techniques and alters the building's load path, so that it is possible to extend the number of storeys and ensure its stability. They also look at how London clay performs over time to calculate how they can add an increasing load to an existing building's foundations without having to strengthen them.
As HYLO would need to withstand strong wind pressure the taller it climbed, the team also wrote a computer fluid dynamics (CFD) wind analysis to perform wind tunnel tests for the proposed extension.
Once these design principles had been executed on the South Bank Tower and proven to work successfully, AKT II improved the analysis further on HYLO.
HYLO challenges
Built in the mid-1960s, Finsbury Tower was originally used by British Telecom as an exchange before it was vacated and fell into disrepair. The building's former use meant that the structure had been originally constructed to withstand very heavy loads across its existing floors.
CIT Group, however, wanted to use the space for offices and retail, so the building's internal layout had to be completely reconfigured.
As Williamson-Taylor explains, the architect Horden Cherry Lee suggested removing the large staircase that provided the existing tower's core as it wasn't located in the right place for the client's intended end use.
In its place, the architect recommended creating a new core configuration that allowed for a more efficient floor plate. This involved widening the floor plate and adding new foundations to the existing ones to maintain stability.
'Because we were adding nearly 40% more, the upper columns [of the existing structure] needed to be strengthened because they were only designed to carry the roof,' he says. 'We didn't strengthen the lower columns.'
As the tower's façade had passed its intended lifespan and needed to be replaced, the project collaborators stripped the entire structure back to the frame to create an almost brand new building.
Williamson-Taylor feels engineers tend to design structures according to the 1972 building code; there is a certain build approach and a criteria that is fairly fixed, he adds.
However, he argues more innovation is needed, particularly as the industry is seeing an evolution in building materials, changes in planning and a requirement to reduce carbon.
Sustainability benefits
When AKT II was co-founded by its original three partners, the structural engineers created a research team, including writers, software programmers and architects to challenge established norms in the industry, says Williamson-Taylor.
'One of the things we were concerned about is how do you calculate embodied carbon in real-time as you are designing? Designing is a bit of trial and error,' he explains.
'You try something out, analyse it, put it in place and it doesn't look right. It may be okay engineering-wise, but it's not functioning well, so you take it off and try something else.'
To overcome this costly approach, AKT II wrote their own software and created an app, so that they can calculate the embodied carbon as they are designing and testing out materials.
'What we did is say, "If you take an existing building, what kind of carbon has it got?" Then, we said, "If you demolish this building and you start all over again, what kind of carbon have you got beginning with the neatest piece of engineering"?'
AKT II's team then calculated how much carbon would be saved if they kept the existing building and added a very light structure to it; in other words what the additional embodied carbon would be. They then compared both approaches in terms of the total area and volume created.
The project collaborators say that more than 2,500 tonnes of CO2 have been saved by designing the project around the original tower's superstructure.
Williamson-Taylor, however, says the sustainability benefits go further than the carbon saved.
'Sometimes we ignore usage as part of sustainability. As engineers we concentrate on the structure, which is important in terms of embodied carbon, but the fact that people want to be there and use the building, that is also part of sustainability.'
Materials used in the building
The additional 13 storeys use lightweight steel, together with composite slabs on metal decking. One of the design innovations came about when Horden Cherry Lee suggested using a particular material to enhance the building's appearance.
'It's sad that a lot of tall buildings always default to using aluminium cladding systems,' says Williamson-Taylor.
'The architects on this project went for a glazed brick slate. I don't know why we still build brick buildings. You do not need four inches of brick to clad a building. If you look at how long it takes for the surface of a brick to deteriorate, you are talking about over a hundred years. You are probably losing a maximum of 10mm.
'Brick slate is 35mm and is quite adequate to provide the aesthetic that is needed. The architects went for a glazed brick slate system, but tiled it in such a way to create a verticality you see with HYLO. It looks like a brick clad building. It is a clever use of a material and from a sustainability point of view, the low carbon, it's a masterstroke.'
Awards' comments
At the Institution of Structural Engineers' awards, HYLO was praised for its 'masterful structural engineering'. The judge said the building had been added 'with only the most essential strengthening works necessary to the existing frame and foundations'.
'This was achieved through redirecting load paths, and allowed the designers to exploit the inherent robustness in the original structure – in essence, they cashed in on the previous carbon footprint to save carbon on the extension. [It is] a quite brilliant example of structural retrofit.'
At the RICS awards, the judges said that by 'using cutting-edge solutions, HYLO overcame highly complex challenges with smart engineering and was delivered on time and to budget, with high levels of social value and far-reaching sustainability benefits, including #breeam Excellent'.
Final thoughts
Williamson-Taylor says that AKT II's innovative approach was only possible because of the role played by all of the project collaborators.
'You can't do things like this without a fantastic client, brilliant architects and a team of engineers to work with you who are energetic, young and enthusiastic rather than starting from a position of it can't be done because that's what the building code says,' he reflects.
'You have got to be able to design it first and use the code afterwards. We have been very lucky with the client who trusts us with our judgement and a team that is prepared to push the boundaries.'