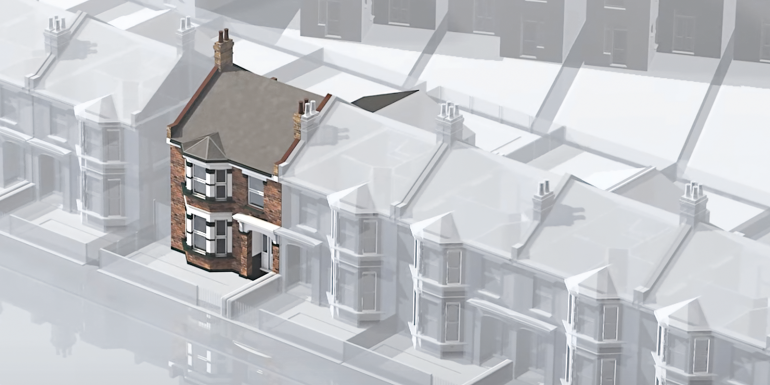 James Cash takes a closer look at a project in northeast London that has become a textbook example for retrofitting cold and leaky older buildings
The race is on to dramatically reduce carbon emissions across the UK. When the government pledged to reduce greenhouse gas emissions by 68% by the end of 2030 – with the aim of achieving net zero by 2050 – it was a direct challenge to the construction industry and housing sector. For local authorities, climate change is an issue they cannot afford to ignore; in 2020, the Local Government Association (LGA) reported that eight out of ten councils in the UK had been affected by a climate change incident in the preceding five years.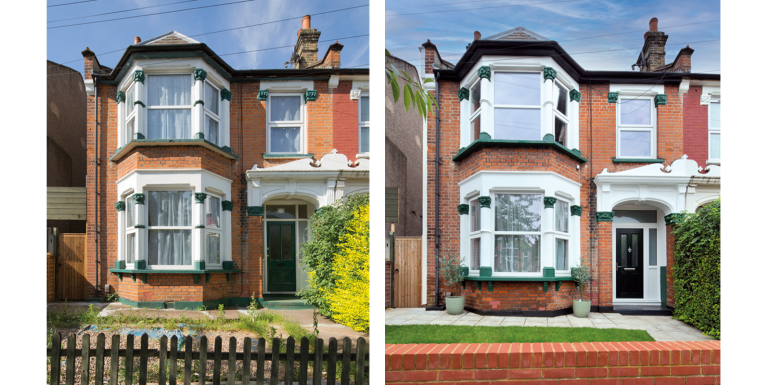 The challenge confronting the housing sector is formidable. Energy Saving Trust figures show that in 2017 the average UK home generated 2,745kg of CO2 from heating systems. The LGA has offered grants and funding to support local authorities in taking action on tackling carbon emis-sions by improving local building stock while increasing their residents' quality of life.
A key plank to reducing carbon emissions involves retrofitting older buildings, which tend to be colder, leakier and less heat efficient. The London Borough of Waltham Forest wanted to demonstrate the improvements that a whole-house retrofit could have on the energy efficiency of existing housing stock. It appointed partnering contractor Aston Group to manage and deliv-er the retrofit of an unoccupied Victorian house.
The energy performance of 47 Greenleaf Road in Walthamstow was typical for a house of its age but also representative of many of the residential properties in the borough and indeed the UK as a whole. Built in 1902, the house is a four-bedroom, end-of-terrace property. Before the project, it had an Energy Performance Certificate (EPC) efficiency rating of E and an annual heat demand of 17,219kWh.
Alan Thomas, Managing Director at Aston Group, says: "It's been a fantastic opportunity to demonstrate what can be achieved by local authorities, landlords and property owners to make Britain's existing housing stock more energy efficient. It also demonstrates that these steps can be taken while keeping residents' safety and wellbeing in mind. Every decision made during this project weighed the energy efficiency benefits against the possible effects on residents and the wider community.
"From the impact on fuel poverty to fire safety and the aesthetics of the building itself, all as-pects of the project were thoroughly researched by the design team before being implement-ed."
Navigating new technology
Waltham Forest gave Aston Group free rein to find as many innovative ways of reducing the property's carbon emissions and determine the scope – amounting to a practical wish list – of interventions to be made to the property.
Aston Group Construction Manager Dominic Woodford and his technical team researched and investigated all the various innovations available. One of the team's conclusions was that de-spite the variety of technology on offer, many clashed when used in combination with each other. Dominic says: "Some items will cancel each other out in usage cost or might not reduce carbon emissions or energy use."
It was a case of finding the right combination of technology and materials for the style and age of the building.
The team took a 360-degree approach to the building to find the right energy and emissions savings from roof to foundations and overcome the inevitable challenges the project team would face.
Insulation is key
Preventing heat loss is the first step in any retrofit project. According to the Energy Savings Trust, 25% of a building's heat is lost through uninsulated roofs; TheGreenAge estimates that 35% of heat is lost through uninsulated walls and a further 10% through the floor. Sealing the property envelope with insulation helps stop draughts and heat loss, providing a basis for other energy-saving measures.It is essential to address these issues before taking other action.
Wall insulation
Cavity wall insulation is standard in homes built after 1970, but older properties like 47 Green-leaf Road typically have a solid wall envelope without a cavity to fill with insulation. For the back and side of the property, Aston Group used external wall insulation (EWI) – namely 90mm Rockwool insulation slabs, which are 97% recyclable and non-combustible.
Typically, these are cut to shape and attached to the outside of the building via a base rail in-stalled at the same height as the internal ground floor. Render was then applied to the boards along with a mesh to add tensile strength and ensure the render was crack-resistant. A decora-tive topcoat then followed this.
Because 47 Greenleaf Road is a period property, EWI could not be applied to the front elevation without spoiling the red-brick Victorian façade. The solution was internal wall insulation (IWI), which comprised a 12mm insulated plasterboard with a 60mm layer of Celotex on one side. The downside to IWI is that it causes a lot of disruption to residents; to apply it, electrical sockets must be removed and extended inwards because of the wall's increased thickness. Radiators also need to be removed and pipework adapted.
Dominic says: "Because of the cold bridging, you have to overlap the IWI with the EWI by 1m at corners, so the two products sandwich the brickwork in the middle. That was another key les-son for us."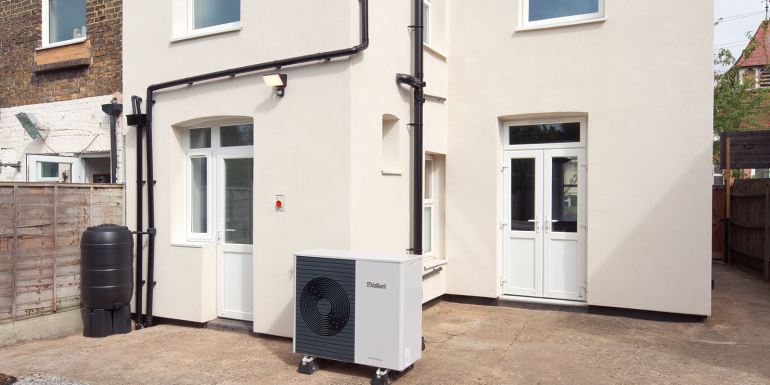 1 External insulation
For the rear and side of the house, Rockwool insulation slabs were used with a render and topcoat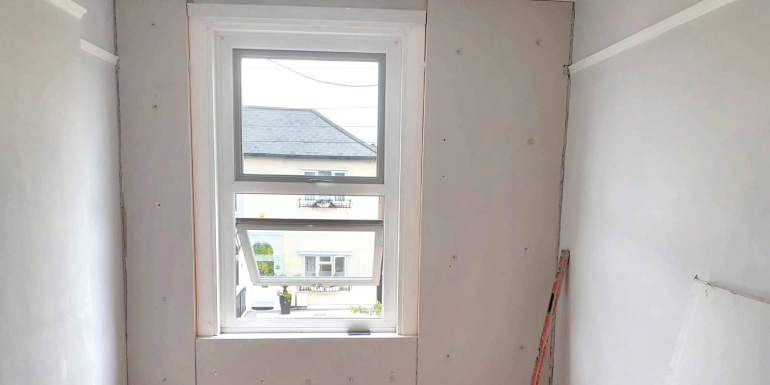 2 Internal Insulation
This a a 12mm insulated plasterboard with a 60mm layer of Celotex on one side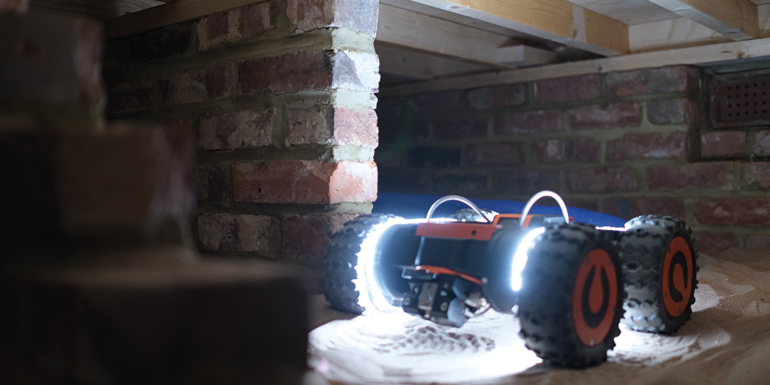 3 Underfloor Insulation
A remotely controlled Q-Bot robotic device was used to apply insulation foam to the underside of floorboards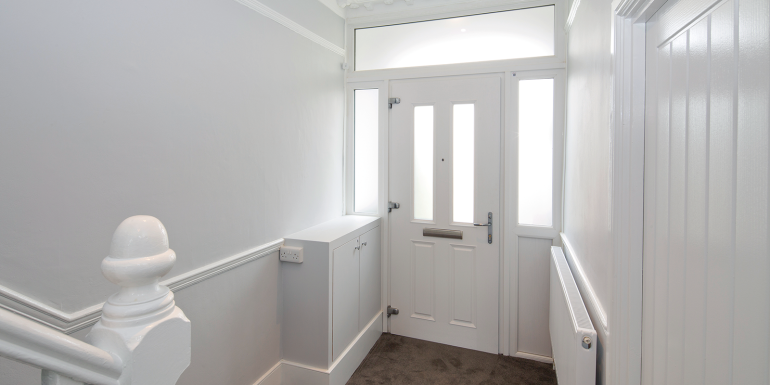 4 Windows and doors
New uPVC doors were fitted, and new glass with an insulatory coating was installed in the windows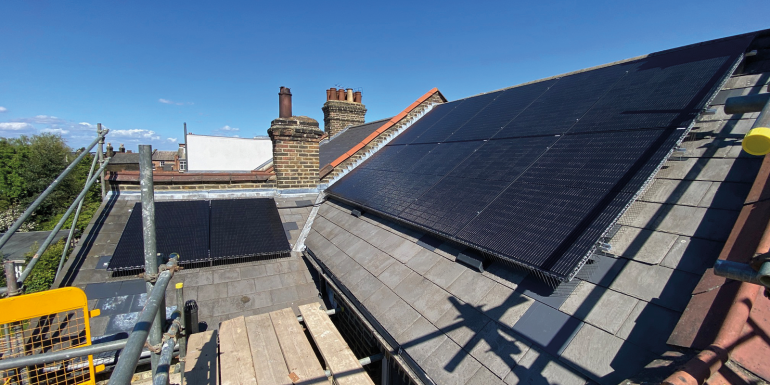 5 Solar panels
The 12 panels have a combined generation capacity of 3.9kW, saving 853kg of CO2 per year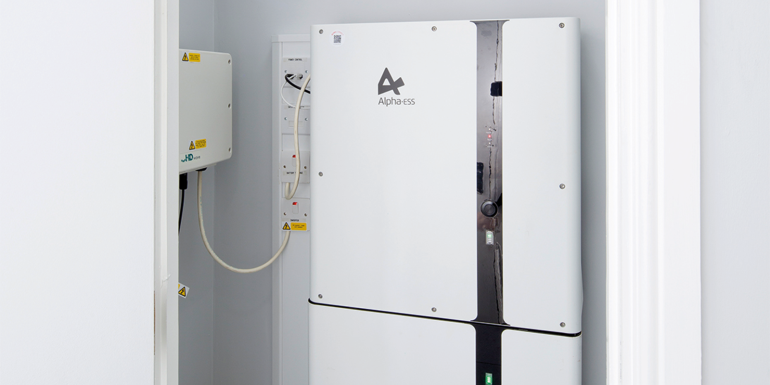 6 Battery storage
The 11.6kWh capacity battery storage system is housed within a specially built cupboard 
Underfloor insulation
Wall and loft insulation are standard techniques, but underfloor insulation can be a disruptive and challenging process and so is often disregarded. Around 10% of a house's heat is lost through suspended timber floors.
Dominic says: "We used a Q-Bot – a robotic device designed to install underfloor insulation without disrupting the existing floor structure. You cut a hole in the floor, and the Q-Bot moves around controlled remotely and sprays an insulation foam on the underside of the floorboards."
Insulation applied via Q-Bot can reduce heating bills by up to 16% – or £150 a year – and only a tiny section of the floor is affected. Most of the carpet and furniture can stay in place, which is helpful in an occupied property. The Q-Bot's speed and convenience have the added benefit of keeping the cost down and reducing inconvenience to residents and landlords.
Dominic says that using the Q-Bot raised some unexpected issues, which required thinking through. "What nobody thought about was the air temperature and humidity under the floor; excess humidity and dampness could damage the wall. Victorian properties use a lime mortar – there's no cement in it, and if the mortar gets too wet, it will run out and then all of a sudden you've got no mortar between your bricks. It's not rocket science to understand what will happen to the foundation of your building."
The Aston Group team installed AirEx smart air bricks into the walls to get around this potential problem. Air bricks are essential in providing a flow of fresh air beneath the floorboards to prevent a build-up of dampness. AirEx bricks are powered by a battery that needs to be replaced every two years, and are linked with a house's WiFi. They pick up the external and internal temperature underneath the floor and open to let more ventilation through when necessary.
As a result of the Greenleaf Road project, Q-Bot and AirEx are now meeting to discuss how their products work in conjunction. Dominic says:
"That was one aspect we almost stumbled across. It's due to our experience; we thought there was an issue to resolve."
Windows and doors
A++ rated double-glazed windows can save the average semi-detached home £95 per year on heating bills and reduce CO2 emissions by approximately 405kg, according to the Energy Savings Trust. Approximately 10% of a house's heat is lost through windows and doors. Aston Group retrofit team had to consider how they might reduce that figure and optimise the impact of insulation on energy efficiency. Waltham Forest decided to keep the existing low-maintenance uPVC frames in place, but replaced the glass to minimise waste.
The replacement glass has an innovative coating to increase its insulatory qualities. Installed within the double-glazed unit, it allows light and thermal radiation to enter the building but doesn't allow it to leave, therefore trapping heat within the structure.
Draughts around doors and windows are inevitable in older buildings where the property has shifted and settled, with frames moving out of alignment, allowing heat to escape. At Greenleaf Road, new uPVC doors were installed at the same time as the windows. The new doors have better thermal properties than the earlier wooden doors, and fit the frame better, reducing draughts and heat loss through gaps around the seal.
Powering up
Creating electricity in a building is now as much of an option as saving power, and working in combination makes significant savings. Aston Group installed photovoltaic solar panels to the roof, allowing the building to generate its electricity from the sun.
The south-facing system comprises 12 monocrystalline panels, all with solar edge optimisers to maximise efficiency. Without them, the system could not function if one of the panels was in the shade. Each panel can generate 325W for a combined 3.9kW, which saves approximately 853kg of CO2 emissions per year.
The team installed an Alpha Smile-B3 AC coupled system with 11.6kWh of battery storage, which is housed within a specially built cupboard. The system features an inverter fitted with optimisers behind each solar panel. The inclusion of a battery allows power to be stored for overnight use, with any excess electricity passed back to the grid. The size of the battery required careful consideration, Aston Group said. If it was too large or too small, the battery lifecycle could be drastically limited.
LED lighting
Switching to LED lighting is often considered the low-hanging fruit in energy efficiency interventions and can save the average home £40 a year. The team opted for a Philips Hue smart lighting system, which not only saves energy but also allows the light levels and colour to be adjusted by smartphone or set to a schedule, and can be turned on or off whether residents are home or not.
Meanwhile, smart power sockets installed throughout the house allow all plugged-in devices to be switched on or off, and monitor energy usage from anywhere. Users can also set timers and automated sequences to make electricity use more efficient.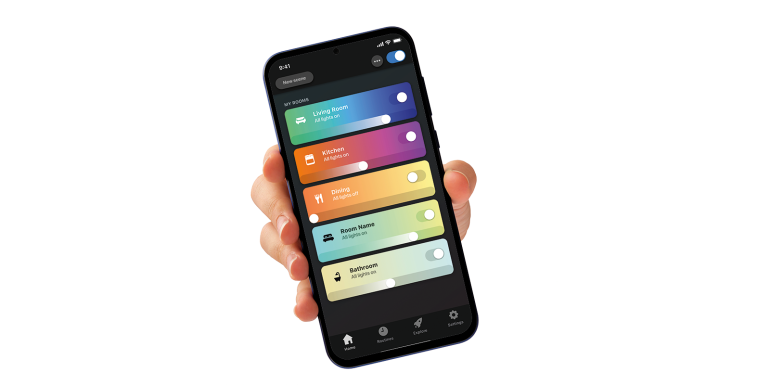 1 Smart lighting
The Philips Hue system allows light levels and colour to be adjusted by smartphone or set to a schedule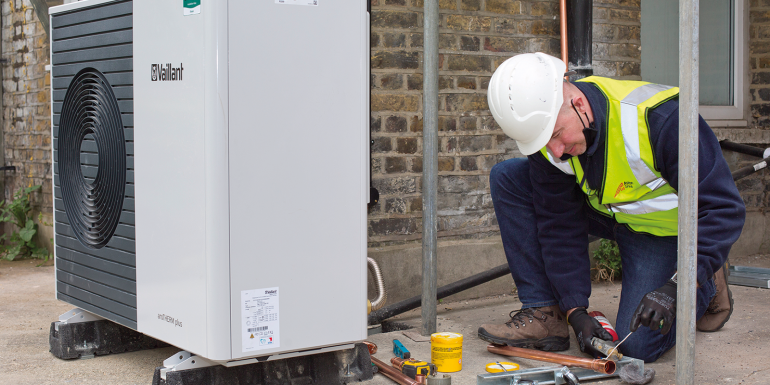 2 Heat pump
The unit sits outside the house and harnesses heat from the ambient air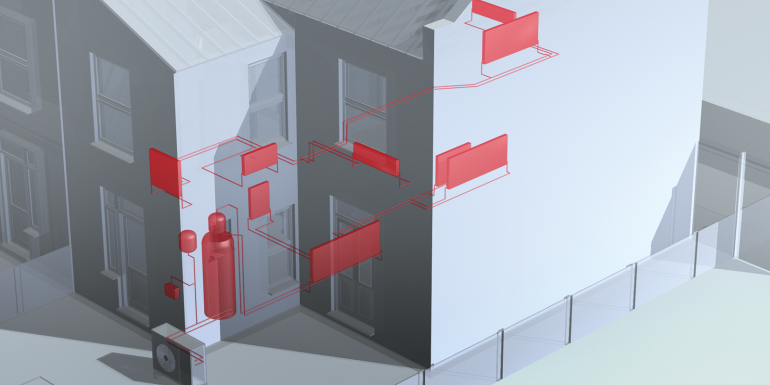 3 Radiators
Larger radiators were installed to cope with the heat pump's 45°C output temperature
4 Mechanical ventilation heat recovery system
The duct system was concealed wherever possible to preserve the aesthetics of the house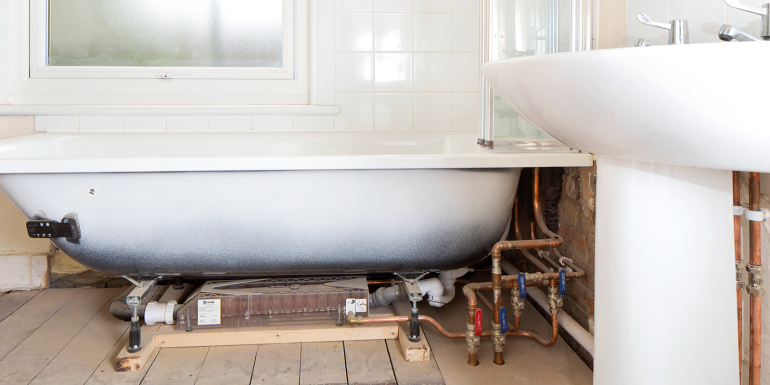 5  Bath and shower heat recovery system
This takes waste heat from the used warm water and uses it to help heat incoming cold water, reducing energy requirements
Heating
Heating is one of the more challenging aspects of the retrofit and is determined by the success-ful insulation of the building. Moving away from fossil fuel heating systems not only reduces carbon emissions but can also reduce costs.
Waltham Forest emphasised that it wanted to install an air source heat pump at 47 Greenleaf Road. The Vaillant aroTHERM Plus unit sits outside the property and harnesses heat from the ambient air, which it pumps into the central heating system to keep the property warm. The pump can work at temperatures as low as -15°C.
Air-source heat pumps only use an efficient amount of electricity and is usually connected to the grid. When available power is supplied by the solar PV roof panels and battery storage, the system is entirely self-contained. The Vaillant aroTHERM Plus air-to-water system serves the radiators and a high-capacity unvented hot water cylinder and has an energy efficiency rating of A+++.
The system's initial cost is expensive in comparison with a traditional gas boiler/central heating installation, but the energy savings will balance the costs over time. There's very little mainte-nance required and no need for an annual gas safety inspection. This particular system has an expected life span of 20-25 years, making it a good choice for private rentals or social housing.
However, some challenges with heat pumps have to be overcome. Dominic says: "One of the issues is that you've got to have planning permission. If you go over a certain size, you need planning, which I doubt many people are aware of. The other thing is that the positioning of the unit needs to be away from neighbouring properties to ensure noise compliance."
The system installed is one of the quietest air source heat pumps on the market, and careful positioning ensured the impact on neighbours was minimal; the positioning of fences also helped to muffle the noise impact. However, Dominic says that although the system is quiet now, it is possible it could become louder over several years of use as it wears, which will re-quire monitoring.
New radiators were required for the installation because the Vaillant system runs at 45°C rather than the 75°C degrees typical of a gas boiler, so larger radiators with a larger surface area are needed to heat the rooms.
To ensure maximum efficiency, the air-source heat pumps run on a trickle system, which means they are always on. It's not a case of turning the heating on when temperatures are cold and heating up the building quickly.
Dominic says: "You've got to make people rethink things. It will be warm but it will be a more ambient heat, a little like underfloor heating. The heat pump will be working 24/7 to maintain a comfortable room temperature while the building is occupied and a reduced temperature of typically 18°C during the night and periods of non-occupation."
Heat recovery
Having sealed the property envelope and improved the heating system, it's also vital that mois-ture in the building can escape from the house to prevent damp and allow occupants to enjoy a clean, dry atmosphere.
Aston Group installed two heat recovery systems at 47 Greenleaf Road. The mechanical ventila-tion heat recovery system (MVHR) can reduce energy bills while increasing fresh air flow through the house. Installed in areas with high humidity such as kitchens and bathrooms, an MVHR recovers heat from water vapour and uses it to help keep the property warm. It is possi-ble to retain around 96% of the heat generated in some cases. The heat from the extracted stale air is drawn through an air-to-air heat exchanger located within the heat recovery ventilation unit and is used to warm incoming fresh, filtered air for living rooms and bedrooms.
The MVHR system monitors inside and outside temperatures and humidity levels before adjust-ing the air circulation speed. It also has a summer bypass facility, which allows heat to automat-ically exit the property during the summer without passing through the heat exchanger. The system is automated, with no need for input from residents, which Aston Group says is ideal for social housing or a rental setting. Residents don't even need to open windows to access fresh air, and the landlord or homeowner only needs to change the filter once a year.
One challenge with MVHR systems is that they require a duct system to exchange the external and internal air, and Waltham Forest did not want to compromise the aesthetics of the space. As a result, Aston Group hid the ducts wherever possible; they were run between the ceiling and the first floor or in the loft, with discreet vents added to living spaces, allowing for air ex-change.
Aston Group selected a MVHR system that uses a 125mm duct system, while the existing extrac-tor fans used 100mm ducting pipes to channel air outside. Larger ducting was therefore added to reduce airflow restrictions.
The other heat recovery system involved wastewater from the bath and shower. According to shower waste heat recovery firm Zypho, a four-person household using an electric shower sys-tem could easily spend £400 on showering per year, which is a considerable sum of money for most households.
To minimise this, Aston Group installed a new wastewater heat recovery system. Dominic ex-plains: "When you are having a shower, the hot water that goes down the plughole flows around a coil, which heats the cold water going into the shower, meaning you don't have to use as much hot water."
---
Approximate costs and savings
Air source heat pump and radiator system
Cost: £10,200
Annual cost savings: £860
Annual CO2 savings: 4,240kg
Solar PV and battery storage
Cost: £14,015
Annual cost savings: £609
Annual CO2 savings: 853kg
Underfloor Insulation
Cost: £2,140
Annual cost savings: £67
Annual CO2 savings: 287kg
Solid wall insulation
Cost: £13,987
Annual cost savings: £341
Annual CO2 savings: 890kg
---
Results
Aston Group measured the building's original thermal performance to assess the effectiveness of the retrofit measures. Following the retrofit, there was an 82% improvement in energy use, an 81% reduction in CO2 emissions and a 64% improvement in running costs.
The original building reported an EPC rating of E, while the post-refurbishment building re-ceived an A rating as a result of the measures undertaken. The reduction in carbon emissions also prove that it is possible to upgrade existing housing stock in line with the demands of mod-ern living. Furthermore, by reducing the reliance on fossil fuels, the retrofit project means that future residents are less likely to experience fuel poverty, resulting in a better quality of life.
Dominic says: "What we were trying to do will in turn benefit leaseholders, landlords and resi-dents because they've got to pay for it. We could have put more technology into the project, but it has to be worth it because of the capital cost and potential maintenance. We had to real-ly justify all the costs."
As a result of the project, Aston Group is advising other councils on how to get their properties up to an EPC rating of C or above.
For more, visit bit.ly/AstonRetrofit
Image credit | iStock