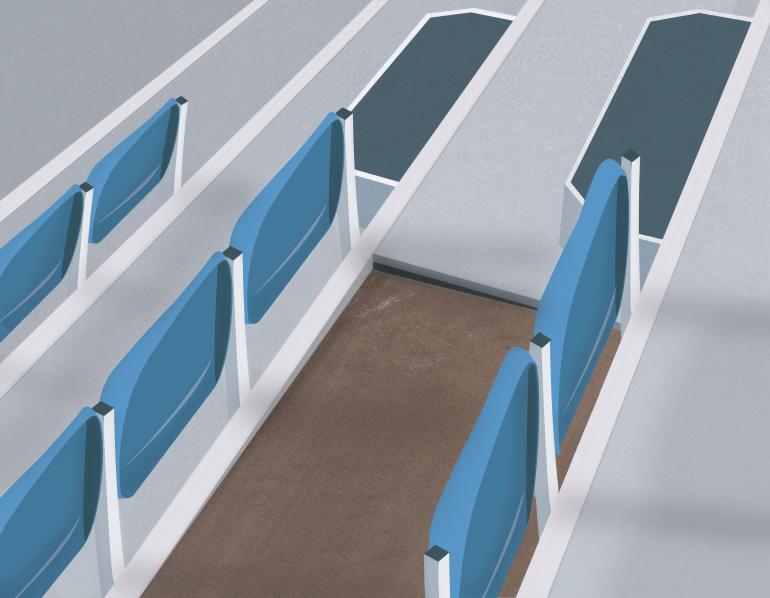 A report that highlights the potential for grandstand decking boards to rot says that unchecked temporary grandstands could become unsafe for use. 
A report from Collaborative Reporting for Safer Structures UK (CROSS-UK) has said that temporary grandstands should be checked more thoroughly after a rotten plywood decking board in one grandstand failed when it was walked on during an inspection.
Demountable grandstands are used at a number of sporting venues across the UK and, while they are officially only temporary in nature, they can remain standing for a number of months or, in some cases, venues even use them as permanent structures. This leaves them exposed to the elements and while the main structures typically consist of aluminium sections and raking beams on a proprietary scaffold framing systems, in this particular case, the terrace decking was made up of coated plywood deck sections.
A firm that carries out visual structural inspections of temporary grandstands was inspecting the grandstand in question during the summer of 2021 when a decking board failed as it was walked upon. On closer inspection, the board had failed in shear as a result of it being rotten. The incident was reported by the firm to CROSS-UK.
CROSS-UK said it is believed that the board had become rotten because moisture had become trapped within the ends, embedded in the aluminium edges, and over time the plywood had degraded.
Further failures
The CROSS-UK report said: "Other boards failed to a lesser degree during the inspection. The reporter noted that a single person walking over the boards provides significantly less load than they are subjected to in service. The reporter was therefore concerned there is a risk that defects could go undetected during pre-occupation inspections, only to manifest themselves once the boards are fully loaded, potentially with serious consequences. Indeed, the reporter's firm found defective boards at other venues in 2020 and 2021 and was also aware of further incidents where boards had failed in service."
The report noted that once boards have been installed it is very difficult from a visual inspection to check the condition of the plywood embedded within the trim. Consequently, the status of the boards and their ability to fulfil their function safely is almost totally reliant on the pre-inspection procedures of the installers. On the grandstand concerned, that process had seemingly failed, leaving the stand not safe for use.
"The reporter concludes that it would be beneficial if the various stand suppliers/installers could work together to develop a coordinated approach to the management of these types of structures. Robust pre-inspection regimes or indeed insitu tests need to be developed which are backed up with comprehensive audit trails that clients and event organisers can rely on," the report said. 
As key learnings for clients, event organisers, suppliers and inspectors of temporary grandstands, CROSS-UK suggests:
Inspection regimes should take into account how long a structure has been standing, or has been in storage, since it was last dismantled and checked
Consider the potential for degradation of all elements and check for hidden defects, particularly in timber decking
Temporary demountable structures: Guidance on procurement, design and use provides significant guidance
Stand suppliers should be aware of the potential for hidden degradation at the edges of plywood decking.
For further advice regarding demountable structures, the Institution of Structural Engineers has published a guidance note Procurement and use of demountable structures and detailed technical guidance is available in its Temporary demountable structures: Guidance on procurement, design and use. General advice is also available from the HSE: Temporary demountable structures (TDS) - stages, seating, marquees etc. And the Advisory Group on Temporary Structures (AGOTS) has guidance for landlords, local authorities and event organisers: Temporary demountable structures - Winter 2020/21 considerations.
To report a concern, visit the Cross UK website.
Image credit | Cross UK