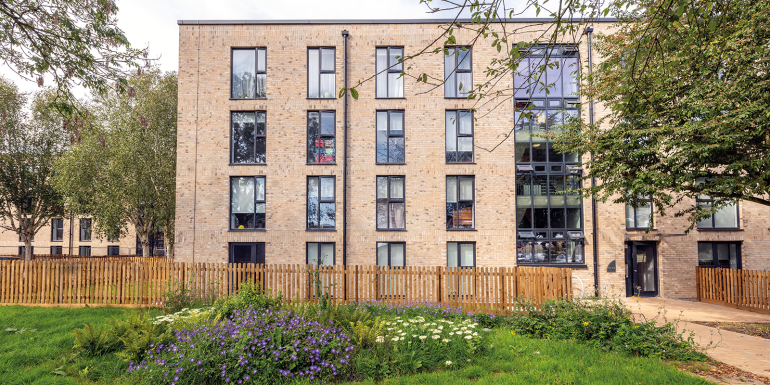 What can be done to update 1960s housing stock? Plenty, says Matthew Mayes, Architect Director at BDP
Bradford Park flats, part of the Foxhill estate in Bath, stand as a testament to 1960s architecture – or at least they did, until a £5m project to fully renovate and refurbish them got under way.
Housing association Curo employed design practice BDP and affordable housing construction company Mi-space, now part of the Bell Group, to revamp all 48 flats to create "homes fit for the future". The extensive renovation included the installation of new kitchens, bathrooms and gas boilers as well as fire safety improvements and a full electrical re-wire, but that is only part of the transformation.
"The most sustainable building is one that already exists," says Matthew Mayes, Architect Director at BDP. "At BDP we always suggest considering the reuse and repurposing of buildings first, rather than building new by default. The Royal Academy of Engineering has said the built environment, including the construction industry, accounts for 42% of the UK's carbon footprint. Meanwhile, the Architects' Journal campaign Retro First has been encouraging the architecture sector to repurpose buildings rather than build new. In light of this growing consensus, it makes good sense to retrofit existing housing stock where possible, and a prime example of this new approach is Bradford Park."
The importance of reusing buildings was highlighted in a recent report by leading engineering organisations, titled Decarbonising Construction. This urges the government to stop buildings being demolished due to the level of carbon dioxide emitted during the creation of materials and the construction process. The report argues the construction industry should, where possible, reuse buildings, employ more recycled material and use machinery powered by clean fuels in order to help the UK achieve net zero carbon emissions.
"Remodelling an old building has numerous benefits. If the superstructure and substructure are robust, there is an immediate financial and carbon cost saving on materials. BDP estimates that up to 30% of the materials cost and up to 65% of the embodied carbon cost is saved when an old building is repurposed," notes Matthew.
At Bradford Park, the building structure, stairs and internal walls were all reused. "This is always the best solution from a carbon perspective," Matthew adds. "We made minor layout adjustments. Layouts were constrained as the majority of walls were load-bearing masonry supporting beams and pot floors, so structural intervention was avoided. This included avoiding new risers and drainage holes due to the fragility of the pot floors." Work included remodelled internal layouts for communal areas and improvements to external landscaping; where there were non-loadbearing partitions and doors inside the flats, these were reconfigured to better fit modern family life.
"Each flat and all the communal areas were fitted with fire doors and fire-stopping to bring the building up to fire regulations standard. Décor, ceiling and floor finishes were all refurbished," explains Matthew.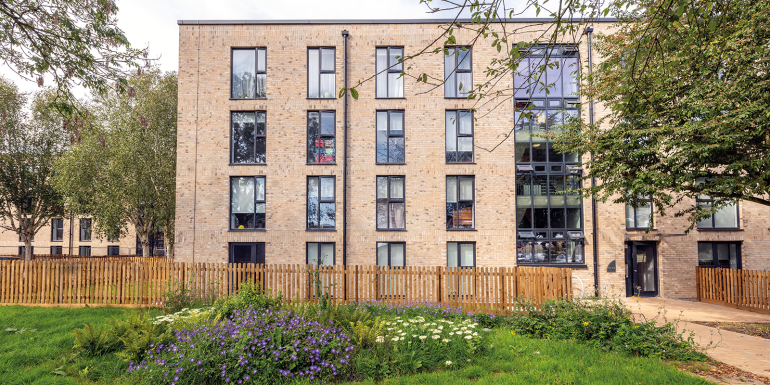 Energy efficiency
The fully refurbished flats have increased natural light and ventilation through new floor-to-ceiling, energy-efficient windows in homes and communal areas, as well as new roofs and improved insulation. These energy-efficient upgrades were made to help reduce costs for residents.
---
Energy efficiency before and after
the existing roof was stripped to the base and a new insulated roof was installed. Average U-value improved from approximately 0.42W/(m²K) to 0.10W/(m²K), reducing the energy lost through the roof by approximately 1500kWh per year
new insulated external cladding was installed to maximise the thermal performance of the building. Average U-value improved from approximately 0.37W/(m²K) to 0.17W/(m²K), reducing the energy lost through the external walls by approximately 600kWh per year
internally, more energy-efficient boilers were installed to keep the cost of the heating down. The combined reduction in gas and electricity use is 28%, with space and water heating costs reduced by around 33%

---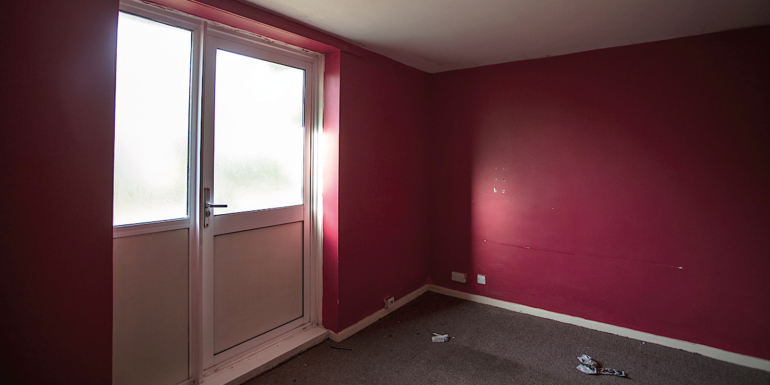 "The existing single-glazed windows had infill panels beneath them that used timber and asbestos cement sheeting," explains Matthew. "These were unsightly and thermally inefficient. They were removed, with the existing structural opening reused to house new floor-to-ceiling double-glazed windows to maximise the daylight and thermal performance of the flats. All external doors were replaced to provide enhanced thermal performance. We also remodelled communal areas, opening up the layout to give access to lighter corridors as well as providing better natural surveillance."
The boilers and radiators were also replaced with more efficient ones using the same service routes. However, there were other challenges. "The existing envelope was massively underperforming thermally, including thermal bridges at floor levels and poorly performing cavity fill insulation, leading to condensation and damp inside the flats," says Matthew.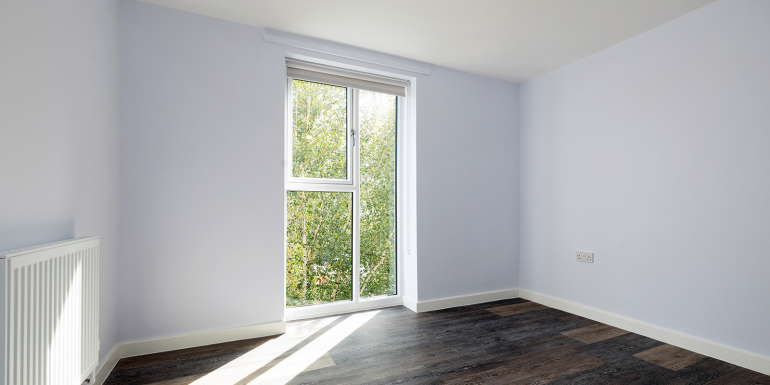 "We assessed the existing roof to determine whether it could support new insulation and a new roofing system. This required an assessment of historic drawings and regulations to justify our intention to reuse instead of rebuild. This was a structural assessment of the load-carrying capacity of the existing walls and foundations to support the new roofing and cladding treatments. The assessment consists of a comparison of existing versus proposed loading, using results from a desktop study and intrusive investigations to inform existing fabric and historic design loads.
"Historic loading allowances for the roof were found to exceed current requirements and therefore helped justify some of the additional loading. The remaining increase in loads was justified by analysis of the strength of the existing masonry wall panels and foundations, which were all found to be sound", he says.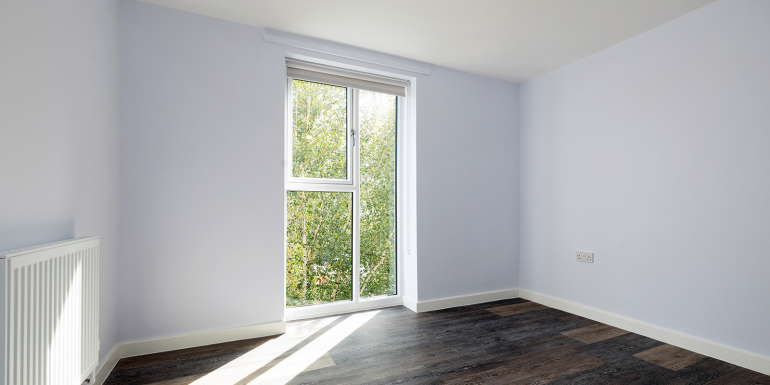 "The solution for the rest of the envelope was to remove the existing cavity fill insulation and replace with an insulated brick slip overcladding solution. Again, detailed assessment of frame and foundations allowed this to be done with minimal removal of existing fabric. The system consists of a mineral wool board adhered to the existing brickwork using mortar and fixed through with mechanical anchor fixings at regular centres. A mortar basecoat with mesh is then placed over the face of the insulation, and then the brick slips are grouted onto it. This was a fairly straightforward process and we didn't have any issues structurally."
BDP also provided a replacement warm roof construction with significantly increased thermal performance. "The thicker insulation meant we had to replace the existing roof edge parapets to accommodate, but again, this was straightforward," he says.
What seems clear is that nothing in the refurbishment posed any real issues – which begs the question, why can't more 1960s buildings follow suit? As Matthew says, "This major renovation has transformed the previously dated flats to create stylish and comfortable homes, with more natural light and improved contemporary layouts, while increasing energy efficiency and cutting running costs. Bradford Park Flats shows how dated buildings can be given a new lease of life to provide safe, healthy, affordable and sustainable homes and regenerate a thriving community."
Read the Decarbonising Construction report at bit.ly/RAEdecarb