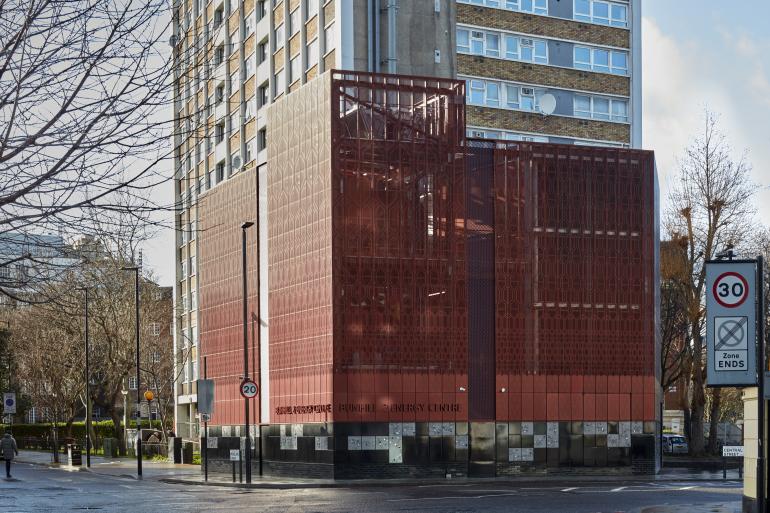 Anybody who has been on the London Underground, especially at the height of summer, will know that it can be a stifling experience where the breeze generated by a passing train is welcome respite. But what is a fairly oppressive affair for commuters can have a beneficial side effect for local communities.
"The concrete and the masonry structures within the London Underground are a really effective heat store and, over the course of its lifetime, the walls of the tunnels have reached a point where they don't really cool anymore," Carol Costello, practice leader at architects Cullinan Studio says.
"There's a growing recognition that waste heat is a resource that can be effectively 'mined' and used as a source for heating homes or sharing heat. Islington Council in London is very forward thinking is this regard, while London Underground has a large team of engineers who are all working to try to reduce heat in the Underground. In the case of Bunhill 2, the two things have come together."
Network expansion
Islington Council already had the Bunhill Heat and Power Network, which began operating in 2012 using a combined heat and power plant (CHP), generating heat for local homes and council facilities as well as electricity that is sold into the national grid. However, in 2016 it undertook a major expansion centred around what would become the Bunhill 2 Energy Centre.
This pioneering project – for which Carol and the team at Cullinan Studio provided the architectural concept design before it was taken through to completion by McGurk Architects and Ramboll Engineering – uses innovative technology to transfer heat from the London Underground network to a school, two leisure centres and more than 1,350 homes in Islington, with the potential to supply even more. The centre's combined heat and power technology also generates cheaper, greener electricity that is fed into the London Underground network, as well as powering the communal lighting and lifts in an adjacent tower block.
The Bunhill 2 Energy Centre is built on a former London Underground ventilation shaft, which itself was the remains of the former City Road station. Within the centre, a two-metre underground fan extracts warm air from the Northern Line tunnels below. The air travels over a series of water-filled pipes, heating the water inside. Using heat pumps, the water temperature is then increased to about 80ºC, which is suitable for domestic and commercial central heating systems. It is then supplied to buildings in the neighbourhood through a new 1.5km network of insulated underground pipes. In addition, the fan can also be reversed to help cool the Tube tunnels in the summer months.
Award-winning
Since it began operating in March 2020, the Energy Centre has been the recipient of numerous awards, including Energy Managers Association Awards Decarbonisation Project of the Year and the RIAI Award for Sustainability. It is now hoped that this revolutionary facility – the first of its kind anywhere in the world – will provide a blueprint for decarbonising heat elsewhere in London and around the globe, helping to improve air quality and making cities more energy self-sufficient.
While much of the building engineering on the Energy Centre is specific to the project, some of the technical challenges that had to be faced and explored – particularly in the case of subterranean piping – could have far-reaching applications.
"This system is a hot network, which means the water in this system is going out at 75-80ºC for heating homes, so the pipework has to be very heavily insulated to avoid losing any heat," Carol says.
"As the water goes round the network it will lose a percentage of its heat just through leakage – such as joints in the pipe work. This is one aspect of district heating that is a significant engineering challenge. So the pipework needs to be installed very well otherwise you can lose a lot of heat – it wasn't easy finding suitable piping."
To counter these challenges, the team at Cullinan is now looking at ambient heat networks that don't require quite the same level of installation. In cooperation with Islington Council, London South Bank University and other partners, Cullinan made a successful bid to Innovate UK for a grant to research smart local energy systems. That project is called Green SCIES – 'Green Smart Community Integrated Energy System' – and has been going for two years.
"The temperatures of the water in these ambient systems is more like 15 or 20ºC, so it doesn't need all that insulation around the pipework. Instead, it uses boreholes from the Islington aquifer and waste heat from London Underground, data centres, sports centres and swimming pools. It then works in tandem with heat pumps in individual buildings. What it means is that those heat pumps have to use very little energy to bring the ambient temperature water up to the temperature needed to heat homes.
"But the interesting thing about Green SCIES and the reason why we call it a 'smart local energy system' is that it's not just about heating. While the trenches are being dug for the heating network, engineers can also put in the infrastructure needed for vehicle charging, or to take the power feed from solar panels on buildings in the network. Then we can use thermal stores and battery stores, to store power during the off-peak times so that it's available during the peak periods."
Over ground, Underground
Another strand of the research funding that Innovate UK gave Cullinan was to investigate the idea of above-ground piping in high population density areas such as Islington.
"The city is crowded, the streets are crowded, and even underneath the streets is crowded with pipes and cables. To block off one of the main city roads to dig a trench is super disruptive and very expensive. So we were asked to explore ways to take pipes above ground in some areas," Carol said.
"This is something that is done more in Europe, so we have looked at some precedents as well as cost comparison. The conclusion we reached was, in terms of costs, it can be cheaper in some locations to run pipes over ground – so that could be something that we see in the future. However, you also have to recognise that it also makes pipes more vulnerable and open to a whole list of new factors that we never previously had to consider."
While this work is ongoing, one thing that seems almost certain is that Islington Council's heat and energy network will continue to expand with further energy centres and increasingly advanced technology.
Carol says: "The local population is very proud of the Bunhill 2 Energy Centre. I think, in terms of the big changes that society needs to make to mitigate the effects of climate change, these are important steps."