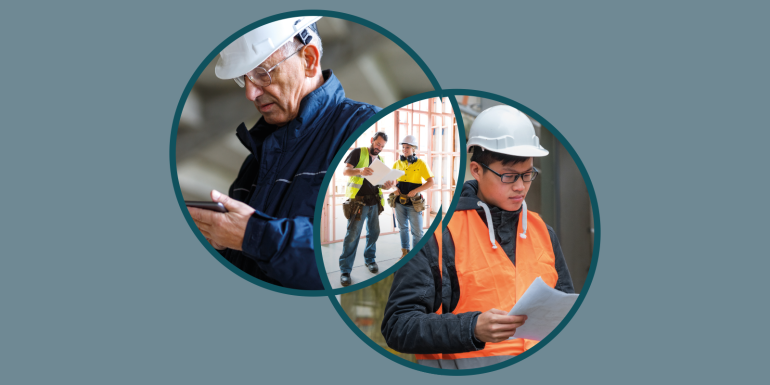 David Adams looks at industry apprenticeships and those who are about to retire, and asks if there's a way to bridge the skills gap
Skills shortages have been a feature of the built environment industry for many years, but the growing skills gaps in building engineering disciplines are of particular concern now, with a new regulatory regime adding to the responsibilities borne by – and the demand for – building engineers.
There are two fundamental problems. First, an ageing industry needs to recruit new engineers, whether straight from full-time education, via apprenticeships, or other careers. Second, too many experienced building engineers are leaving the profession without sharing their knowledge, expertise and experience with junior colleagues. The departure of senior engineers and surveyors may also leave dangerous gaps in competence at the top end of the profession.
The skills gaps are particularly noticeable in some areas, including building control functions in both the private and public sectors.
Lorna Stimpson, Chief Executive at Local Authority Building Control (LABC), outlines the way this problem is affecting building control functions within the public sector, where funding cuts have reduced the number of staff in recent years.
"We are seeing new recruits, but they are at the beginning of their career, and it takes a long time to gain the competence needed to be able to work in the most complex buildings," says Lorna. "There is a natural progression through a person's career in terms of their ability and competence. Competence isn't about your qualifications: it's about your skills, your knowledge and your experiential learning. While we may be bringing new people into the industry – some incredibly clever people – they do not have that experience."
At the same time, the introduction of the new regulatory regime is also increasing the demand for highly skilled building control surveyors. "If you doubled the number of building control surveyors, we still wouldn't have enough," says Lorna. "There aren't any building control surveyors sitting around twiddling their thumbs – they're massively overworked. So we need new surveyors for public sector and private sector building control roles."
One problem is the relatively low profile of the building engineering sector. Very few people outside it have a good understanding of the range of roles for building engineers within it. But at least there is now a growing range of apprenticeships and other qualifications created to train building engineers, building control surveyors and inspectors.
Links with education
"Apprenticeships are really taking off in construction and in chartered surveying, as well as for building control," says John Barfoot, the recently retired former Learning and Academic Director at CABE. "The criticism with full-time students is that they've got a lot of knowledge, but no work experience. Use of apprenticeships is giving young people, returnees to education and career-changers that knowledge plus experience in the workplace, so they are immediately productive."
Daniela Hawryliuk is Deputy Head of the Department of the Natural and Built Environment at Sheffield Hallam University, which delivers a range of built environment apprenticeships accredited by CABE and other industry bodies. She emphasises the value of apprenticeships as "a really good vehicle for passing on expertise in the workplace" and as a route into these professions for people who are already working in other related industries.
"There is often an assumption that it's school- or college-leavers who start apprenticeships, but there are other people from different backgrounds who may have organisational and technical skills that make them a good fit for this," she says.
Daniela says each of the apprenticeships and apprenticeship degree courses delivered at her university have been enhanced by additional input from employers. "It's been an evolution to base curriculum content on the skills and knowledge required by industry," she says. Learners track and assess progress with supervisory input from within the university and from a workplace mentor. Endpoint assessments are rooted in real-life workplace scenarios.
Another course designed to increase the flow of talent into the industry is the BSc Honours degree in Building Control offered by the University College of Estate Management (UCEM), a four- to four-and-a-half year part-time online course.
It trains people to become building control inspectors in the private sector and/or to work for local authorities.
Martin Cawley, Associate Director for business development at UCEM, says it is sharing best practice in apprentice development plans with employers "looking at how we track knowledge and competency levels at each stage of the programme. We're working to ensure that by the time learners get to the end of the programme the employer can be confident that the endpoint assessment really measures their competence."
Feeling the pinch
The skills gaps have created problems for very specific roles, such as social housing maintenance. LABC has been focusing on this area through its Trailblazer Group, which was set up six years ago with partners including the Chartered Institute of Building and the University of Wolverhampton. Trailblazer created a framework for measuring competency in building control functions, and a suite of qualifications, including a Level 3 Certificate, Level 4 and Level 5 Diplomas and a Level 6 BSc Apprenticeship Degree in public service building control, along with further specialist diplomas. Because the LABC's Level 3 to 6 learning is modular, learners who already have proven competence in related fields can start their journey towards working in building control with, for example, a Level 5 qualification.
Elsewhere, Keith Simpson, the recently retired founder of the social housing maintenance specialists' network Direct Works Forum, is working with Direct Works and partners, including CABE, to develop a multi-skill 30-month apprenticeship for property maintenance operatives. Some elements can be delivered online, but the most important elements are practical, including the endpoint assessment process.
"We were determined that the end assessment process would be a measure of competence," says Keith. "We wanted a two-day endpoint assessment process, where the employer brings forward a portfolio of evidence from the apprentices showing they have undertaken these jobs on-site and not just in a classroom."
Direct Works has persuaded seven of the largest social housing landlords, plus one of the biggest contractors, to run eight pilot schemes for the apprenticeship. Their efforts will feed information into a competency management system to support further development. CABE has said it will create a pathway that allows successful apprentices to join as student members and begin to progress along a path to the building engineer profession if they wish.
Meanwhile, employers must do more to promote the industry to young people via schools and colleges, says Alison Duckles, Professional Development Director at CABE. "The opportunity is there to build links with educators and local colleges and universities, agree how to work together, and to provide work experience opportunities linked to the educational offer that's available," she says. "Where employers have built those relationships [with educational settings] they can be extremely successful."
She also highlights the importance of young people who are already making progress within the industry to act as role models. "People won't come into the industry if they don't see people who look like them working there," she says. 
Don't hang up your boots
The the problem of experienced engineers leaving the industry also needs to be addressed. Lorna has spoken out in public – including at CABE's conference in October 2021 – about the need for senior practitioners to do more to support people coming into the industry.
"Building control isn't something you can learn out of a book," she says. "If we continue to lose people from the older end of the profession, then that passing on of those skills and experience will be lost. My plea to them is: don't hang up your boots, because your profession desperately needs you to help train building control's emerging talent."
John notes the value that older engineers can also add as guest lecturers for colleges and universities. "You don't have to be retired to do guest lecturer work on an ad hoc basis, or even to give up an afternoon or an evening to do it regularly," he says.
The only way the industry will have a chance to fill these skills gaps is through more collaboration, says Alison: "The focus should be on collaboration between all stakeholders – including the role CABE can play in supporting academic and training partners as well as employers – to enhance the professional status of building control inspectors and building engineers."
John sees reasons to be optimistic – in particular, the slowly swelling number of talented and motivated young people completing relevant apprenticeships. "There is a really strong pipeline in building control people coming through," he claims. "We've made a really good start and we need to maintain that momentum." But he stresses the importance of the industry continuing to promote itself, and of employers continuing to support new entrants and experienced engineers – the people who make the industry what it is.
John adds: "We need to evangelise about the opportunities and the careers that people could have – and when the market slows down, we need to keep investing in people."
Image credit | iStock | Getty | Shutterstock