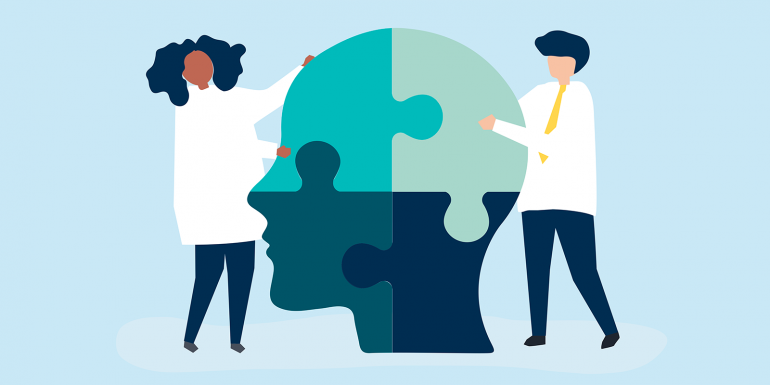 The global pandemic has exacerbated mental health issues. These won't just go away on their own so CHAS and Benenden Health have some practical strategies to help
Every year, one in four of us will have a mental health problem, according to charity Mind, and the Covid-19 pandemic has placed further strain on our wellbeing. The winter months can also exacerbate poor mental health, with at least one in five people suffering from seasonal affective disorder (SAD) during this time.
While awareness of the importance of good mental health at work is growing, action is just as important. CHAS suggests these five steps for employers that want to improve mental wellbeing in the workplace.
1. Produce, implement and promote a mental health plan
According to Thriving at work: the Stevenson/Farmer review of mental health and employers, all organisations, regardless of size or industry, should create, implement and communicate a mental health plan. This demonstrates commitment to supporting workers' mental health and enables a continuous review to ensure the approach is up to date and accounts for changing work conditions – such as those brought about by Covid-19.  
For information on what to include in your mental health plan, as well as details of the other core standards employers should follow to effectively manage mental health, see the HSE's management standards approach workbook on tackling work-related stress at hse.gov.uk/pubns/wbk01.pdf, and Mind's guide to implementing mental health standards: bit.ly/MindStandards
2. Encourage staff to complete a wellness action plan (WAP)
These are a tool for individuals to manage their mental health and become more resilient, regardless of whether they have a mental health problem.
Workplace WAPs are an adaptation of the wellness recovery action plan (WRAP) system created by mental health advocate Mary Ellen Copeland, which focuses on the mastery of five key principals – hope, personal responsibility, education, self-advocacy and support. They can help to foster ongoing discussion over what keeps an employee well at work and when and why they might become unwell. An example WAP template is available from Mind here: bit.ly/MindTemplate
3. Consider offering an employee assistance programme (EAP)
This can help to support staff dealing with personal issues that might affect their work by providing access to counselling and referral services. Those without an EAP who work in construction in the UK and Ireland can make use of the Construction Industry Helpline: constructionindustryhelpline.com
4. Invest in mental health first aiders as well as physical first aiders
According to the Health and Safety Executive (HSE), employers might want to consider covering mental health first aid training in addition to first aid at work training (hse.gov.uk/firstaid/needs-assessment.htm).
Mental health first aid involves spotting the signs and symptoms of common mental health issues, providing non-judgmental support and reassurance and guiding a person to seek professional support. Mental health first aiders can also signpost useful free resources. For example, the Lighthouse Club, which provides mental, physical and financial wellbeing support to the construction community, offers a free mental health helpline, free training programmes and a free app, described as the ultimate self-help tool in the palm of your hand. Visit lighthouseclub.org to find out more.
There are also specialist organisations that offer support and advice to employers – a good service will offer 24/7 telephone support and the option for employees to remain anonymous.
5. Prioritise mental health throughout your supply chain
Look for evidence that your supply chain takes mental health as seriously as you do by checking that they are accredited by an organisation such as CHAS or, in the case of the construction industry, that they have been assessed to the industry's Common Assessment Standard. This will give you confidence that they have the processes in place to manage and promote mental wellbeing in their organisations.
Regardless of whether you are an employer or an employee, acknowledging the state of your own mental health is really important. Seek out help if you need to, talk if you need to and do not feel embarrassed.    
---
Beat the blues
Cheryl Lythgoe, Matron at Benenden Health, has three tips to help boost your sense of wellbeing while working.
1 Let there be light
All forms of light and brightness can improve your mood. It's important to get outside – natural light is best, even on a cloudy day – but extra lamps will help, too. Consider using LED light bulbs in your workspace as they tend to be brighter than conventional ones and give off a more natural spectrum of light. Whether you are working from home, on-site or in an office, get as much natural light as possible, take breaks and get into the open air when it's still bright. Walking meetings are a good way to encourage this.
2 Be social
Social interaction is a well-known protector against all forms of depression, lowering blood pressure and levels of stress hormones. Stay connected with your team through regular video calls and group updates to help address feelings of loneliness and isolation.
Many workplaces have introduced virtual social events for teams still working remotely, from online coffee mornings to book clubs, quizzes and exercise classes. For those still working in an office or on-site, think about things that can take place with social distancing – even just having a natter over a cup of tea can help. Check in individually on those people who may be struggling.
3 Stay active
It is well documented that keeping active has mood-lifting effects that are as good as taking antidepressants. Team exercises are a great idea for staying healthy and connected during isolation – they may seem silly and prompt laughter but that, too, is mood enhancing. Even just going for a short walk will lift the spirits.
An Ofcom report published in June last year found that UK adults were spending a quarter of their waking day online, a record high. While this is to be expected with a significant number of people working from home and limited entertainment options, it's important to recognise that this is not ideal for mental wellbeing. That's why it's important to make time for a walk or to do an activity each day. 
---
To find out more about how to become a CHAS client free of charge and to access its database of pre-qualified, accredited contractors, visit chas.co.uk/clients 
---
For details of how to become an accredited CHAS contractor, see chas.co.uk/contractors 
 
---
Get wellbeing tips at benenden.co.uk/be-healthy
---
Read Thriving at work: the Stevenson/Farmer review of mental health and employers, published in 2017: bit.ly/StevensonFarmer
---
Image credit | Shutterstock