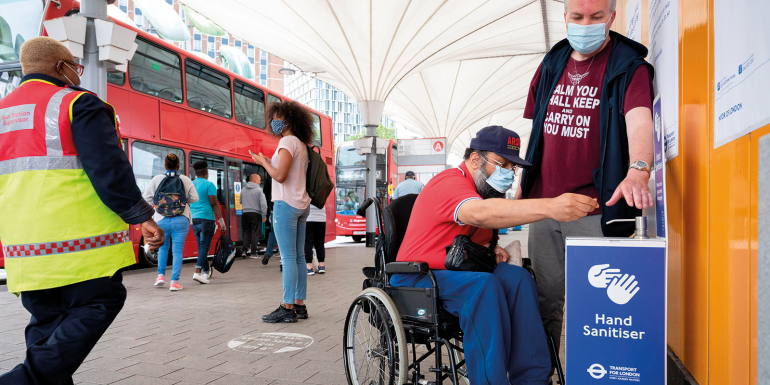 Could the creation of Covid-safe environments be creating a less inclusive environment, excluding some of the people it is supposed to protect?
The Office for National Statistics reported in September that between 02 March and 14 July 2020, disabled people made up almost six in ten (59%) of all deaths involving the Covid-19 virus in England and Wales.
In addition to disabled people being disproportionately affected by Coronavirus, there have been a number of reports highlighting management decisions intended to create Covid-safe environments that have inadvertently created additional barriers. These include:     
disabled persons' parking bays being repurposed as queueing areas or pedestrian routes, prompting the British Parking Association to ask: "Have disabled people been forgotten in the era of social distancing?"     
blind and partially sighted people being refused entry to supermarkets as staff decided they could not socially distance (Guide Dogs written evidence, April 2020)     
accessible entrances being decommissioned or narrowed to facilitate head counts, control of pedestrian flows or one-way systems.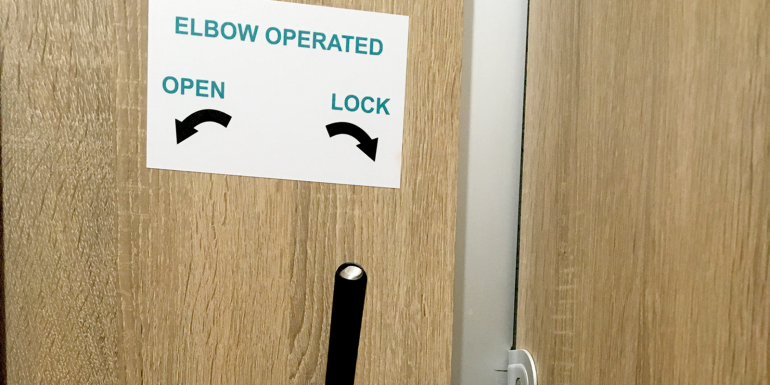 Looking beyond such problematic management decisions – many of which could easily have been resolved through awareness training – our built environment is now looking very different and is constantly evolving in response to the pandemic.
On the upside, there are a number of potential benefits in terms of inclusive design associated with Covid-safe measures, including:   
contact-free door entry being beneficial for many people including wheelchair users, those with ambulant mobility impairments or manual dexterity issues, and some older people with age-related impairments, as well as people carrying shopping or those with young children     
increased dimensions to allow for social distancing provides a more user-friendly environment for many disabled people, who benefit from more generous (or inclusive) maneuvering spaces and route widths   
less crowded environments may be more suitable for people with neurodiverse conditions such as autism.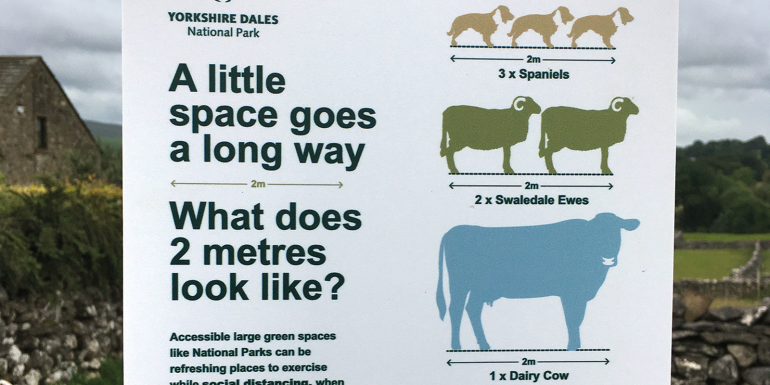 Spatial awareness
One example of a retrofitted design feature that could prove to be more user-friendly for people with a range of impairments is the elbow-operated door-lock levers that have been fitted to some service station toilet doors.
The design of the locks aligns well with the guidance in Approved Document M 
volume 2, 3.10 internal doors, which states: "Where fitted with a latch, the door opening furniture can be operated with one hand using a closed fist eg a lever handle."
Ultimately, we need to be more mindful of disabled people's needs as we design for the new normal. The impression that Covid-safe design will result in a more inclusive environment is a proposition that requires additional scrutiny and evaluation.
A good starting point for this is one of the most commonly cited measurements of 2020: two metres. This key social distancing dimension has been communicated to us in many ways over the past year, with Yorkshire Dales National Park signage even using red squirrels and Land Rovers to demonstrate how far it stretches! (See picture, above left.)
Still, what evidence does the two-metre rule draw upon? Was it informed by anthropometric and ergonomic data on space requirements and movement patterns of a range of people, and were disabled people with a range of impairments considered or consulted?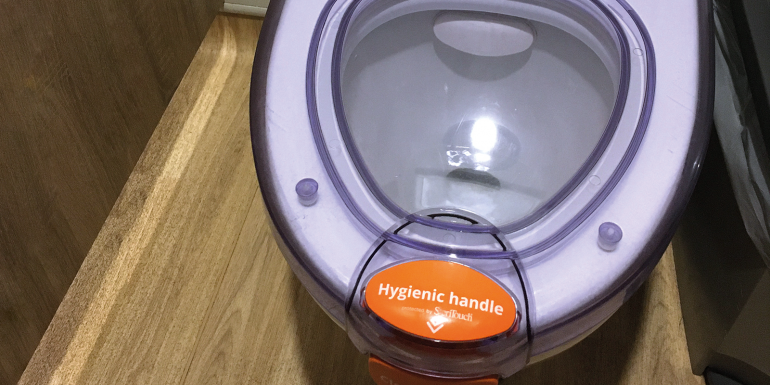 Likewise, do the retrofitted Covid-safe features we are seeing more and more in the built environment take into account the requirements of our diverse population? For example, perspex screens installed to screen off facilities such as till points and hand dryers are now a common sight. They are often positioned at right angles to walls or counters to create a booth for people to undertake the activity in a more protected area.
If these were glass screens or fully glazed doors then guidance found in Approved Document M or BS 8300:2019 volume 2 would require contrast manifestations at two levels, to allow the transparent surface to be recognisable and avoidable for everyone, but in particular blind and partially sighted people. However, the same guidance and principles are not being applied to perspex screens, which are often fixed into position, intrude into circulation routes and could be just as hazardous as their glazed equivalent.
In addition, Covid-safe toilets have been introduced in a number of settings. Their suitability for blind and partially sighted people is highly questionable given their transparent/translucent lids, which have to be closed to trigger the flush.
It would appear that many products and features have been designed as a reaction to the pandemic but with limited consideration of inclusive principles, guidance or the range of user requirements that exist in our population. While it could be argued that this is excusable as a short-term, temporary response, we are now having to accept that this may be the beginning of a new normal and that many measures will be with us in the longer term.
It will be interesting to see how legislation evolves in the future to provide guidance on, require and potentially regulate Covid-safe design and products in the built environment. Until then, it may be wise to extend principles of existing good practice so that Covid-safe design and inclusive design are both considered at the same time and at the earliest possible stage. As we build back better, that will help to ensure that solutions work for everyone and do not exclude many of the people they are intended to protect.  
Image Credit | Alamy