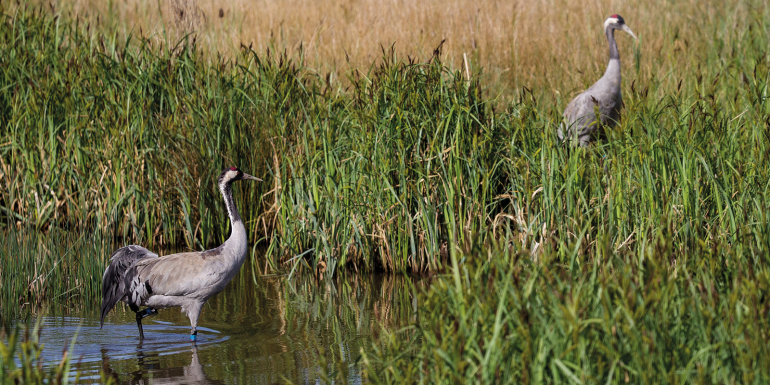 UK tower crane specialist sponsors conservation project to bolster the population of the UK's largest bird.
Bennetts Tower Cranes is supporting a conservation campaign to bolster the breeding population of the UK's largest bird, by sponsoring a habitat restoration project at a Wildfowl and Wetlands Trust (WWT) centre in Gloucestershire. The Cranes for Cranes conservation project is aimed at supporting the recently reintroduced population of common – or Eurasian – cranes, a bird that until around ten years ago had been extinct in the UK for 400 years.
Bennetts is sponsoring the habitat project at WWT Slimbridge, where they are hoping to create the perfect breeding conditions for a small number of cranes that return to the centre to lay their eggs. WWT is one of the world's leading conservation organisations. From 2010 to 2015, WWT Slimbridge participated in the Great Crane Project alongside the RSPB to bring back the crane from extinction, by hatching eggs taken from Europe and raising them at Slimbridge until they were ready to be released. Over a period of five years, WWT released 93 of the reared young cranes at a secret location in the Somerset Levels and Moors. Despite taking them to this ideal habitat, in the following years they discovered some of those cranes were returning to the reserve at Slimbridge.
They believe around 40 cranes have visited Slimbridge at different times. This habitat restoration project aims to improve breeding, feeding and roosting conditions and accessibility for six pairs of cranes (and a singleton) that currently consider the Slimbridge wild reserve a home. It will include restoration and opening up a palaeochannel and creating a complex of small islands where the cranes can lay their eggs.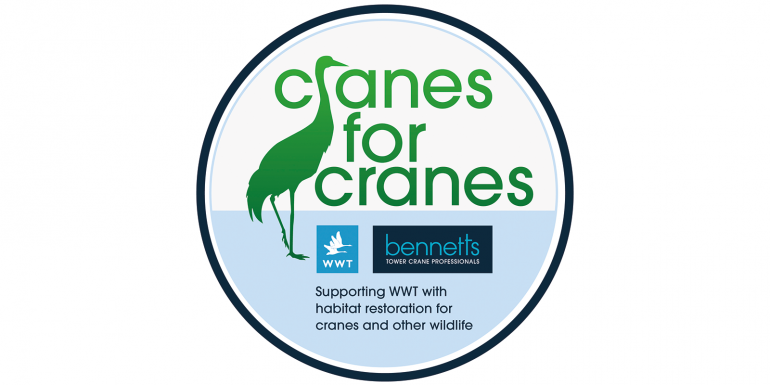 WWT Slimbridge Reserve Manager Dave Paynter, says: "It was so exciting when the cranes that were reared here at Slimbridge and released onto the Somerset Levels chose to not just visit but to stay and attempt to breed here. We didn't think the habitat was quite what the cranes would be looking for, but they had other ideas. Five pairs have attempted to breed over several years, but so far only four young have been successfully fledged, so improving the habitat is needed to give them a better chance of success. The generous offer from Bennett Cranes has come at the best time. Their support has allowed us to create new nesting islands and safe roosting sites, create a more open habitat (as cranes like to see disturbance coming), improve feeding areas and to remove barriers, such as old stock fencing that prevent the cranes moving freely through the landscape."
The Bennetts' team will also help with habitat creation and island building. Edward Seager, Managing Director of Bennetts Cranes, said: "We are extremely proud to be supporting this project by WWT to secure the breeding population and increase crane numbers in the UK for future generations to enjoy." 
For more, visit bit.ly/BennettsCranes
Credit Image | Mark Webb