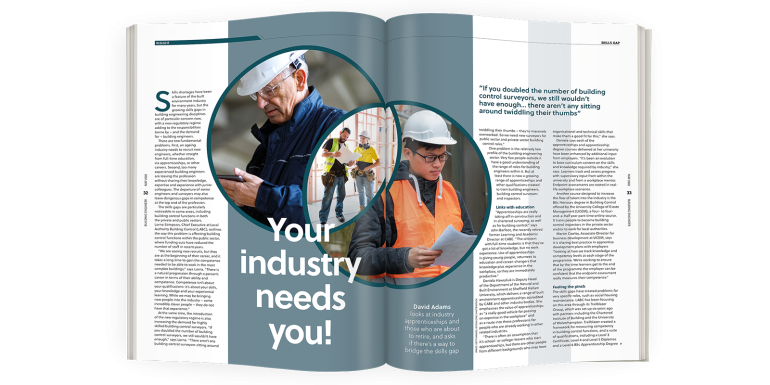 David Adams asked in May's issue of Building Engineer if there was a way for those on apprenticeships to meet in the middle with those about to retire: Chris Farr FCABE provides an answer
I am one of those older engineers in the profession. Having started in January 1972 working on the second Dartford Tunnel, I worked in building control from 1979 onwards. I was lucky to be mentored by good engineers and surveyors and have served in senior management roles over my career. I am one of the many who will retire at the age of 70, in two years' time. David Adams suggests people like me should stay on for longer and help youngsters. 
I have worked for four different approved inspectors (AIs) since early 2020. All of them, including my current employer, are running to stand still due to the lack of fresh blood coming into the industry. I willingly offered to help with CPD training for the company's staff, but am too busy with the day job. Because of my experience, I am given the difficult clients to deal with. Similarly, because I am good at fostering customer relations, I am tasked with becoming project manager for these types of clients; and it goes on.
For my current job, I drive 250-300 miles a day for site visits. Although I am told to set aside a day per week for admin duties, it is never enough. The business is successful because of how the building control team deals with clients. One could say we are too good!
Why do I not want to carry on after I am 70, doing say two days per week? Simply put: I am physically and mentally exhausted. The previous AI I worked for burnt me out and refused to allow me to work a four-day week. David has hit the nail on the head in saying that fixing skill shortages in the industry will not happen quickly. I agree – doubling the number of qualified building control officers (BCOs) would not solve the problem. They need people like me with experience of high-rise buildings, and so on.
The job has become a lot harder over the past 20 years. I used to have fun at work; now it is a hard slog, like dragging your feet through glue. 
Building control managers (BCMs) need to understand that if they want us oldies to help the youngsters, we need to be given time. The industry is experience-rich, but time-poor.
The other issue – the elephant in the room – is ageism. I know many will deny that this exists, but trust me, it does – I have experienced it twice recently. One well-known AI contacted me with a view to my working in their office. The manager and HR interviewed me and offered me a position.
A week later, the regional director requested a meeting. You could cut the atmosphere with a knife; after 15 minutes, it was obvious the regional director had not approved of the job offer. The reason: I was almost at pensionable age. 
The second occasion was when I applied for a principal's position in a local authority. I had a flying interview as I ticked all their boxes. I expected to get a job offer but, surprise, the younger candidate got the job. I received a mealy-mouthed e-mail trying to explain why I didn't get the role. I was more experienced than the BCM! If BCMs have this attitude to older chartered engineers, how do they expect to encourage us to carry on working?
Since Grenfell, the construction industry has panicked and wants its hand held even more. Builders still see BCOs as the font of all knowledge. I am sure my fellow professionals are doing a sterling job, but we all have breaking points. Health concerns affect us older engineers; my GP has told me I have to back away from things that cause stress. I have done this for the past three years now, and will carry on being proactive in this approach. I look forward to sitting in my back garden, twiddling my thumbs!
Chris Farr CBuildE, FCABE, IEng AMI StructE, AIFireE Chartered building engineer, structural engineer, fire engineer and building control surveyor