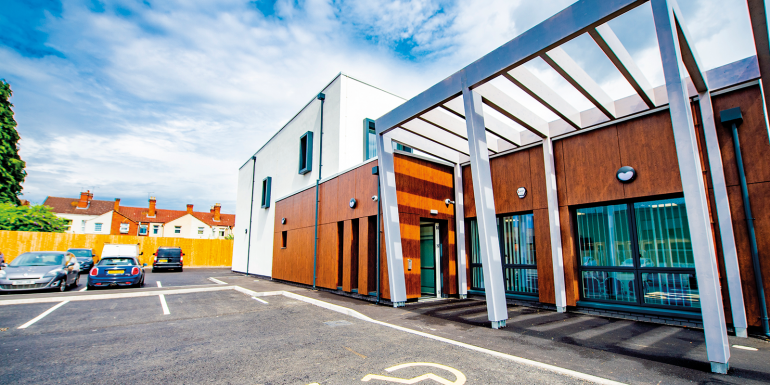 Winner: Community Health Partnerships for Foleshill Health Centre, Coventry. Designed and constructed to Passivhaus Classic standards – a first for NHS England – it has also achieved BREEAM Excellent certification.
Quality
Foleshill's new Health Centre is a breakthrough NHS project that demonstrates a different way of creating innovative low-carbon-emission assets while gaining cost, time, safety and environmental benefits by using MMC and off-site manufacturing.
The project, which has a design life of 60 years, is a proof-of-concept for the application of Passivhaus standards and techniques. The creation of a Passivhaus design was challenged by the Foleshill project's small scale (two storeys, with a total area of 619m2). The project team believes applying Passivhaus standards to a building with such a high external surface/floor area ratio sets a precedent for them to be applied to larger, multi-storey health buildings. The architect, Tooley Foster, has already demonstrated by computer analysis that this can be done. Foleshill was one of two health centres being developed simultaneously, and it provides an opportunity to compare the building with a non-Passivhaus project.
For example, the as-built measured air leakage was just 0.59m3/hr/m2@50Pa; by contrast, for approval under Part L of Building Regulations, 10m3/hr/m2@50Pa is necessary – in other words, 17 times leakier. This demonstrates how well the building's design and construction will perform in comparison with the accepted standards for healthcare facilities. The use of off-site modular construction has played a large part in achieving Foleshill's exceptional construction standards, despite the conflicting demands presented by the NHS Health Technical Memoranda/Building Notes and the Passivhaus Classic performance requirements. The project also helped validate a whole-life-cycle cost model.
Other benefits include:
26.5% less time spent on works on-site
no post-tender Value Engineering due to unaffordable tenders
BREEAM (Building Research Establishment Environmental Assessment Method) rating of Excellent instead of Very Good
an integrated and collaborative design and construction team, rather than a traditional, confrontational relationship of design team versus constructor
significant carbon emissions savings, e.g. 411 tonnes CO2 per year; and
a whole-life cost saving of 6.3% over 40 years, despite the increased capital cost and the NHS 1% annual energy inflation cap imposition.
Impact
By becoming the UK's first Passivhaus Classic health centre, the project not only leads the way for carbon emissions reduction in these buildings but also demonstrates the technique's potential to be repeated across a significant number of NHS England's 24,000,000m2 of premises – including 1,800 similar health centres, GP surgeries and clinics.
Foleshill is a pathfinder project to establish how Passivhaus standards can contribute to NHS England's drive to achieve zero-carbon buildings by 2040. Challenges that had to be overcome included a crucial whole-life cost model, which demonstrated that the increased capital cost of 16.7% could be recouped within 25 years, even including the stringent NHS limit of 1% energy price inflation.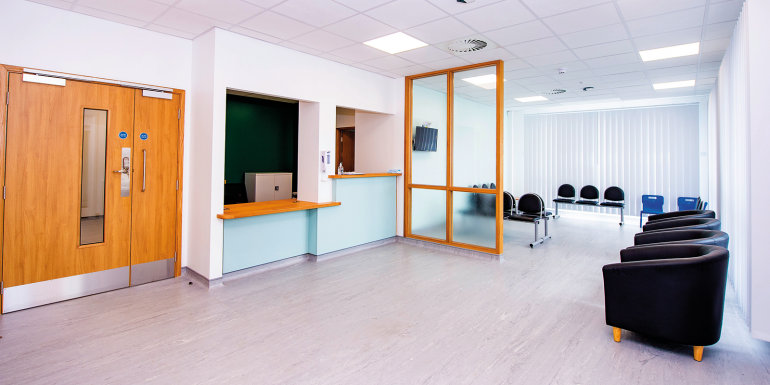 Sustainability
This project shows that all of the time, cost and carbon reduction benefits can be achieved in other new NHS facilities nationwide, saving whole-life costs while reducing carbon emissions and materials waste.
Good airtightness results, within the Passivhaus Classic limit of 0.6m3/hr/m2@50Pa, began on the drawing board but were assured by the use of factory-controlled fabricated Portakabin modular units. Off-site construction methods yielded the additional benefits of faster on-site construction, fewer site hazards/accidents, reductions in waste and fewer deliveries to the small inner-city site – not to mention providing an extra controlled environment at the site during September and October 2020 in relation to Covid-19.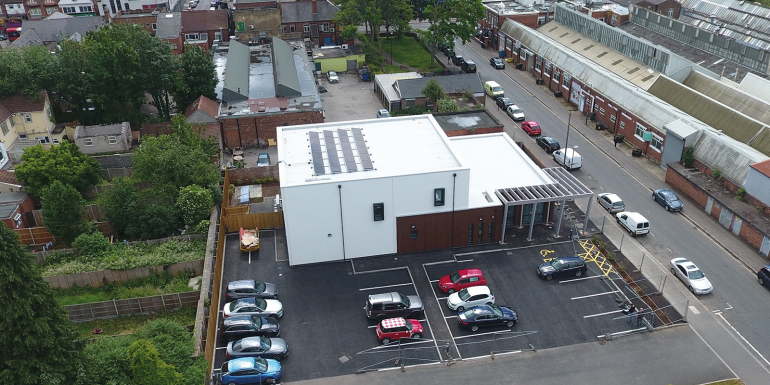 The building is being fitted out with its furniture, fixtures and equipment and IT/communications by the Coventry Clinical Commissioning Group (CCG) and GP Practice ahead of full occupation. A three-year monitoring period will follow. A quarterly report by the Community Health Partnership (CHP) and their specialist support will be issued to NHS England and the CCG, and will provide data on actual performance against the various design stage models, which include:
thermal comfort and overheating
energy consumption
whole life-cycle financial performance
whole life-cycle carbon emissions
Passivhaus Classic performance
BREEAM Excellent status
embodied carbon
air quality and temperature/humidity
utility usage, including water (no gas
is supplied)
acoustic performance; and
occupation, periods of occupation and treatment room ventilation patterns.
Other ways this project contributes to sustainable practices are through biodiversity and transport. Although it is a small brownfield inner-city site – where a municipal baths built in 1937 was demolished in 2014, and the remaining substructure backfilled to ground level – CHP have gone as far as they could in the constrained capital cost model to create biodiversity there. Next to the site is a mental health treatment and accommodation building, which was opened in 2018 and shares Foleshill's north-west border. New planting has been created to make the rear of the site more visually attractive and to complement the domestic back gardens that form its north-east boundary, as well as a hedge line bordering the public road. This garden space will enhance the ecology and biodiversity of the site; as noted in the Design Quality Indicator assessment. The landscape provides opportunity for green space and good views from the GP rooms. The facility has good public transport links and is central to its user community, so the development is intended to stimulate more use of public transport, cycling and pedestrian travel. To this end, cycle racks have been provided in the parking area. Car parking on the site, which lies in a busy industrial area, is restricted to staff only.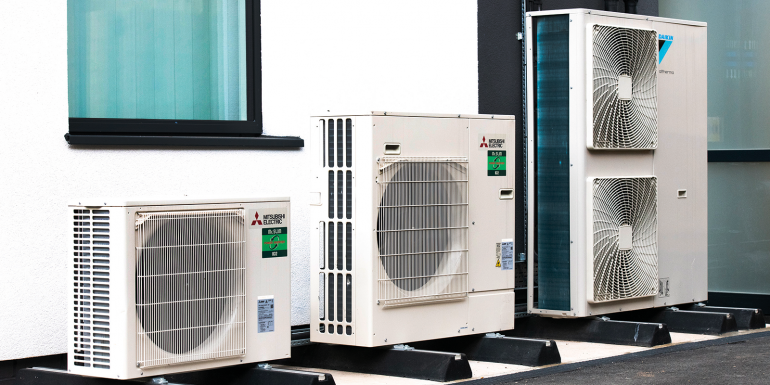 Inclusivity
Foleshill will meet the needs of an inner-city population of 10,000 patients, approximately 42% of the ward's population. The ward of Foleshill is one of the poorest in the city, with a life expectancy below England's average, and has Coventry's highest BAME population (69.3%). Only 2.6% of the West Midlands population is estimated to be LGBTQ+, but this may be underestimated among BAME communities. Public Health England's 2020 report on the disparity in Covid-19 infection rates cites more deprived areas and BAME groups as being at the highest risk from the virus. This is the backdrop against which Foleshill's new health centre has been provided – to be accessible and responsive to the needs of a diverse range of users.
During the briefing, concept and design stages of the project, nine different stakeholder groups were consulted using the Design Quality Indicator (DQI) approach of facilitated analysis and review. DQI facilitator Rider Levett Bucknall concluded that, with scores exceeding 85% across all ten aspects of the project, it "has the potential to be a very good public building". Scores above 75% are considered good.
CABE comments
Futureproofing buildings to ensure they are sustainable and reduce their environmental impact is an essential consideration for all building projects. The Sustainability award not only recognises projects that are future-proof, but ones that are working to ensure the quality of that future through innovative practices that reduce a building's overall impact on the environment. Community Health Partnership was chosen for this award for its work on Foleshill Health Centre in Coventry. Chartered Fellow Dr Penny Carey, of Portakabin, was the team's advisor and leader on innovative engineering services and building environmental engineering solutions for the project. The judges were impressed with the project – the UK's first Passivhaus Classic health centre and a proof-of-concept project that will be used to promote environmental advantages for the future of NHS estate projects
For more, visit bit.ly/CABEAwardWinners
---
Project participants
Client: Community Health Partnerships and NHS Warwickshire & Coventry Clinical Commissioning Group
Design and development: Portakabin
Innovative engineering services and building environmental engineering solutions lead: Dr Penny Carey
Architect: Tooley Foster
Image Credit | Beth Walsh