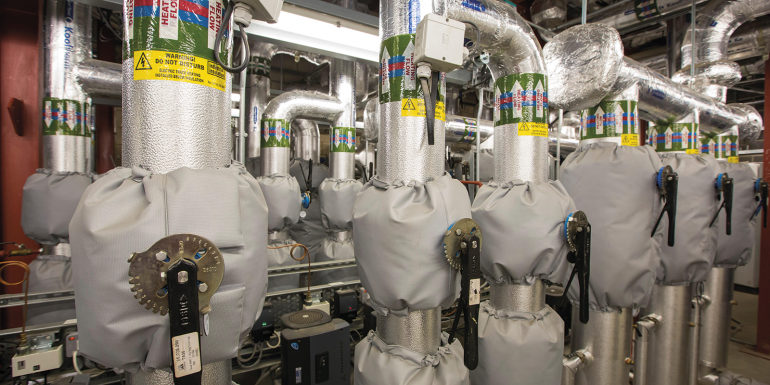 George Adams, SPIE UK's Director of Energy and Engineering, says change the built environment of today for a sustainable future
In November 2020, the UK government released a Ten Point Plan setting out how the country will create a greener built environment to accelerate its growth towards net-zero emissions. The plan commits the UK to reducing carbon emissions and cultivating clean economic growth. It is crucial for professionals and practitioners associated with the built environment to grasp the importance of these objectives, and to do so urgently, as stressed by the recent Intergovernmental Panel on Climate Change report. What is also critical is that we future-proof our buildings against the impacts of climate change.
The built environment is one of the world's major carbon emitters, during both construction and everyday energy use. Creating a greener built environment can be accomplished in different ways. One of the most obvious is to build and upgrade to be more energy efficient and make all buildings net-zero ready. However, to drive this we need more widespread use of integrated engineering and building management systems that can account for a building's occupancy and automatically adjust heating, lighting and ventilation systems accordingly. This will be particularly important in the new era of hybrid working, where occupancy will be changeable. Using such systems will be critical to ensuring that energy use in commercial buildings is as efficient as possible.
The government's plan to scale up the use of heat pumps is also a sensible one, and will help reduce emissions and costs. Through investment and a focus on manufacturing in the UK, this plan can be brought into fruition – hence the aim to install 600,000 heat pumps per year by 2028. This will drive growth in the market and will spark a conversation on future regulations to support this initiative – specifically, aiming to take properties off the gas grid.
As we approach the 2021 United Nations Climate Change Conference (COP26), many organisations – regardless of the industry they are in – are hyper-aware of the need to adopt more sustainable ways of operating. Fundamentally, there is a need across the built environment to gain a better understanding of how renewable energy sources and technologies can be integrated into buildings to reduce emissions. Doing so requires a combination of cutting-edge technology and forward-thinking engineering, so the construction sector must acquire the necessary skills to manage this transition in the coming years.
As we work towards the government's goal of achieving net-zero emissions by 2050, the quick and easy fixes will soon prove to be ineffective and bold change will be needed to drive innovation. Businesses can do this by looking at the way buildings are recycled for sustainability. As more businesses demand higher-quality, more sustainable office space, the least responsible thing to do would be to build entirely new office buildings. Instead, we need to think carefully about how we recycle our existing building stock to make it more sustainable and adaptable to climate change in the future. The built environment industry must address this issue by learning more about the relevant technologies and expertise needed to manage these changes within a circular economy in a way that does not cause further harm to the environment.
For more, visit spieuk.com
---
Read the government's Ten Point Plan for a Green Industrial Revolution at bit.ly/UKTenPointPlan
---
George Adams has been in the engineering industry for 40 years and has held a number of positions, having formerly been Chair of the UK government's Construction Industry Council Green Construction Panel and President of the Chartered Institution of Building Services Engineers.
Image credit | Alamy