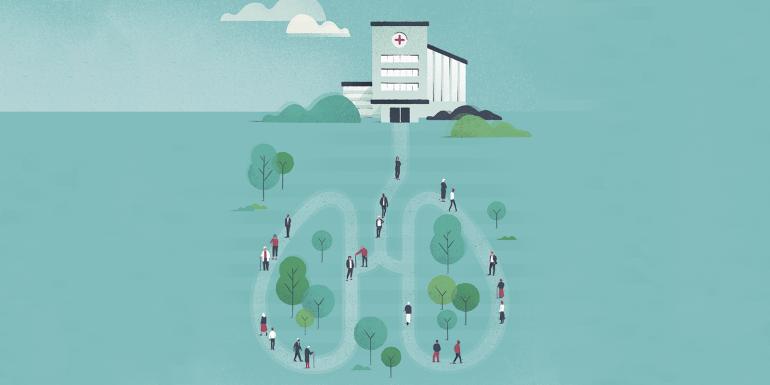 The Design Quality Indicator for Health – improving design quality in healthcare buildings – has been updated, explains the Construction Industry Council's DQI Manager, Makis Peppas.
The idea for the creation of the Design Quality Indicator (DQI) goes back to 1999, when the Construction Industry Council (CIC) needed to address the issue of poor quality in buildings. Launched in 2002, the DQI was designed to assess quality at every stage of the design process – from inception to post-occupancy evaluation – by involving a wider group of stakeholders in the conception and design of buildings than is usual.
A bespoke version for the education sector (DQI for Schools) was launched in 2005, followed by the DQI for Health (DQIfH) in 2014. It was commissioned by the Department of Health (now the Department of Health & Social Care) to replace the Achieving Excellence in Design Evaluation Tool (AEDET) and launched by the NHS Trust Development Authority (now NHS Improvement) and NHS England's Project Appraisal Unit. 
The DQIfH was developed as a design review for all types of healthcare projects, newbuilds and refurbishments. It follows the NHS business case process through the strategic outline case, outline business case, full business case, construction and post-occupancy evaluation. 
In response to changing needs, and CIC's close collaboration with NHS England and NHS Improvement (NHSEI) in supporting high-quality clinical care, the DQIfH was updated and DQIfH2 was launched in September 2020.
Understanding the DQIfH2 process
DQIfH2 allows healthcare organisations and their key stakeholders to engage earlier in the consultation and design process – the DQI facilitators correspond with clients early on to identify and discuss the project's requirements. The aim is to improve the briefing process, enable a consensus view among stakeholders, set targets and track design quality at key stages. The tool supports monitoring and reviewing of design aspirations throughout, enables benchmarking and allows feedback to be incorporated into subsequent stages, ensuring a cohesive project (see diagram).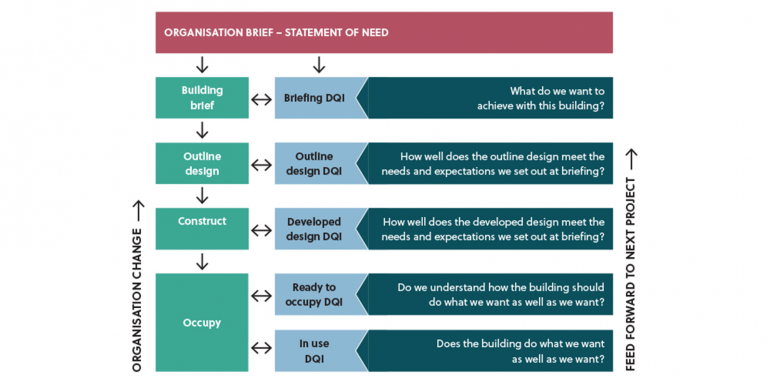 At the heart of the DQIfH2 process is the questionnaire, which is used to structure workshop presentations, discussions and reporting under three main headings: functionality, build quality and impact. Engineering quality is contained within the build quality theme. Stakeholders should expect a clear explanation from engineering designers and IT leads, if appointed. Engineering systems can account for significant costs and are often highly technical. Engineering quality criteria include lighting, power, heating, cooling, medical gases, benefits from standardisation and prefabrication, principles of sustainable environmental design, carbon neutral, IT infrastructure and communication systems. 
The DQIfH2 workshops are conducted by independent CIC-accredited facilitators, all experienced in the delivery of healthcare projects. The workshop stages match the NHS business case and project programmes, with reports produced at each approval stage.
The DQI platform, reporting structure and questionnaire have been updated to perform better with the latest NHSEI requirements and aligned to the current business case process (strategic outline case, outline business case, full business case, construction and post-occupancy evaluation), while being adaptable for use on accelerated project programmes and supporting other project assurance reviews, including environmental assessment, eg the Building Research Establishment Environmental Assessment Method (BREEAM), Building Information Modelling (BIM) and the Government Soft Landings framework, etc. 
DQIfH2 is now designed to become the vehicle for both design appraisal and staged review of assurance processes for other NHS estates, covering the impact on the procurement process at an early stage. 
DQI facilitator Jim Chapman, architect, client adviser and Visiting Professor at the Manchester School of Architecture, feels that a major benefit of the DQIfH2 tool is that it provides valuable learning between projects, as well as supporting NHSEI as they develop standards and evolve modern methods of construction (MMC) for the healthcare sector. "As facilitators, we find that if the process is used from inception to completion and at post-occupancy, it supports the client and supply teams and assists in adding value at all stages." Chapman added that the consultation process ensures that the project responds to specific service needs and that changes can be logged as they occur.
Conor Ellis, DQI facilitator and Head of Health Strategy and Planning at Archus UK, stated that the DQIfH2 has improved the overall strategic alignment to NHS documentation and policies, while also aiding the deliverability of the workshops by making the emphasis clearer through each of the 48 DQI questions. 
Current challenges 
One particular design challenge across healthcare in the past 12 months has been promoting the use of single rooms, where there has been some perceived pushback, despite clearly evidenced benefits. 
Standardisation and flexibility are key to capturing these benefits, and rooms are increasingly designed on a grid of 8-16-24-32m2 to enable potential changes and allow rooms to accommodate three or four different activities without partition changes. Wards should ideally be uniform, with 28- or 32-bed modules, allowing small clinical specialities to flex up or down. With more single rooms, hospital-acquired infection is reduced, while the patient healing environment is improved (evidence shows that this also benefits staff and carers). The updated health building notes and health technical memorandums provide sensible guidance.
Similarly, zero carbon is a fundamental issue that must be considered from the offset – we should be checking, for example, that all rooms without natural light are not used for daily sessions of more than three and a half hours.
Sustainability can also be improved through the incorporation of MMC and by rethinking processes to align better with management processes to remove duplication waste. This is not just about saving time and minimising risk and disruption but also about enhancing quality and, via sensible procurement, reducing costs and construction waste. 
In parallel, a growing band of NHS trusts and integrated care systems are pushing the NHS digital blueprint. This offers the chance to trade the capital cost of building with investment in software, hardware and smart technology through digital front door or immersive technologies. As a result, it is important that modelling is built into briefing strategies. DQI facilitators are working with BIM4Health to develop the ability to share knowledge across projects and integrate this into the DQIfH2 assessments.
Given that many of the new hospitals programme schemes are worth in excess of £400m, it is reasonable to strive for greatness. The NHS needs the best buildings – aesthetic and functional designs that are recognisably high quality. The CIC is keen to continue working closely with NHS England and NHS Improvement, through the DQIfH2, to ensure ongoing improvement in coming years.  
 Watch DQI for Health 2 at bit.ly/DQIForHealth2
Image Credit | IKON