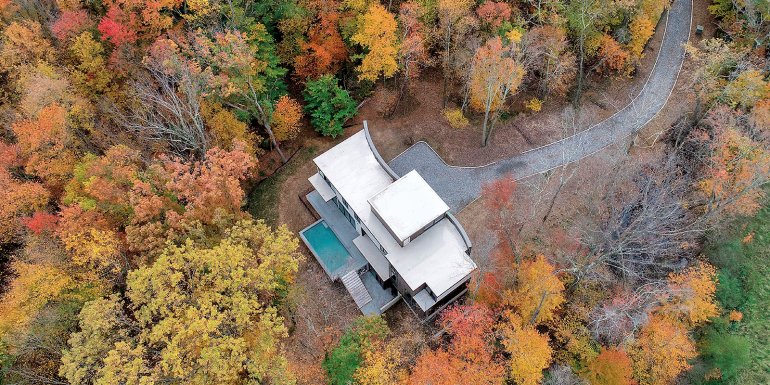 Steven Soderberg, of Lorin Industries, discusses the use of anodised aluminium on an innovative design for a home in the woods.
When New Jersey/New York-based architectural firm, Architectura, began designing a private resi-dence in Old Tappan, New Jersey, the building's architects wanted to highlight the home's unique sur-roundings. Set on nine acres of preserved woodlands, the building's front façade contains few win-dows, unlike many contemporary private homes; the design instead relies on dozens of anodised alu-minium panels in two different finishes to both reflect the sylvan and the abundance of sky. The result, built by Corsair Construction, is a unique design that highlights the home's natural setting.
The firm purchased the land in Old Tappan, planning to build a single private residence there. Given the land's preserved status, it planned a property that showcased the woodland rather than the build-ing. This meant incorporating the trees as part of the design. "For this home's façade, we wanted to achieve a mix of reflection of the surrounding trees and a warm brown colour that mimics tree bark," says Christopher Manos, Senior Associate and Director of Construction at Architectura and one of the project's architects. "As the day goes on and the sun's position changes, and as the seasons change, the façade of the house changes as well, ensuring the house appears to constantly change, adapting to the time of day, weather and seasonal changes [so that the building] apparently changes with the nat-ural surroundings."
Blending in
A third of the panels that comprise the façade are the darker-brown color (AnoZinc® II) and the other two-thirds are reflective, (ClearBrite®) mirrored metal. This front façade has only a few windows to bring natural light into the house's central staircase. Meanwhile, the back of the house is designed with as wide an expanse of glass as was possible, enabling those dwelling in the house to feel as though they are seamlessly integrated with the woods and almost as if they are living outdoors.
Manos wanted reflectivity and durability but without the high-price point of high-end, marine-grade stainless steel, so used Lorin anodised aluminium manufactured into exterior wall panels by ATAS In-ternational. These were installed vertically on the home's façade using an easy-to-install cleat system and snap-in standing seam, with a secondary waterproofing barrier behind them. These will weather in place without any dulling or clouding. This is because of Lorin's proprietary coil anodising process, which protects the aluminium from chipping, flaking and peeling. Manos adds: "Rather than standing out like many homes would in the woods, the façade of this house is like a mirage, blending in with the trees and sky."
For more, visit lorin.com