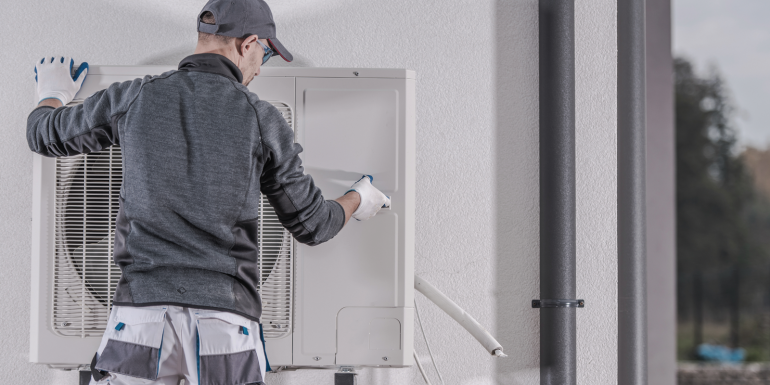 Current government policies aside, the net zero by 2050 target is a legal obligation, and that is a huge problem for green skills. David Pierpoint, Chief Executive at The Retrofit Academy, may have a solution.
For heat pumps alone, there are insufficient qualified installers to scale up from fitting 60,000 heat pumps last year to the required 250,000 a year by 2025. Currently there are about 3,000 qualified installers, but think tank Nesta has calculated 27,000 are needed by 2028 to hit current government targets. Mike Foster, Chief Executive of the Energy and Utilities Alliance, described the pool of labour as "limited". He says: "The demographics of transitioning to net zero are incredibly challenging. It will require fresh entrants to the labour force, and a large number will have to be trained quickly and well."
In fact, there's a dearth of skilled professionals across all elements of improving the energy efficiency of buildings. Greater South East Net Zero Hub's (GSENZH) Maxine Narburgh notes: "Spiralling energy prices and the dire impacts of climate change have amplified the need to reduce energy demand in our homes and buildings. Research shows that, across the south east area, we have around £10m homes that need energy efficiency measures, low-carbon heating and solar in order to cut fuel bills and achieve the national target of zero emissions by 2050.
"However, we are seeing a huge shortfall in terms of the skills needed to deliver on the government's net-zero commitment and a frustration from industry at the lack of solutions coming forward. With such a strong rationale demanding action at all levels, there is a need for greater co-ordination and collaboration."
The Retrofit Academy has partnered with GSENZH to support the training and development of the workforce required to retrofit 13.9 million households across the region's 16 counties. The plan is to assess the region's current skills gap, work with local organisations involved in retrofit projects to create a network and deliver a training infrastructure that will increase the number of qualified retrofitters. With an estimated 523,000 jobs to be created in the region by 2050, the work by the two organisations will jumpstart the workforce development to fill the green jobs created by new projects.
With 1.4 million households in the region experiencing fuel poverty, this objective is critical not only for the region to meet net-zero emissions targets, but also for making upgrades that reduce energy bills for residents who need it most. Local authorities and social housing providers in the south east were awarded £290m in funding from the Social Housing Decarbonisation Fund (SHDF) and Home Upgrade Grant (HUG) in March. This funding will also provide a number of new job opportunities for the region, allowing more people to train and qualify as retrofit assessors, advisors and co-ordinators.
There is huge demand for quality retrofit specialists. Yet work remains to be done to train enough people and create a developed network to facilitate change at scale. This cannot happen without collaboration between all stakeholders working towards a common goal of creating a competent and capable workforce to retrofit millions of homes in the UK. This new partnership is set to provide an example of where putting this into practice will drive positive change.
---
#retrofitchallenge
More than 27 million leaky homes contribute to approximately 28% of the UK's carbon emissions every year. The UK government has committed to meeting net zero by 2050, which will require 1.8 homes per minute across the UK to be retrofitted. The Retrofit Academy has set itself the challenge to train and develop 200,000 retrofitters by 2030.
---
For more, visit retrofitacademy.org
Image credit | iStock