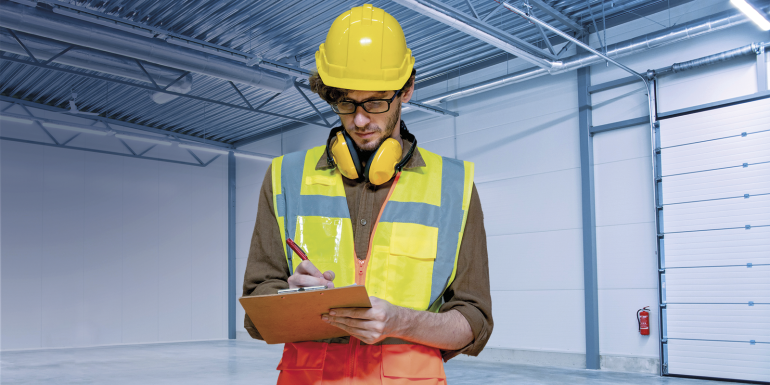 Three Association for Specialist Fire Protection (ASFP) professionals – Training Manager Chris Sharman, Technical & Regulatory Affairs Officer Niall Rowan and Training Officer Phil Brownhill – discuss passive fire protection competence
The Oxford English Dictionary describes competency as: "Having enough skill or knowledge to do something well or to the necessary standard." In specialist sectors such as passive fire protection, there may not be formal competency pathways defining those who are truly competent and differentiating them from those who are not. So, how do we define the specific competencies required for passive fire protection?
To understand the confusion over competency, consider the recent introduction of the EWS1 form, brought about by UK Finance, the Building Societies Association and the Royal Institute of Chartered Surveyors (RICS). The relevant RICS guidance document on completing EWS1 forms states in Note 2 that, for Option A (where external walls are unlikely to support combustion), signatories would "need the relevant expertise to identify the relevant materials". However, in Option B (where combustible materials are present in an external wall), Note 3 states that this "could be a chartered engineer within the Institution of Fire Engineers or equivalent".
It therefore seems to suggest, contradictorily, that someone could be a member of a construction industry professional body with the ability to identify risk-creating materials, but not have a level of expertise enabling them to identify the risks arising from said materials.
Other considerations
The building sector may need to consider the requirements of the insurance industry – not only for insuring buildings and organisations, but also professional indemnity (PI) cover for contractors, engineers or consultants. For example, insurance underwriters may consider withdrawing cover from, or refusing claims against, policy-holders involved in the design and commissioning of a building or system if it were discovered that they did not possess the required level of competence to conform to the terms of their PI insurance. Other organisations may impose additional requirements on sectors of the construction industry.
Competency comes in two forms: academic and experiential. While many in the construction industry, and specifically the fire safety sector, may have achieved the prerequisite academic learning, they may not have the experiential learning required to apply their qualifications in real-world situations. Similarly, an individual with 20 years of experience in a particular field may not have the academic qualifications that many organisations and regulatory bodies require to demonstrate the desired level of competence.
Current standards
The academic and experiential requirements for different levels of membership with several construction industry bodies provide examples of current accepted competency standards. Technician grade membership of the Institution of Fire Engineers requires a minimum of a Level 3 qualification with two years of documented CPD, while the full membership grade requires a higher qualification, two years of documented CPD and five years' experience in the fire protection sector. Other bodies, such as the Institute of Fire Safety Managers, RICS and CABE, have similar requirements for their different levels of membership. The passive fire protection sector does not currently require a specific level of qualification to join professional bodies; this is because it has no specific institutional body. Despite this, the ASFP requires prospective members to meet specific qualification requirements.
Competence evaluation
The ASFP is creating a formal passive fire protection competency pathway for the industry to improve skills and knowledge within the relevant professional bodies. 
It is well known that some construction industry trades employ relatively low-skilled and inadequately supervised workers. Furthermore, there is a lack of evaluation of individuals' skills, knowledge, experience and behaviour (SKEB) throughout the industry. The problem is not confined to contractors; for instance, fire safety knowledge is often lacking among those that design and specify fire protection in buildings. Consequently, individuals may not be adequately competent; this, coupled with the construction industry culture that cheapest is best, has led to some truly dreadful decisions – the Grenfell Tower fire being but one result of this. As Dame Judith Hackitt's report noted, competency was certainly a contributing factor to the fire (read the report at bit.ly/Hackitt3). 
Legislative focus
Dame Judith Hackitt's Independent Review of Building Regulations and Fire Safety mentions competence 115 times and made 53 recommendations, all of which have been accepted by the government. The review defines three gateway stages in the construction process and recommends the appointment of defined duty holders.
The Building Safety Bill, which is expected to receive royal assent in 2022, creates significant duty-holding requirements for a number of parties; these roles are regulated, requiring registration and proven competency. The duty-holder posts – principal designer, principal contractor (both of which derived from the CDM Regulations) and building safety manager – are crucial in delivering buildings that are safe, well-made and share the relevant information in a (likely digital) golden thread. The Building Safety Bill currently only applies to structures above 18m (or six storeys), but the requirements for competence will apply to individuals working on all buildings.
For the duty-holder roles to be effective, the competence of individuals must be assured. The government has sponsored the British Standards Institute to create three publicly available specifications that will detail the content of the competency framework for each role. These frameworks will then be developed in a top-down approach by the relevant professional body, such as the Royal Institute of British Architects, RICS and CABE.
Meeting in the middle
At the other end of the process, trade associations such as the ASFP and other authorities will develop competency frameworks for individual trades and roles. The idea is that these bottom-up frameworks will follow the SKEB model and be enshrined in the BS 8670 competency frameworks. Then, once the new regulator is in place within the Health and Safety Executive (HSE), the competency frameworks will be registered by a professional body or approved by an accredited certification body. But how will these top-down and bottom-up approaches work together? If this is not adequately considered, a two-tier system could develop, or systems could be created that conflict with those that physically construct buildings. It's also an open question as to how (and indeed whether) the system is being managed overall. Is it possible for the HSE to regulate such a system, bearing in mind the numbers of individuals and trades involved, and the different levels of competency within a particular trade or profession – not to mention the industry's fragmented nature?
The ASFP's competence pathway is for those that design, construct and maintain passive fire protection in buildings. Based on SKEB and enshrined in BS 8760, it will use a mixture of online, classroom and practical training, and incorporate academic qualifications and third-party certification appropriate to the individuals or companies being evaluated. It should also raise awareness of the requirements for competency within other disciplines of the construction industry – from architects and consultants to regulatory bodies – and ensure that best practice and the highest standards of competency in passive fire protection are understood by all those involved in the built environment.
Find out more at asfp.org.uk
Image credit | Shutterstock