New build winner: Daniel Connal Partnership / Kier Construction for The Dyson Building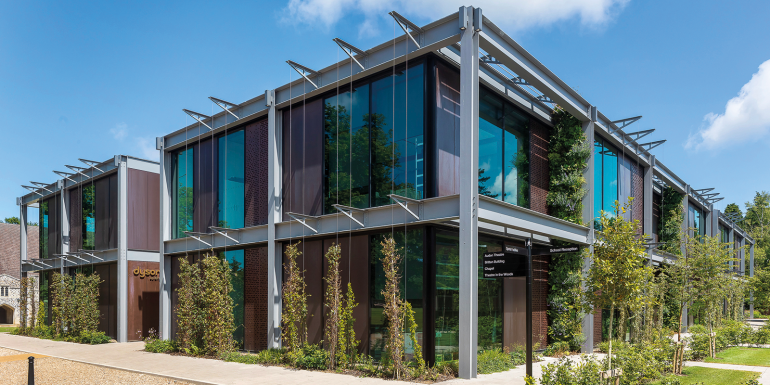 Winner: Daniel Connal Partnership / Kier Construction for the Dyson Building, an exceptional example of contemporary architecture
The Dyson Building is a 4,000m² state-of-the-art education facility with light-filled, airy classrooms, laboratories, workshops and flexible open-plan work/social spaces dedicated to STEAM (science, technology, engineering, art, mathematics).
Funded by a generous donation from former pupil Sir James Dyson, the innovative design by award-winning architects Wilkinson Eyre features a striking, exposed light steel frame, incorporating thermally efficient glazing, passive ventilation, photovoltaics, copper panels and green living walls, while blending sympathetically with surrounding older buildings, including the Grade II listed chapel at the heart of Gresham's school campus.
The combined vision of Sir James and the school was for an outstanding cross-disciplinary learning and teaching environment, inspiring collaboration and creativity. It was achieved within a tightly defined timescale and fixed budget by exemplary collaboration – Daniel Connal Partnership, as project managers, worked with a large design team led by architects Wilkinson Eyre, Kier Construction – its supply chain and specialist sub-contractors, the school and its governors, Sir James Dyson's team, North Norfolk District Council planners and building control, plus other local stakeholders.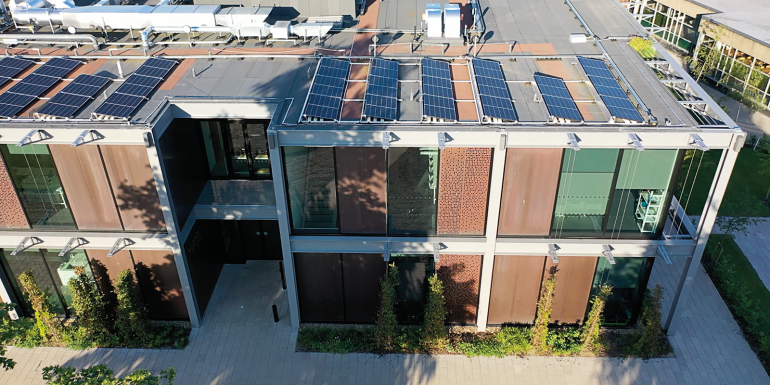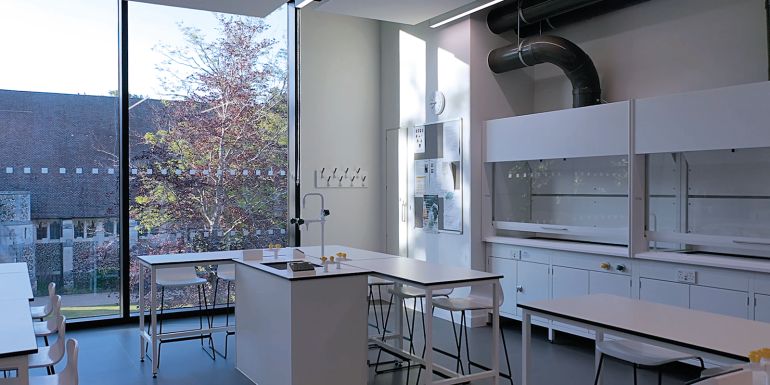 Counting the costs
A collaborative value-engineering exercise, involving the whole design team working with the school, reduced the cost plan by 12% while still achieving the desired finish quality and meeting the school's operational needs.
The use of a Project Bank Account and certain risk mitigation measures was the culmination of negotiations to reassure the client on matters regarding financial surety.
A collaborative approach with planners saw use of a Planning Performance Agreement and receipt of planning consent within just five months of passing RIBA Stage 2.
A two-stage tender process allowed for a qualitative and quantitative main contractor selection, as well as early involvement of the supply chain in the design process. Focusing on quality and value, only sub-contractors with a proven record were appointed.
Bespoke construction techniques and the use of samples and mock-ups helped to communicate and achieve the required quality in the finished build.
Off-site prefabricated components kept costs in check and aided programme delivery.
Weekly site meetings, conducted virtually during Covid-19, ensured the project stayed on track supported by building information modelling (BIM) and Lean practices. The BIM model was shared with sub-contractors and stakeholders, using Dalux software to interrogate the design remotely.
To measure performance/identify issues with project delivery, Kier undertook regular key performance indicators (KPIs) scored assessments with the client across 14 areas. Scores were consistently high, with a post-completion score for overall satisfaction of 10/10, and an average of 9.4/10 across all stages and all KPIs. Ultimately, the scheme cost £3,105/m² , which with 4m-high ceilings and basement, demonstrates exceptional value for money.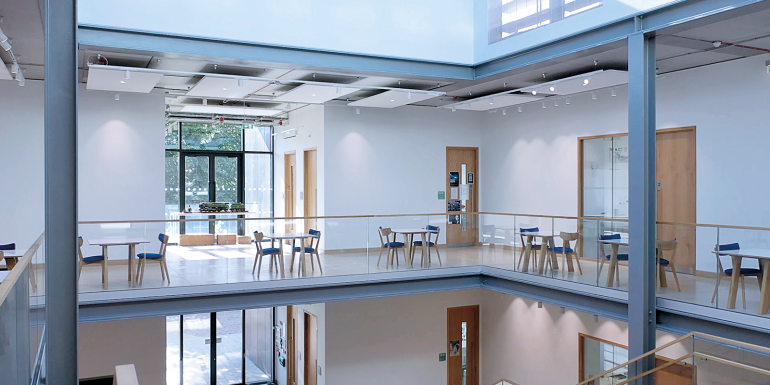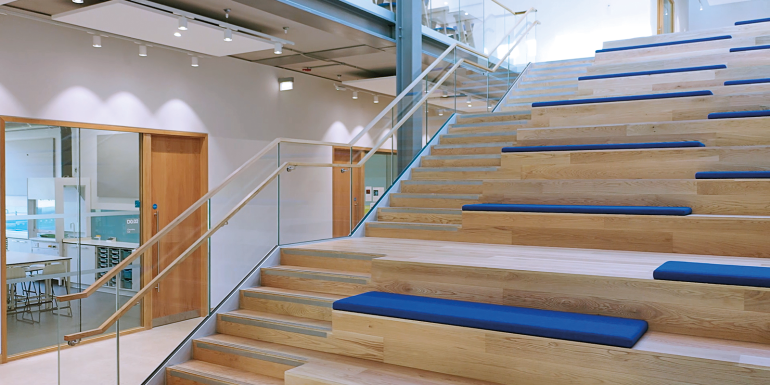 Inclusive design
The design of the Dyson Building promotes inclusivity for all users. Level access at ground level leads to wide corridors and open shared spaces with lifts serving all floors. Excellent acoustic separation and performance was designed into the building. Each subject has a classroom with enhanced acoustics to meet SEN (special educational needs) standards and includes fittings such as height-adjustable laboratory benches for wheelchair users. Induction loops are fitted in the main congregation space of the elephant stairs. The light, airy spaces, with excellent ventilation, provide a healthy learning and teaching environment for all. Green living walls and open views to surrounding landscaping promote positive mental health. In addition, the building showcases engineering itself – exposed services, concrete soffits and an enhanced structural frame all on view.
Sustainability
Sustainability was a design priority to reduce environmental impact and ongoing running costs. Ground source heat pumps meet all the heating and cooling demands of the 4,000m² building, combined with a natural ventilation system. Windcatchers provide ventilation to internal classrooms, perimeter classrooms have opening panels behind a perforated copper façade, with science labs supported by automated panels activated by CO² sensors. Overnight, ventilation panels, linked to a Building Management System, open for purge-cooling. 100m² photovoltaic panels help meet energy requirements. Biophilic green walls of 11,000 individual plants promote biodiversity, aid air purification and improve sound insulation. 26 planted fins around the building support climbing jasmine and ivy. This, combined with brise soleil at roof and first floor levels, reduces solar glare and helps regulate temperature in the building. Double the 10% renewable assets required by planning was achieved, with an A-rated EPC. Pre-cast plank floors/roofs avoided using plasterboard in ceilings; polished concrete floors reduced the amount of floor finishes required. Recycled crushed glass replaced shingle in drainage pipe surrounds.
For more, visit bit.ly/DanielConnalDyson